MADISON YOUNGINER, SP BOSTON RED SOX
11/3/1990
6'4″ 195 lbs
Bats- R Throws- R
Drafted – 7th Rd 2009 – HS
Bonus – $975k
A less touted HS arm in the 2009 draft was Madison Younginer and it wasn't because he lacked a power arm. A lack of exposure allowed the Red Sox to get what I believe to be a steal in Younginer. He throws a mid 90s fastball with good life and should easily add and additional 2-3 mph to that fastball as he matures. He has time to grow a couple of inches and pack on weight to his already 195 lb frame. If that happens, he'll be able to handle the workload of a starter without much of problem as long as some mechanical flaws are addressed early on. Along with a power fastball, Younginer already flashed a plus 12-6 curveball and although the use of a changeup was non-existent as a high school reliever, he is already showing promise with the pitch in instructional league. We'll take some time now to breakdown some video from a 2008 performance at a showcase. Please keep in mind that the video is a little old, but it does give us a good idea of what Younginer's strengths and weaknesses are in his delivery.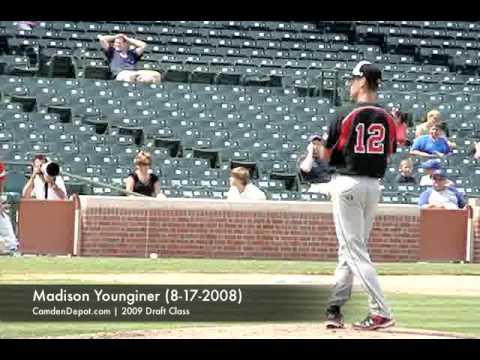 [private]TEMPO – 60
The first thing you notice about Younginer when watching him is how smooth his delivery looks. There is a very nice flow to his delivery that makes it seem like Younginer has perfect tempo when watching him in live action. However, when you look at slowed down video, it is obvious that he has a couple of problems. As he begins his leg kick, he loses the consistency in his tempo. He is slow through the first of the leg kick, speeds up as he balances, then slows down slightly again as he starts to move forward. This causes him to lose momentum and makes his arm do too much of the work.
WEIGHT TRANSFER – 60
Younginer's weight transfer problems are similar to his tempo problems. They are not necessarily that noticeable live, but become glaring as you break down the video. As he is finishing up his leg kick and before he drives toward the mound, Younginer starts to drift forward. He never really gets the drive that a really great weight transfer can get you. Since Younginer sits around 90 and occasionally reaches 94, that brings a concern that a lot of that velocity is coming from his arm. If he could simply gather at the top and drive forward, these problems would be fixed. His legs get a little bit ahead of his arm as he drives toward the plate, but just gathering at the top could fix this problem.
ARM ACTION – 45
This is where Younginer's delivery gets worrisome. The arm action starts off fine but when he takes his arm back, he turns his wrist over so that the palm of his hand is facing the ground. While that is normal, it is the degree of extension and force with which he extends that raises a red flag. This puts unneeded pressure on his wrist but, more importantly, it also puts a lot of pressure on his elbow. As if that were not concerning enough, Younginer then does his best Kerry Wood impersonation, throwing completely across his body.
FOLLOW THROUGH – 35
It is hard to like much about Younginer's follow through. The way he brings his glove hand into his chest completely counteracts how you want to take all your energy forward. The follow through on his pitching arm is worse, however. After following through, Younginer lets his arm snap back at the elbow joint. Doing that 100 times a game will leave Younginer's elbow in a precarious position.
OUR INSTINCT
As mentioned earlier, Younginer's delivery has come characteristics of Kerry Wood's delivery. In fact, that may be the best comp for his mechanics. It also could be the best comp for possible future complications. Pitchers that throw across their body will experience injuries without a boatload of luck. A lot of the other problems mentioned here are easy fixes, but Younginer will have to stop throwing across his body to have a long successful career as a starter.
While the Red Sox don't seem overly concerned with Younginer's cross body arm action you can be sure that they will address it with him if they haven't already. The tweaks are actually quite simple in this case and some work on his weight transfer could allow him to see a jump in velocity to triple digits without adding undue stress to his arm. The Red Sox have a potential star on their hands if they can keep him healthy.
Special thanks to Aaron Bentley for his Instinct on this breakdown.
[/private]