Dellin Betances, RHP, New York Yankees
3/23/1988
Height: 6'8" Weight: 220 lbs
| | | | | | | | | | | |
| --- | --- | --- | --- | --- | --- | --- | --- | --- | --- | --- |
| Year | Age | Level | W | L | IP | H | HR | R | BB | K |
| 2006 | 18 | R | 0 | 1 | 23.1 | 14 | 1 | 5 | 7 | 27 |
| 2007 | 19 | A- | 1 | 2 | 25 | 24 | 0 | 11 | 17 | 29 |
| 2008 | 20 | R | 0 | 1 | 6.1 | 13 | 0 | 7 | 3 | 6 |
| 2008 | 20 | A | 9 | 4 | 115.1 | 87 | 9 | 57 | 59 | 135 |
| 2009 | 21 | A+ | 2 | 5 | 44.1 | 48 | 2 | 29 | 27 | 44 |
| 2010 | 22 | A+ | 7 | 1 | 62 | 34 | 1 | 15 | 18 | 73 |
Dellin Betances was a huge projection pick for the New York Yankees in 2006 out of the 8th round. He was signed for an above slot $1mm. They got the chance to see him pitch more than most other clubs because he was in the backyard of the big club. Betances pitiched in Brooklyn, New York out of Grand Strret Campus High School of the PSAL.
With an imposing 6'8" frame, he's intimidating on the mound and has a presence about him which will only get stronger with success.
Betances has been a solid strikeout pitcher since day one and his one downside was always his command. As a tall pitcher, control is normally what comes to fruition last as they grow into their frame and learn how to utilize the natural downhill plane. The same stands true for Betances as witnessed by his K/BB numbers. In 2008 he fell victim to a torn UCL and underwent Tommy John surgery missing the remainder of the 2008 season and most of 2009.
But since his return from Tommy John surgery last season his control has gotten better and this season it borders on elite with 68 K's to just 15 walks in 58 innings. His ERA is a stellar 1.26.
Let's take a deeper look into his peripherals and see if the numbers match up.
| | | | | | | | | | | |
| --- | --- | --- | --- | --- | --- | --- | --- | --- | --- | --- |
| Year | Age | Level | ERA | WHIP | BB/PA | K/PA | BABIP | GB% | HR/Air | FIP |
| 2006 | 18 | R | 1.16 | 0.9 | 7.8% | 30% | 0.241 | 44% | 3% | 2.6 |
| 2007 | 19 | A- | 3.6 | 1.64 | 15% | 25.7% | 0.369 | 47% | 0% | 3.44 |
| 2008 | 20 | R | 8.53 | 2.52 | 8.6% | 17.1% | 0.5 | 42% | 0% | 3.02 |
| 2008 | 20 | A | 3.67 | 1.26 | 11.9% | 27.3% | 0.284 | 43% | 5% | 4.05 |
| 2009 | 21 | A+ | 5.48 | 1.69 | 13.1% | 21.4% | 0.362 | 51% | 3% | 3.73 |
| 2010 | 22 | A+ | 1.6 | 0.83 | 7.5% | 30.4% | 0.226 | 45% | 1% | 2.23 |
His K% this season stands at better than 30% while his BB% is sub 7%. He's getting groundballs at a good clip of 44%. While I would like to see him getting more groundballs with his size he's not having trouble with the longball in the FSL at only 1%. But the FSL is a pitchers haven and the heavy Florida air keeps a lot of balls in the park. So his move up to AA might see an uptick in HRs which will hurt the very low ERA.
The Stuff
I really think that Betances, very similar to Andrew Brackman higher in the system, will work better down in the zone at the next level. They are currently building his confidence coming back from the TJ surgery and the gloves are finally coming off. Once in Double A they'll break him down just a little more so he can keep more pitches down in the zone. I witnessed a fair amount of high fastballs by Betances in the FSL. But the velocity kept them from being hittable when he's working mid 90s.
The Mechanics
Let's go to Aaron Bentley for a look at Betances mechanics from an FSL game recently against the Palm Beach Cardinals.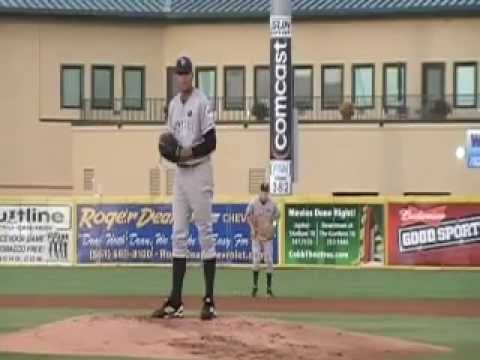 TEMPO – 70
Betances has a very smooth, deliberate delivery.  His tempo is extremely consistent as soon as he finishes the popular foot-shuffling maneuver at the beginning of his delivery.  For me, he glides through the delivery very well and keeps all the necessary parts of his body in control.
WEIGHT TRANSFER – 60
With a big, tall guy like Betances, who has had problems putting it all together, you hate to try to get him to change too much.  However, the first thing I notice when looking at Betances' delivery is his lack of stride.  He gets the weight transferred onto the plant leg at the right time, but instead of really driving toward the plate, he utilizes a short stride and sends his momentum down into the ground.  For a guy as tall as Betances is, he is robbing himself of that height advantage.  I would love to see him really stride out and drive toward the plate.  This would reduce the work his arm has to do and the closer you can get the ball to home plate before you release it, the harder it is for the hitter to hit.
ARM ACTION – 65
Nothing about Betances' arm action jumps out in a negative way to me.  It is relatively clean and he brings it through on time.  What I mean by that is that he lets his hips and legs guide his arm through the delivery.  What you want is for the front leg planting to guide the arm through.  This lets the legs do most of the work and reduces the stress on the pitcher's arm.  Betances is letting that happen and bringing his arm through at exactly the right time.
FOLLOW THROUGH – 40
The absolute worst part of Betances' delivery is his follow through.  He does just about everything I prefer not to see in this part of a pitcher's mechanics.  First, he doesn't let the pitching arm go through at all.  He immediately pulls it into his chest.  While that may seem like a small thing, it stops you from bringing all of your energy through the pitch.  Second, he forces his pitching arm to stop before it would naturally.  Fortunately, he doesn't jerk it back, at least, but what you want is for the energy of the arm to run out and stop the arm naturally.
CONCLUSION
For Betances' size and lack of polish coming out of high school in New York, the Yankees have really helped him to get things together.  I am very impressed with the delivery Betances is showing today, as illustrated in the video of him we have provided.  There are a few problems but the biggest thing I would fix is the stride.  I'm sure the Yankees aren't dying to change things considering how far Betances has come, but he will get a lot more out of the size of his body if he strides longer and uses all his length and power to drive toward the plate.
Our Instinct
Betances has work to do as he reigns in his pitches and learns to work better low in the zone. But he's all the way back from Tommy John surgery and anyone who wrote him off as a top pitching prospect now knows that all of the upside that Betances projected as a high school star are coming together into a package of the major league caliber arm.
Betances still has another year of seasoning and will probably start 2011 in Double A. But a 2011 call up midseason if the Yankees become depleted will not be out of the question. With the New York Yankees it can sometimes be hard to judge which of the systems prospects are trade bait and which are in the plans for Brian Cashman, but you can be certain that there are no question about Betances within the Yankees brass. Betances is a Top 100 prospect and could start the 2011 system sitting inside the Top 50 for all of baseball and inside the Yankees Top 5.