Shelby Miller, RHP St. Louis Cardinals
10/10/1990
Ht: 6'3″ Wt: 195 lbs.
Shelby Miller was drafted in the 1st round of the 2009 draft by a Cardinals team that is not historically one to go after a High School pitcher. But the Cardinals clearly saw something 16 other teams missed. After the Nationals selected Stephen Strasburg at #1 there are now 17 other players selected 2-18 who fall below Miller on the prospect charts.
I got the chance this year to see Miller on numerous occasions at Roger Dean Stadium, the home of the Palm Beach Cardinals of the Florida State League. So we're going to take a look at some extensive video from those starts and breakdown his mechanics and pitching arsenal.
The Stuff
Miller uses a plus plus fastball that sits regularly at 93-95 and I've seen him touch 98 on more than a few occasions. He locates the pitch well, both corner to corner and top to bottom. He also has a 12-6 curveball that has improved with each start and his release point is very consistent in relation to his fastball, so it makes the pitch that much more difficult to pick up. He has a changeup that has some good depth to it and it tends to fade or drift down into the dirt. His release point is again consistent, but his arm speed is still a touch off and there is a small recoil when he throws it, although I don't think it is a problem he hasn't already begun to remedy with Coach Dennis Martinez prior to his call up to Double A.
The Mechanics by Aaron Bently
Let's take a look at the video from the FSL this season and get a better look at Miller's mechanics: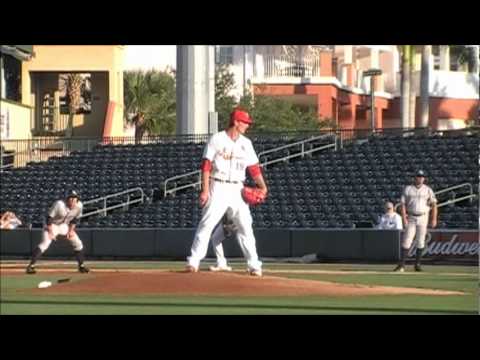 TEMPO - Miller has an excellent tempo from the moment he rocks back. His arm follows through and is brought along by a strong leg extention. I would prefer to see a little more extension, but I'm nitpicking because there isn't much not to like.
WEIGHT TRANSFER – Miller's weight transfer is again in tune with his tempo and as he brings his lead leg up he holds a solid balance point and then drives down through the front leg generating excellent torque with his hips without undo stress on the shoulder.
ARM ACTION – There is a very smooth and minimal effort to the arm action for Miller. Most of his velocity is generated by his legs and the rest is what mother nature gave him. I don't see much here that would suggest any imminent arm troubles for Miller.
FOLLOW THROUGH – His follow through is clean and he grounds the energy generated by his hips and legs straight through his right hand without much recoil which would put tremendous pressure on his shoulder. They call this easy gas.
Our Instinct
With Miller's plus plus fastball, already an above average 2 off speed pitch mix and above average command coming from a player just 20 years old, I think we are looking at a special talent. I've had a chance to speak to him and while he's certainly grounded he is also very determined. His coaches speak highly of him and echo the same sentiments, that Miller is driven young pitcher with elite level talent.
Prior to his jump to Double A a few weeks ago, one of my concerns was that Miller does seem to give up more deep fly balls than I would like to see. The FSL is known as a pitchers league and the Dean plays very big. So some of the deeper fly balls could find the seats in Double A. Miller had just a 36% GB rate in Palm Beach and relied heavily on his otherworldly K%.
But in his short stint with Springfield he seems have figured that out already. His GB% is up to 51% and while his K rate has dropped, although it's still 25% which is outstanding. I fully expect that to jump back up to around 30% again and his GB% to stay around 45-50%.
With Michael Pineda having graduated from the prospect ranks, Miller, now sits atop the pitcher rankings and I consider him the #1 overall pitching prospect in all of baseball and look forward to seeing him in St. Louis in 2012. Under the tutelage of Dave Duncan, possibly the best pitching coach of all time, the sky is the limit for a pitcher of Miller's ability and fully expect him to reach the status that a similar talent named Adam Wainwright has under Dave Duncan's watch.
Take a look at the rest of the Baseball Instinct Top 100 List here.