2011 MLB Futures Game: Beyond Tomorrow
The Futures game will be played today July 10, 2011 at 6pm EST and can be seen on MLB.tv and ESPN2 (HD). The Futures Rosters have fast become a look into the future of the Major League Baseball with future stars like Alfonso Soriano, Jose Reyes, Hanley Ramirez and many, many others taking center stage.
As recently as last season we got our first glimpses of Eric Hosmer,  Danny Espinosa, Domonic Brown, Jeremy Hellickson, and Zack Britton who have all become household names for their respective teams in 2011.
So who are the names to watch on the 2011 rosters? Who's going to make a big late season splash this year? Who will be the up and coming 2012 Rookie of the Year candidates? Let's take a look at the rosters and we'll take it from there:
US  TEAM ROSTER
PITCHERS
Name

ORG

Level

B

T

HT

WT

Birthdate

Birthplace

Jarred Cosart
PHI
A
R
R
6-3
180
05/25/1990
League City, TX
Kyle Gibson
MIN
AAA
R
R
6-6
210
10/23/1987
Grennfield, IN
Matt Harvey
NYM
A
R
R
6-4
210
03/27/1989
New London, CT
Shelby Miller
STL
AA
R
R
6-3
195
10/10/1990
Houston, TX
Matt Moore
TB
AA
L
L
6-2
205
06/18/1989
Ft. Walton Beach, FL
Brad Peacock
WAS
AA
R
R
6-1
175
02/02/1988
Miami, FL
Drew Pomeranz
CLE
A
R
L
6-5
230
11/22/1988
Memphis, TN
Tyler Skaggs
ARI
A
L
L
6-4
195
07/13/1991
Woodland Hills, CA
Tyler Thornburg
MIL
A
R
R
5-11
185
09/29/1988
Houston, TX
Jacob Turner
DET
AA
R
R
6-5
210
05/21/1991
St. Charles, MO
 

 
Jarrett Cosart of the Phillies makes another appearance in the Futures Game this year and is one of the top arms in the Philly system. He's not, at least in my opinion, the top arm in the system though. Trevor May holds that post and has the higher ceiling.  But Cosart should prove to be back end of the rotation worthy and is only a couple of seasons away from making his debut. Nice talent but he doesn't excite me as he does others. ETA: 2013
Kyle Gibson is the top pitching prospect in the Twins system and has a very high likelihood of reaching his ceiling as a mid-rotation starter as soon as the second half of this season. If Scott Baker's elbow injury proves to be season threatening I think Gibson will be called on to anchor the back end of the 2011 rotation and should be up for good once that debut happens. He's not an ace type but this is a major league skill set. ETA: 2011
Matt Harvey of the Mets has been a very exciting player to watch while he was in the FSL this year and has proven that the hype he got out of High School and the 1st round pick of the Mets last year when he came out of UNC is worthy. He dominated the FSL striking out 92 in 76 innings with excellent control. His control has stood true after a jump to Double A but leaving the ball up is now proving to be something that was hidden in the pitcher friendly FSL. He'll need to work on commanding the bottom of the zone and refining his changeup. He flashes a plus fastball and should have another plus pitch in his curveball so there is #2 upside here and a bright light for Mets fans. His teammate Jeurys Familia played for the World Roster last year and we pegged him as a 2011 Breakout Candidate. Well… Familia has busted out and brings a second plus arm to look forward to for Mets fans. Both of these guys are about a year away from debuting and 2013 should be a year they both hold spots in the Mets rotation. ETA: late 2012
Another 2011 FSL stud, Shelby Miller, makes his second appearance in the Futures Game and while we said he wasn't ready for that type of stage last year we think he's ready now. Big time ready. Miller has the makings of 3 plus to plus plus pitches and profiles as an Ace type. His fastball sits mid 90s and he can push it higher, he has a spike curve that he already commands well and a changeup that has taken a big stride this season. Match those with a solid frame, above average command and clean cut easy delivery and his mechanics say he can be a workhorse. He has everything you look for in a pitcher. Video of Miller from the FSL is below. ETA: 2012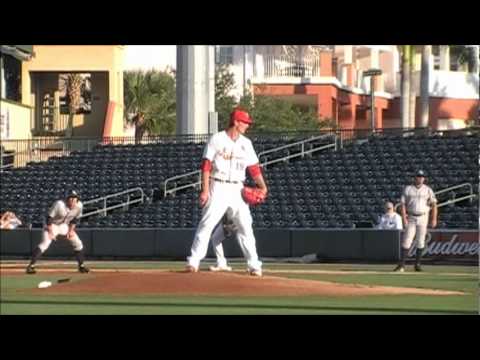 While the Rays are cool and calculated in developing pitchers it doesn't mean that Matt Moore hasn't been dominant and worthy of being fast tracked. He has 3 plus pitches and is a strikeout machine. He's a little older than Miller, but they have similar frames. Moore though has his plus fastball coming from the left side which makes him that much more of a rarity. He's a borderline Ace type and clearly has major upside potential. I think he gets a taste of the big leagues at the end of the season and if a rotation spot is open during Spring Training he will be given a shot at earning the back end of the rotation in 2012. But the more likely scenario would have him starting the 2012 season in Triple A and then making a mid-season debut. ETA: 2012
Brad Peacock is one of those pitchers who the scouts have said would be better in relief. But sometimes even though that may be true its tough to tell a player who he is. Peacock is one of those over-achievers who just won't stop achieving. He led the Nationals minor league system in K's last year and then dominated in relief in the AFL. This season, all he has done, is dominated again. Battling week in and week out for the minor league Strikeout lead with the likes of Shelby Miller, Matt Moore, Tyler Skaggs and Edwar Cabrera. Miller and Moore you know now are Ace types. Skaggs could be on that same track. Cabrera is an enigma so far but he has to be on the radars regardless of the levels he's been dominating. Peacock is probably a step behind these guys because he doesn't flash a pure plus arsenal or have that workhorse frame. But his fastball is above average without question and his knuckle-curve is a plus pitch. His changeup has made 2011 strides so the bullpen assumptions hopefully have now gone away. Peacock is a mid-rotation starter with great K potential. Similar to another Nats starter, Jordan Zimmerman. ETA: 2012
Drew Pomeranz was the Indians 1st round pick in 2010 and has done nothing to prove himself unworthy. He had hype surrounding him already so he's not a surprise success by any means but its still noteworthy that he's on pace to make his debut in 2012 and could be a solid lefty workhorse. He has a great frame, a plus fastball and plus plus 12-6 curveball. His command and changeup are the only things left for him refine and he should be in line for a rotation spot somewhere in the 2-4 range depending on how the splits workout. But he's a SP and has the arsenal to stick in any major league rotation. He'll get a nice K rate and his command will prove to be what drives his ceiling. ETA: late 2012
Tyler Skaggs was traded to the Dbacks in the Dan Haren deal and while the Angels got their moneys worth, the Dbacks could very well have a potential stud in Skaggs on the way. He's battling to top arms in the minors for the Strikeout Crown in 2011 and that's nothing to dismiss. A young lefty with a great 6-4 frame and still maturing that is putting up these numbers is exciting. He leads his arsenal with an above average curveball which should be plus in time and already borderlines there. His fastball has upticked and sits low 90s with more on the way and his changeup has become a average pitch. This is a kid still learning. He's a lefty. #2 upside with this 2011 development but still a long way off from Arizona if he's going to reach his ceiling. The Dbacks should give him a year at each level and make sure his command of the bottom of the zone becomes a another plus in his skill set. Because when you cal the desert home living up in the zone will end you quickly. ETA: 2013
The Brewers Tyler Thornburg is a surprise for me in this game. Not because he isn't a top talent, because he is. Its more because that although he's been dominant its been at the lower levels and he's been old for the leagues. His K rates have been through the roof near 30% but his BB rates have been a bit high as well. His frame doesn't scream workhorse and I just feel that with his plus fastball and power curve that the Brewers will eventually fast track him to the bullpen. Right now he's in the rotation in the FSL and I look forward to getting an up close look when the Manatees come to Jupiter next week for an extended stay against the Cardinals and Hammerheads. Video breakdown will follow.
Jacob Turner of the Tigers rounds out the US Pitching Staff. Just 20 years old and already in Double A, Turner is easily the top prospect for the Tigers. Detroit rushed Rick Porcello to the majors just a couple of years ago and may have limited his development. Turner's strikeout rate isn't where one would think a pitcher with an ideal pitchers frame and plus fastball based on its sink would be. His GB% this year is actually the best of his young career which is what is prompting his success. But enough time in Double A this season and possibly half a year next season in order for him to refine what should be a plus curveball and average changeup will allow Turner to reach his ceiling of #2 starter. Hopefully the Tigers don't make the same mistake they made with Porcello.
CATCHERS
Name

ORG

Level

B

T

HT

WT

Birthdate

Birthplace

Devin Mesoraco
CIN
AAA
R
R
6-1
220
06/19/1988
Dubois, PA
Austin Romine
NYY
AA
R
R
6-0
220
11/22/1988
Lake Forest, CA
 

 
Devin Mesoraco is one of two elite catching prospects in the Reds system. Grandal being the other. Mesoraco has the better power of the two prospects but he's not as good of a defender. It's a nice problem to have for the Reds though. Neither of them needs to be rushed to majors this year unless injury strikes the big club. So it looks like Mesoraco will take over in 2012 and he will hit for both power and AVG at an above level for a catcher but he may not actually be the long term answer for the Reds. That may be Grandal. ETA: 2012
Austin Romine makes a second consecutive appearance in the Futures Game. At this point last season it looked like Jesus Montero, who is the top C prospect in baseball, was on his way out via trade and the Romine would be the future, albeit short term, in the Bronx. At this point Romine profiles as a back up catcher more than a starter and may be the one who finds himself in another uniform since the Yankees have depth at the position. ETA: 2012 (in NY?)
INFIELDERS
Name

ORG

Level

B

T

HT

WT

Birthdate

Birthplace

Nolan Arenado
COL
A
R
R
6-1
205
04/16/1991
Newport Beach, CA
Tim Beckham
TB
AA
R
R
6-0
190
01/27/1990
Griffin, GA
James Darnell
SD
AA
R
R
6-2
195
01/19/1987
Fresno, CA
Paul Goldschmidt
ARI
AA
R
R
6-3
245
09/10/1987
Wilmington, DE
Grant Green
OAK
AA
R
R
6-3
180
09/27/1987
Fullerton, CA
Jason Kipnis
CLE
AAA
L
R
5-11
185
04/03/1987
Evanston, IL
Manny Machado
BAL
A
R
R
6-3
185
07/06/1992
Miami, FL
Will Middlebrooks
BOS
AA
R
R
6-4
200
09/09/1988
Greenville, TX
 

 
Nolan Arenado is one of the top hitting prospects in all of baseball. That wasn't a question after last season. His ability to stick at 3B was in question though. With a renewed focus on his fitness he's silenced the doubters and is now again finding his power stroke. He is again hitting over .300 excellent power on pace for more than 60 XBH. He should move to Double A next season with a chance at Colorado at the end of the season and possible starting shot in Spring Training 2013. ETA: 2013
Tim Beckham replaces Chase d'Arnaud on the US roster. Beckham was the #1 overall pick in 2009 and thus far has been somewhat of a disappointment. But 2011 has proven to be a coming out party as he's flashed some of the talents that he was so hyped for. He's hitting at Double A as a 21 year old, showing a little power and handling SS. He still has some development and will probably never live up to the draft pick but he has the talent to make it to the majors. He's doing more than I ever expected. So with his age to level and improvement year over year, a late blossom into a star is still not out of the question though. ETA: 2013
James Darnell had an adjustment year last season which dropped him down the prospect charts, but he's not letting that stop him from making noise in 2011. He's making a lot of noise to tune of a .250+ IsoP and batting .350+. He's recently been promoted to Triple A and one would expect another adjustment period. But so far Darnell doesn't agree. 20 HR and 26 doubles this year. He could be the right-handed power bat that the Padres have been seeking. ETA: 2012
Paul Goldschmidt has been questioned as a top prospect over the past two years but there is no longer questions as to his power being legitimate. We've been profiling Goldschmidt since the beginning of the 2010 season as a potential breakout candidate and all he's done since then is mash. Last year he did so while learning to pull the ball and he struck out a ton. This year has been another adjustment and his K rates are down while his walks are up putting him at close to 1:1. He's a feared hitter and even outside of the hitter friendly High A level his power has actually increased. He leads the minors with 25 HRs and has kept his AVG over .300.  The Dbacks could promote him as early as next week but will probably be better having him move to Triple A while Brandon Allen gets his fair shot or showcased for a potential trade. ETA: 2012
Grant Green is the best hope that A's have in the minors right now to be an offensive minded SS. His power was on display last season but has been lacking in 2011 until recently. He's certainly behind last years pace by a great distance which must be disappointing for both he and the A's. But he still is showing the skill set to make him an average defender and hitter inside of the next year. But a 20/20 SS is probably not who Green will ever be. The search for the SS of the future will continue. ETA: 2012
Jason Kipnis is the top 2B in Triple A right now. The Indians are in contention and Kipnis is knocking on the door. There is little doubt that he will be promoted sometime after the All Star break and as soon as next week. Unlike Goldschmidt he does not have anyone blocking his path deserving of a shot and has little left to prove in the minors. He provides hard nosed defense with a 20/20 potential. There may be more power on the horizon with some of the speed diminishing.
Manny Machado is the Orioles offensive future and early reports are that the hype on this kid sticking at SS were for real. He's been jumped to Advanced A already as a teen and as a SS the development time should be at a slower pace. He's still growing into his frame and becoming a major league SS that will hit for power and average takes more than just natural talent unless you're Alex Rodriguez. Machado is not A-Rod. But his ceiling is very high. He could have above average power in time and hit close to .300. If he's rushed however that could all come crashing down. So expect the Orioles to keep him one level at a time with Machado reaching Double A next season. ETA: late 2013
Will Middlebrooks has gone level to level for the Red Sox affiliates with good power and a slightly elevated strikeout rate because of difficulty with offspeed stuff. He's become more aggressive at the plate which has allowed him to decrease his strike outs but has also led to a drop in walks as well. But his bat speed and contact rate have also jumped his average above .300 for the first time in his career. He's a plus defender with a plus arm so if he is going to hit in the .280+ range with average power he could find himself an everyday 3B. Somewhere. He's not a .300+ hitter even with this years jump. His BABIP is .387 which is probably unsustainable but with his Linedrive percentage currently at 20% he is proving to be a better hitter than he has shown in the past. ETA: 2012
OUTFIELDERS
Name

ORG

Level

B

T

HT

WT

Birthdate

Birthplace

Gary Brown
SF
A
R
R
6-1
190
09/28/1988
Diamond Bar, CA
Bryce Harper
WAS
A
L
R
6-3
225
10/16/1992
Las Vegas, NV
Wil Myers
KC
AA
R
R
6-3
205
12/10/1990
High Point, NC
Matthew Szczur
CHC
A
R
R
6-1
195
07/20/1989
Cape May, NJ
Mike Trout
LAA
AA
R
R
6-1
200
08/07/1991
Vineland, NJ
 

 
Gary Brown is a true speedster with a plus hit tool. He doesn't strikeout much and also doesn't walk as much as I would like to see from a true CF leadoff type. But he uses the whole field and takes full advantage of his speed at the plate and while on base. He's on pace for more than 60 SB this year with a .300+ AVG. He should have no problem, after a jump to Double A for some extra refinement in his approach, taking over CF duties in spacious AT&T Park and roaming the gaps. ETA: late 2012
Bryce Harper is one of the top 3 talents in all of the minors and the most prolific power hitter to pick up a bat in decades. He tore through the Midwest League and you can read that Midwest League: Touch'em All for additional info on his MWL performance. He's made the jump to Double A and should be about a year away from Washington. A player of his age that produces the type of numbers that he's been putting up is special. The only thing that can hold him back is himself. He's still so young and hasn't had the time to grow as a person. Some personalities go up in flames like Josh Hamilton and others just keep going like Alex Rodriguez. ETA: 2012
Wil Myers is the top Royals hitting prospect left in the minors after the promotions of Mike Moustakas and Eric Hosmer in the first half. Myers is making the transition from catcher to the OF and it has had a toll on his offensive numbers. His K's are up, walks are down and his power and AVG have suffered because of it. But he does have an elite hit tool that should come back and the transition to the OF is coming along fine. He has time to develop and a dynamite young team to join when he's ready. ETA: 2013
Matt Szczur was thought to be headed to the NFL. The Cubs decided they didn't care and signed him away from that decision. Finally concentrating full time on baseball, Szczur is just scratching the surface of his talents. He's raw in many aspects of his game play, but unlike most 5 tool talents, he's already showing his hit tool as plus. His speed is plus as well and with his athleticism make him a natural fit to stick in CF as a leadoff hitter with average power. If his power proves to be more he could top out as a #3 hitter.
Mike Trout*** was recently called up to Anaheim and although it may not be permanent jump he will not be making an appearance in the Futures Game. He is however the best all around OF prospect in baseball. Plus hit tool, plus speed, average power and he can stick in CF. He's special now, further development will only make him better. Perennial All Star.
WORLD TEAM ROSTER
PITCHERS
Name

ORG

Level

B

T

HT

WT

Birthdate

Birthplace

Henderson Alvarez
TOR
AA
R
R
6-1
195
04/18/1990
Valencia, VEN
Kelvin Herrera
KC
AA
R
R
5-10
162
12/31/1989
Tenares, DR
Liam Hendriks
MIN
AA
R
R
6-1
190
02/10/1989
Perth, Australia
Gregory Infante
CWS
AAA
L
R
6-2
215
07/10/1987
Caracas, VEN
Jhan Marinez
FLA
AA
R
R
6-1
165
08/12/1988
Santa Domingo, DR
Carlos Martinez
STL
A
R
R
6-0
165
09/21/1991
Colinas Del Sur, DR
James Paxton
SEA
A
L
L
6-4
220
11/06/1988
Richmond, BC, CAN
Martin Perez
TEX
AA
L
L
6-0
178
04/04/1991
G.Portuquesa, VEN
Julio Teheran
ATL
AAA
R
R
6-2
175
01/27/1991
Cartagena, COL
Arodys Vizcaino
ATL
AA
R
R
6-0
190
11/13/1990
Yaguate, DR
 

 
Henderson Alvarez was on the World Roster last year and his changeup was the plus pitch that made him a top prospect for the Jays. His then low 90s fastball has done something this year that makes Alvarez all the more intriguing. His fastball has jumped to the high 90s and touching triple digits. The jump hasn't led to more strikeouts though. He's always had good movement on the pitch and that is still the case. He gets a lot of ground balls and has above average command. So while the two plus pitch mix screams closer I think he profiles better as a mid-rotation starter. If the strikeouts start to come in droves the upside is there for more. ETA: 2012
Kelvin Herrera hasn't pitched much since being signed in 2006 by the Royals. But this season he's stayed healthy and is striking out hitters at a very high rate and walking almost no one. His mid 90s fastball and above average change up give him two solid pitches making him a nice bullpen arm. This is the first time he's making good on his talents but the jump can't be ignored. Can he stay healthy long enough to showcase those talents on the big stage? ETA: 2012
Liam Hendriks made this team last year but his appendix burst just days before the game and he was forced to watch it from home. Well that hasn't slowed him down and he now has a second chance. We've been following Hendriks for almost two years and his 4 pitch mix of all average to above average offerings give him a shot at rotation success for the Twins. Its his command and pitchability that makes him more than average. He should fit nicely as a #3 starter as soon as next season. ETA: 2012
Gregori Infante is a reliever for the White Sox with a mid 90s fastball that he can push to triple digits. He also has a plus curveball that he flashes at times. His lack of command is what holds him back from being as dominant as he can someday be though. He's usable in the pen now but in time he could become a dominant closer or setup man. The Sox could rush him now into an situational role but another year of development time will allow him to reach his ceiling. ETA: 2011
This roster is made up with more short relievers than the US Roster and Jhan Marinez may be the best of these RPs in the long run. A mid to high 90s fastball and possible plus slider in the high 80s. His strikeout rate is high but his walk rate is alarming. He needs time to hone his command but in time could be working the 9th inning in Miami. He's another hard thrower who needs enough time reach his ceiling. Another year in the minors and then a setup role will give him enough time to grow into a closer type. He has the stuff. ETA: 2011
Carlos Martinez is a 19 year old with a high 90s fastball and very bright future. He's still an unfinished product but the Cardnals recently moved him to the pitcher friendly FSL and under the tutelage of Coach Dennis Martinez. Martinez already has a plus fastball and the making of a an above average changeup and curveball. The changeup already shows solid sinking action which works well off of the fastball that bores in on right-handers. This is the pitcher with the highest ceiling on this World Roster and the Cardinals hope Martinez will follow right behind Shelby Miller. ETA: 2014
James Paxton is a big lefty and it took awhile for him to make his debut.2 years to be exact. But he's on track now and with a workhorse frame and above average fastball and curveball he should be solid back of the rotation option and will call Safeco home which will only add to his probable success. ETA: 2013
Martin Perez is the Rangers top arm and as a lefty with 3 plus pitches he's only some refinement away from taking a rotation spot in Texas. Perez had a tough 2010 which set him back in development but he's still very young and now tearing up Double A. He's made the adjustment. Triple A is next. Building the innings up. ETA: 2012
Julio Teheran is the top pitching prospect for the Braves and some consider him the top in all of baseball. Just 20 years old he's already made his MLB debut. With a plus fastball, above average changeup and curveball he has the makings of a frontline starter if his smaller frame can hold up. He's still young so if he adds to his frame he could actually see an uptick in velocity while filling out for durability. ETA: 2011
Arodys Vizcaino is another young arm in the Braves system, a step behind Teheran and a notch below Randall Delgado on the depth chart. But Vizcaino has the same upside as both if he can stay healthy. Elbow issues caused a lost 2010 but he's held up so far in 2011 and has dominated with his plus plus curveball, mid 90s fastball and above average changeup. Health of the elbow will be the biggest issue. ETA: 2012
CATCHERS
Name

ORG

Level

B

T

HT

WT

Birthdate

Birthplace

Wilin Rosario
COL
AA
R
R
5-11
200
02/23/1989
Bonao, DR
Sebastian Valle
PHI
A
R
R
6-1
170
07/24/1990
Los Mochis, Mexico
 

 
Wilin Rosario was in the middle of a huge breakout year in 2010 when he blew out his knee. He's healed and again showing the prominent power potential. This is his second Futures Game for the young backstop. A plus defender he should be the future in Colorado. 20+ HR power that could be elite. Where his contact rate ends up will be the ultimate decider in his upside. ETA: 2012
Sebastian Valle is the top catching prospect for the Phillies and should fall in somewhere between the high average of 2011 and the power output of 2010. He has enough arm and receiving skills to stick at catcher and should hit for .275 AVG and 10-15 HR pop.
INFIELDERS
Name

ORG

Level

B

T

HT

WT

Birthdate

Birthplace

Yonder Alonso
CIN
AAA
L
R
6-2
240
04/08/1987
Havana, Cuba
Jose Altuve
HOU
AA
R
R
5-7
170
05/06/1990
Maracay, VEN
Hak-Ju Lee
TB
A
L
R
6-2
170
11/04/1990
Jeonju, South Korea
Francisco Martinez
DET
AA
R
R
6-1
180
09/01/1990
Rio Chico, VEN
Alex Liddi
SEA
AAA
R
R
6-4
230
08/14/1988
San Remo, Italy
Jefry Marte
NYM
A
R
R
6-1
187
06/21/1991
La Romana DR
Jurickson Profar
TEX
A
S
R
5-11
165
02/20/1993
Willemstad, Curacao
Jonathan Schoop
BAL
A
R
R
6-1
187
10/06/1991
Willemstad, Curacao
 

 
Yonder Alonso is still stuck behind Joey Votto as he was a year ago when he made this roster. He's still proving to be an excellent hitter and the power is coming along as well. The Reds are again in the race and Alonso could be trade bait along with one the catchers in blockbuster deal. ETA:2011
Jose Altuve is a diminutive middle infielder that just rakes. His bat control is amazing and he has above average power, especially for a player who comes in at just 5'5″. He handles 2B well but how his size will play at the major league level is really unknown. But if he's pushing .400 how can anyone second guess him. ETA: 2013
Hak-Ju Lee is in Advanced A now and has made strides with both his defense and power production. As a lefthanded slap hitter he shows decent pop with excellent bat control. His arm plays up well at SS and he has the range to stick there long term for the Rays. He is going to be the SS of the future for the Rays. Below is some video of Lee from the FSL this year. ETA: 2013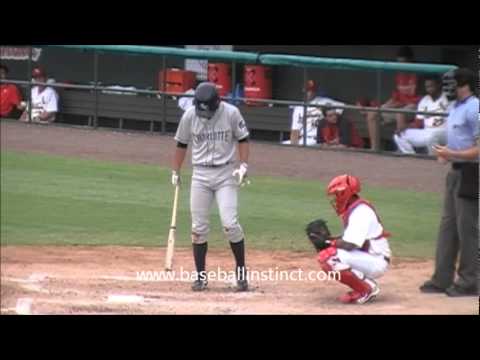 Francisco Martinez is actually 2nd of the 3B depth chart in the Detroit system behind Nick Castellanos. But Martinez has all of the defensive makeup to be a future 3B. He's showing power finally in 2011 and still holding onto his above average speed. He profiles now as a 20/20 type. So even if he isn't the future at 3B in Detroit, they will need to find room for both he and Castellanos. ETA: 2013
Alex Liddi is making another appearance at the Futures Game. The power for Liddi is real. He has 17 HR and 25 doubles this year. He's far enough into his development to say that he's going to be a high power, high strikeout hitter. If he can work deeper counts and take more walks he could be an above average 3B. For now we'll say his upside is limited. ETA: 2012
Jefry Marte is one of a few 3B prospects for the Mets that have nice future power potential. Some think that Wilmer Flores will move Marte off of 3B eventually, I think that Flores is going to eventually be at a different corner. Marte is in the early stages of power development but profiles for above average power and defense at 3B. Below is some video of Marte in the FSL this season. ETA: 2013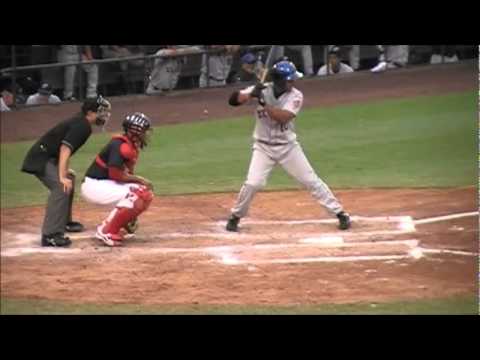 Jurickson Profar is a 5 tool talent who's answering the naysayers who doubted he would be a SS at the professional level. He's handling SS well and looks to be an above average fielder with an excellent arm. More than athletic enough to handle the OF and the frame to profile well. His bat has been even more of a surprise. Not because it was doubted, but because his power is coming along so quickly. He's already at 19 doubles and 8 HR and flashing his speed with 6 triples and 8 SB. He's doing it across the board and his .266 AVG will see a jump when his .278 BABIP normalizes. With Harper gone Profar is the SAL top prospect but I also expect to see the 18 year old moved to Advanced A ball soon. ETA: late 2012
Jonathan Schoop is just 19 years old so its tough to fathom being as talented as Schoop and being 2nd on the depth chart to another SS in the organization. Especially when that plyer is a year younger. But that is where Schoop finds himself. With Machado being placed a step ahead in development, Schoop is going to be paced right behind. Schoop though is not showing any ill effects. He was one of the best hitters through his frist 212 AB batting .316 with 8 HR and 12 doubles good for a .198 IsoP. He also stole 6 bases and played an excellent SS. Chances are that he'll eventually be moved to 3B or possibly CF. But for now the O's are playing the odds in case Machado flames out however unlikely that is. ETA: 2013
OUTFIELDERS
Name

ORG

Level

B

T

HT

WT

Birthdate

Birthplace

Dayan Viciedo
CWS
AAA
R
R
5-11
230
03/10/1989
Villa Clara, Cuba
Starling Marte
PIT
AA
R
R
6-1
170
10/09/1988
Santo Domingo, DR
Reymond Fuentes
SD
A
L
L
6-0
160
02/12/1991
Puerto Rico
Alfredo Silverio
LAD
AA
R
R
6-0
205
05/06/1987
La Romana, DR
Chih-Hsien Chiang
BOS
AA
L
R
6-2
170
02/21/1988
Taitung, Taiwan
 

 
Dayan Viciedo is an elite power prospect that came up as a 3B but is now moved to the OF for the White Sox. He's currently blocked but his 2011 breakout can't be ignored. He's just 22 and powering his way through Triple A with a .326 AVG, 16 HR and 24 doubles. He's going to strike out a lot and his defense will always be passable at best, but his power could be elite. I'm still questioning my decision to leave him out of the top 100. But he just missed. ETA: 2011
Starling Marte is an excellent defensive CF and his plus speed makes him a leadoff candidate for Pittsburg as early as next season. He could hit 10+ HRs and steal close to 30 bases. He's still not a finished product and blocked by an elite player in McCutchen so the Pirates will give him the time he needs to refine his base-stealing. Not an All Star but some good talent here that is already far enough down the development path to safely say he'll play at the big league level. ETA: late 2012
Reymond Fuentes is just 20 and the few International players that was drafted instead of signed during the IFA Period. Moved the Padres in the Adrian Gonzalez deal over the winter, Fuentes is the best athlete in the San Diego system and although raw right now he projects to be a plus CF. His plus plus speed should allow him to stick there long term while his bat will need time to develop into a true leadoff hitter. He doesn't have the eye or contact skills right now to profile at the top of the order. He could be a late bloomer and will need plenty of development time to achieve his ceiling. I see him more as a bottom of the order 4th OF in the future because I think he'll strike out too much and have too little power play everyday. But due to his age he can't be written off. Premium athleticism is tough to come by and Fuentes has that. ETA:2014
Alfredo Silverio clearly has legit power and it comes along with a rawness that is going to hamper his path to majors. At 24 in Double A one would hope for his plate discipline to be on display and the reason for his power production. But his K rates are very high and he doesn't allow near enough pitches to pass through the zone to project for enough on base potential. His defense is a bit of a liability as well so while I won't dismiss his 2011 numbers, this clearly not a major league regular and he has enough refined talent ahead of him the Dodgers system to block him. But these are numbers that could entice a team to trade for him if the scouting is done in enough depth. Ceiling – 4th OF. ETA: 2012
Chih-Hsien Chiang is repeating Double A in 2011 and his numbers show that he's made the necessary adjustments at the plate. At 23, he's on track in development, although not ahead of any curves. So his production can be taken without much additional upside. The power output is the best of his career by far and unsustainable. But the AVG jump could be for real and he might prove to a high contact hitter. He's also not a pure OF and projects as other on this list, more as a 4th OF that can handle all 3 spots. The lack of elite speed will limit his upside. Average power/Below Average speed combo doesn't really make for fireworks. Especially in Boston. But it's been a nice first half for Chiang.
OUR INSTINCT
The US Roster has a much deeper talent pool with some of the most elite pitchers and outfielders in all of the minors. The World Team doesn't have the same depth. I expect the game to be a little lopsided this year in favor of the US squad.
*** Mike Trout has indeed been removed from the US Roster. Any time you pull the top overall OF from the roster its going to hurt.