Prospect Instinct | Jonathan Singleton, 1B
Prospect Instinct focuses on the Top MLB Prospects in all of baseball. We're taking a look into the future of baseball and giving you our view of tonight of Jonathan Singleton, 1B who was just traded from the Phillies to the Astros along with Jarred Cosart, RHP, Josh Zeid, RHP and a PTBNL for All Star Houston OF Hunter Pence.
Drafted in 2009 in the 8th round and signed for $200,000, Singleton's bonus just paid big dividends. Singleton was the Phillies top position prospect at the time of the trade and is currently at Advanced A Clearwater.  A first-baseman with enough athleticism to play the OF even if only passably, he's best suited for 1B and his frame is a solid 6'2″ and 215. Let's take a look at his hitting mechanics in his final 3 At-Bats for the Phillies organization against the Palm Beach Cardinals at Roger Dean Stadium in Jupiter, FL.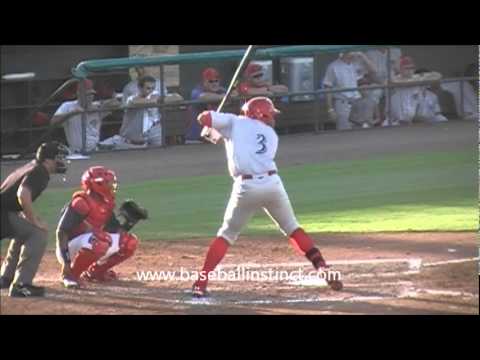 You can see from the video that his hitting mechanics are clean, compact and need little refinement. That's the good part and probably the best tool in Singleton's bag of baseball tricks. His power outburst in Low-A to debut in 2010 hasn't translated as well to the pitcher friendly FSL. The drop from a .180 IsoP to .133 is proof that the power isn't fully developed, but the leagues larger parks and heavy Florida air have taken their toll as well. It's going to take some time for him to fully recognize the above average hit tool and his power, while rated out by many as plus raw power may be more in the lines of average to above average. I think he has a true MLB hit tool, but being limited to 1B is going to demand more power.
If he can keep his BB% up above 12%, which he's been able to do so far, he has a chance to be a .300/25HR type in his prime years. The biggest boost that Singleton will now get from this deal is an unblocked path to the majors. Where he was blocked by Ryan Howard in Philly, he only has Brett Wallace ahead of him in Houston.
Here is our preseason breakdown of Jonathan Singleton who came in at 68 on our Top 100 List for 2011:
68. Jonathan Singleton 1B PHI – After a blistering start to 2010, Singleton came back down to earth in the second half. While his first half power display erased doubts about translating his raw power into game power he still needs to learn how to control the strikezone. His balance at the plate is very good and he should be able to grow as a hitter and become an average power threat. My biggest concern is his lack of a path to the majors. He'll need to prove he can handle an OF corner and then keep on hitting at a high level. He'll hit, but can he find a home in the OF.
Check back soon for the FSL Top Prospects article… a little hint, Singleton made that list. I'm not removing him based on the trade.