Carlos Martinez, RHP St. Louis Cardinals
9/21/1991
Height: 6'0″ Weight: 170
This is Tom Belmont from Baseball Instinct and today we're delving into a prospect that both Aaron Bentley and myself are very excited about. So instead of one of us handling the Prospect Instinct we decided to work on this one together. I think you'll understand why after reading on.
Carlos Martinez was originally signed by the Boston Red Sox on 2009, then known as Carlos Matias, to a $160,000 bonus. But MLB was unable to verify his true identity and voided the deal as they suspended him for one year while they went through the verification process. During that time the 17 year old began to mature and a fastball that had clocked in the low 90s became a weapon getting into the mid 90s. The St. Louis Cardinals were able to sign the then identified Carlos Martinez to a $1.5mm contract while MLB finalized its investigation and cleared Martinez to play baseball in the US. During that time, he made his debut in the DSL and dominated to put it lightly. 0.79 ERA with 78 K's in 59 innings. Leave it at that because this was a talent that wouldn't have seen the DSL if he had been cleared to play in the US.
In 2011 the Cardinals brought the teen to Spring Training to let him work with the big league coaches, before assigning him to Low-A Quad Cities, where Martinez made his US Debut. After 38.2 innings of 2.33 ERA ball with a 32.1% K rate and a low 9% walk rate the Cardinals had the opportunity to have Martinez follow in the footsteps of top prospect Shelby Miller. When Miller was promoted from the FSL to Double-A, Martinez took his rotation spot for the Palm Beach Cardinals. Followed shortly by a showing in the Futures Game.
Now working with pitching coach and baseball legend, Dennis Martinez, young Carlos Martinez is getting his first true test. He's young for the league, but talented enough to hold his own and Roger Dean Stadium is a pitcher friendly park capable of hoisting Martinez confidence even if he has an off night.
On the night I got to see him in FSL action, he took on the Phillies FSL affilate, Clearwater Threshers and a top Phillies prospect Brody Colvin. The video below is from that matchup and Martinez did nothing short of leave me in awe at the pure raw stuff he has. Let's take a look at the video and then Aaron Bentley will breakdown the pitches and mechanics: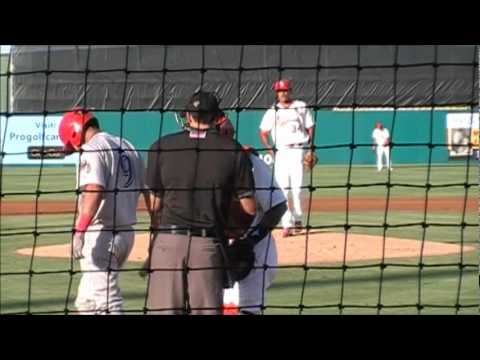 The Stuff
Martinez showed three pitches in this outing.  He had a fastball, a curve, and a slider.  There are some reports out there about a changeup from Martinez, but I have yet to see him throw one.
Martinez's fastball is a true plus pitch.  It is a truly devastating pitch that sits in the mid-to-high 90s and cuts in on a right-handed hitter.  Not only does it cut in, the movement is very late.  I am not claiming it is as good as this pitch but the pitch it is most similar to is Mariano Rivera's cut fastball.  Just as with Rivera's cutter, after the batter has already decided to swing, it moves to the right and ends up on the end of a left-handed hitter's bat or in on a right-hander's hands.
The only thing holding Martinez's fastball back is a lack of command.  When the pitch is down and in, it is about impossible to make good contact.  But Martinez can't always get it down and in.  He can't always even get the pitch over for a strike.
Martinez's second pitch is a curveball.  It's a 12-to-5 curve that gets down and away from a right-hander.  This is not yet a consistent pitch for Martinez.  When it is at its best, Martinez doesn't start it off as high and it really breaks down and away sharply. The pitches flashes plus but isn't there yet.  Importantly, he can get it over for a strike.
Martinez also has a slider but it is very much a tertiary pitch at this point.  He only threw a handful the entire game but it was a nice looking pitch when he brought it out.  Again, this can be a plus pitch for Martinez.  He starts it up pretty high and it gets way down and sweeps far away from a right-hander.  Again, only for visual purposes, it reminds you somewhat of Randy Johnson's slider, though it is nowhere near as good at this point.  As it was for The Big Unit, this is an out pitch for Martinez.  It's not getting over for strikes but it's unhittable when sharp.
The Mechanics
First, the good stuff.  Martinez has a great tempo.  Not only does he work fast but also his pitch tempo is consistent and aggressive.  Martinez has good clean arm action and generally gets his leg down and his arm up on time, letting the leg drive the delivery.
However, when Martinez's leg hits, the weirdness starts.  The real concern is how his plant leg gets down.  He almost drives himself back when his plant leg hits the ground.  He pushes it into the ground instead of letting it drive him and his arm toward home plate.  The energy he has created goes into the ground instead of toward the plate.  That doesn't necessarily bring an injury concern (except that it can't feel good on your hip) but it makes him use too much of his arm.  That can lead to injury but also likely has a hand in the command issues.
After not letting his plant leg drive his back leg toward home plate, Martinez does kind of whip his back leg around his body as his arm goes toward home plate.  It looks a little like the end of K-Rod's delivery.  It's odd because Martinez does not have a max-effort delivery at all.  I think it's just a by-product of the lack of drive toward home plate and feeling like he's got to get that leg forward somehow.  This part of his delivery also features a bad follow through.  Martinez lets his pitching hand come back to his body, but then jerks it all the way back up to his head.  The key is to let the energy come out of your arm and have the arm stop naturally.  Stopping it yourself puts unnecessary stress on the pitching arm.
Our Instinct
AARON: Unlike most publications and sites, we had Martinez in our Top 100 at the beginning of this year.  We had him low, but saw the potential.  He has started to cash in on that potential.  For me, Martinez's absolute floor is an MLB closer, and a good one.  His ceiling is an elite #1 guy.  Martinez is special, folks.  Assuming the curve and slider become consistent plus pitches, and I think they will, you have a guy with an elite-level fastball and two fantastic breaking pitches.  I would like to see him develop a change up,  but it's hard to complain about his current repertoire.  Also, Martinez is 19 years old.  There is plenty of time left for him to mature and improve.  If he cleans up the back end of his delivery and those pitches continue improving, Martinez can be an elite-level starting pitcher.  As of today, Martinez is probably a top-15 prospect for me.  Continued performance as he moves up in levels will only push him up the rankings.
TOM: My preseason ranking of #65 is proving to be too low while others missed him entirely. Martinez fastball is a true 80 pitch right now. Take a look at minute 6:49 in the video and you'll how his 4 seam fastball explodes out of his hand. He's truly reminiscent of Pedro Martinez. While sitting behind the plate that night I couldn't stop thinking "Wow" in my head. I've been to a lot of games. I've seen a lot of pitchers.  Martinez stuff is unrivaled in my experience. I know that sounds insane to say about a 19 year old in his first season of Full Season ball in the states, but it's not a stretch. Yes, he is young. Yes, he needs to fill out his frame and smooth out his finish some. There is a very special skill set here and I feel honored to have witnessed him first hand this early in his career. Working with Dennis Martinez is only going to be a positive influence for the young Dominican. I'd currently rank Martinez in the Top 15 of all MLB prospects. Expect to see him start 2012 in Double-A and possibly make his way into the St. Louis rotation as a 21 year old in 2013. If St. Louis is in the playoff hunt in 2012 you may get a look at Martinez in the bullpen late 2012.
Check back soon as we profile many more Top MLB Prospects and also get our baseball geek on and take a look at some of the later draft picks from the 2011 draft that we think could be big names on the prospect radars in the near future. Anyone can tell you that Mike Trout is going to be a stud now, but who told you that when he was drafted? So take a look at Jose Campos right now, right here and be a step ahead of the game. Thanks for checking Baseball Instinct. We're working hard to bring you the best of the minor leagues and make the site the best experience it can be. So don't hesitate to tell us what you would like to read about. Email me now at Tom@baseballinstinct.com. Coming up soon is Dave Reiffer's Touch'em All: NY-Penn League | Hitters Edition.