Touch'em All: Top MLB Pitching Prospects – FSL
Well, we're continuing our coverage of the Florida State League after taking a look at some of the leagues top hitters. Now we bring you some of the top arms in the FSL, those that are dominating, those that are growing, and a couple that are disappointing. This isn't an overall Top MLB Prospects List, but more of a look at those that deserve a look. So let's get started with one of the top prospects to grace the FSL this year.
Shelby Miller, RHP St. Louis Cardinals (21) - Shelby Miller began the season in the FSL but has since moved on to Double-A Springfield. He's was already the Cardinals #1 prospect and it should be no surprise that he dominated the FSL with a  37% K rate. He totaled 81 K's in just 53 innings of work and an ERA of 2.89 which was actually higher than it should have been according to his 2.00 FIP. His much more detailed Prospect Instinct can be found here.
Carlos Martinez, RHP St. Louis Cardinals (19) – Martinez is a teen sensation and you can see his Prospect Instinct here. Overall he has an elite level ceiling. But remember that he's young and playing against more advanced hitters. I think his 2012 in the FSL will be a very different outcome. One that hitters won't like. As if they like facing him now.
Carlos Martinez Video Breakdown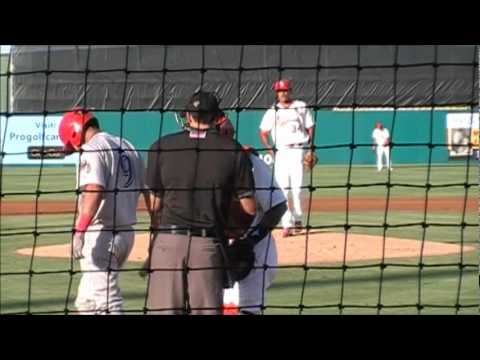 Trevor May, RHP Philadelphia Phillies (22) – Trevor May has been the Phillies best pitching prospect in 2011. He's been good enough where the Phillies felt comfortable letting Jarred Cosart go for Hunter Pence. His 32.8% K rate and 3.22 ERA go along with 178 K's in 131.1 IP. That's good for 2nd in all of the minor leagues. Not bad for a kid who got demoted in 2010. Never dismiss talent based on struggles when a player has already shown a skill. Once they show it over a season, they own it.
Trevor May Video Breakdown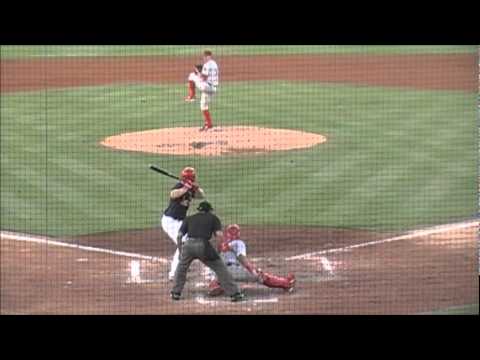 Matt Harvey New York Mets (22) - Matt Harvey was one and two along with Jeurys Familia to start the season for the SL Mets. Both dominated the FSL and have since jumped to Double-A. Through 76 IP, he had a 2.37 ERA and 92 Ks. His 7.8% walk rate was excellent as well. It's his first season but he could be the workhorse that the Mets need.
Nestor Molina Toronto Blue Jays (22) – Molina wasn't considered one of the Jays top prospects heading into the season but that hasn't stopped him from putting up some eye popping numbers. He has 115 K's through 108 IP with a 2.58 ERA. One would think he was pitching way over his head, but his FIP is 2.63. He doesn't have over powering stuff. But he has excellent control and a nice 3 pitch mix. With that said, this isn't a front of the rotation type by any means. But a #4 or 5 possibly. Nice surprise.
Nestor Molina Video Breakdown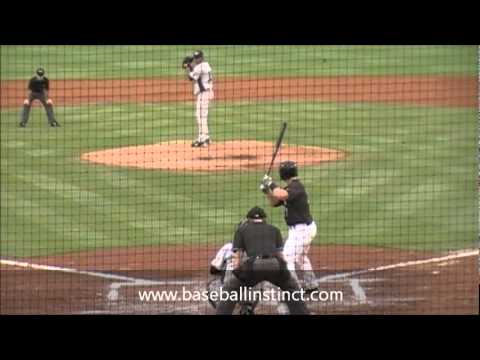 Deck McGuire Toronto Blue Jays (22) – McGuire is, in fact, one of the Jays top prospects and he pitched like one in the FSL before his recent call up to Double-A. 102 K and 38 walks in 104 IP. His GB rate is right arounf 50% and his FIP of 3.81 says his 2.75 ERA was a bit of a masking to the real numbers. His struggles so far in Double-A are not a surpise. He's a big kid and will be a workhorse. But it may be as a #3 ceiling with the back of the rotation more likely.
Alexander Colome Tampa Bay Rays (23) – This list has a few pitchers that have already made their way to Double-A and Colome is another that has done just that. Colome has good numbers across the board, but, with his stuff, I would expect more. His 3.66 ERA and 21.5% K percentage are not dominant and with his mid 90s fastball, average curve and change you would expect a better line. His GB% isn't high enough and his command can be spotty. He may end up in the bullpen.
Alexander Colome Video Breakdown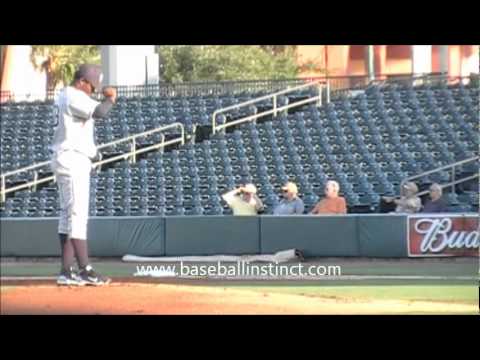 Chad James Florida Marlins (20) - James has had an odd season. He went 0-13 to start the season. But that wasn't his fault. With ERA's of 2.73, 3.76 and 3.46 in April, May and June it was poor luck that he didn't, at least, fall into a win somehow. He has a great pitchers frame and from the left side he could be a really valuable commodity for the Marlins. He still has work to do but the command is there with only 47 walks in 134 IP. He has the makings of 3 plus secondaries, and low 90s fastball that could kick up next season. 2012 breakout candidate.
Chad James Video Breakdown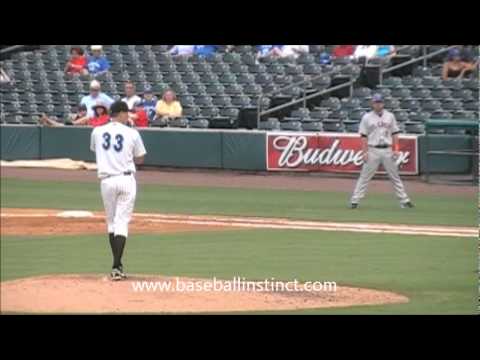 Brett Marshall New York Yankees (21) – Overshadowed by the likes of Banuelos and Betances in the system, Marshall has electric stuff. A mid 90s fastball that could some day top out around 100 and a power slider. His 2 seam fastball is a ground ball getter and has allowed him to produce a 54% GB rate in 2011. He goes after hitters with the 2 seamer which keeps his K numbers down some.  19.5% or 103 in 125 IP. He has good control and his 3.55 FIP supports his 3.88 ERA as legit. Still room to mature as a pitcher, he can be a #4 or a power reliever.
Dae-Eun Rhee Chicago Cubs (22) – Rhee is in his second season back from TJ.  This should have been the year he made the jump with his command coming back and his once plus change-up regaining its control of the zone. But it hasn't materialized. The 4.51 ERA is fully supported by a 4.04 FIP and his sub 20% K rate is not enough for him to get by on a low 90s fastball. But nights like the May 26th game against Bradenton, where he struck out 10 in 5 IP, keeps the hope that his control and fastball will come back to pre-TJ form.
Brody Colvin Philadelphia Phillies (21) – Colvin was considered the top Phillies pitching prospect heading into the season by some of the other publications. His low 90s fastball, average curve and average change gave him three pitches that they saw as potential for a #2 starter. His mechanics aren't clean and his fastball doesn't have the life reported. You'll see in the video that while this is a pitcher with potential it's not front of the rotation stuff. With his 3 average pitch mix and good size he does have mid rotation potential but slots better into the #4 spot. But his FSL numbers of 65 K's in 93 IP and a 8.2% walk rate will not hold up well at the higher levels. He still has a lot to learn. Repeating the FSL to start next season isn't out of the question.
Brody Colvin Video Breakdown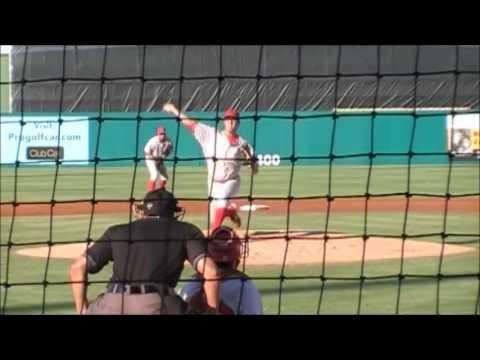 Asher Wojciechowski Toronto Blue Jays (23) – With the three SP's I got the chance to watch this year for the Jays, Asher is the one that stood out to me. His parents were on hand for the start and maybe he was just kicking it up for that reason. But his fastball had late life and good command and his slider was a put-away pitch. His change looked like an average pitch and I think he can easily be a #4 starter in the majors two years from now. With his large frame and solid mechanics he looks to be an innings eater. His walk rate is excellent at 5.9% but his K numbers are low and GB rate is only average at 43%. There is something here to like but its not the numbers.
Asher Wojciechowski Video Breakdown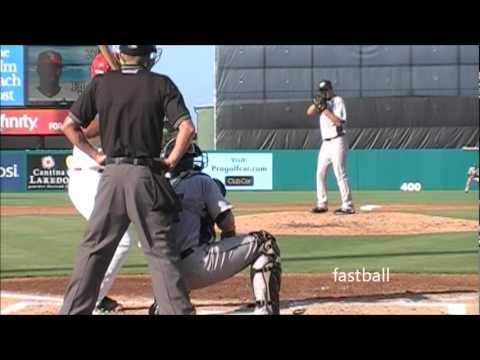 Nick Bucci Milwaukee Brewers (21) – Drafted in 2008 out of HS in Canada, it's been slow growth for Bucci and he's an unsung prospect. But his low 90s fastball and aggressiveness gives him a chance at being successful with enough development time. He's a touch under a K per inning and rest of his numbers are just average but his frame has projection and he has a presence on the mound. There is more upside here.
Nick Bucci Video Breakdown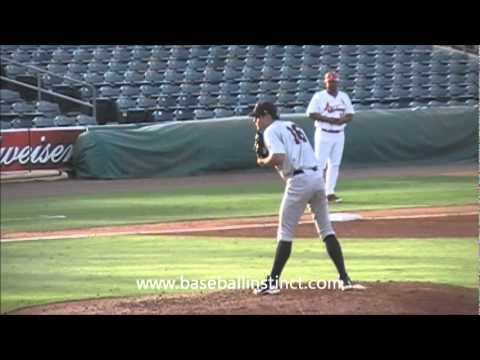 Jarred Cosart Houston Astros (21) – Cosart was traded by the Phillies as the key piece to the Astros for Hunter Pence. Though he is a very talented pitcher, Cosart has been inaccurately named the Phillies top pitching prospect in reports discussing the trade.  His arsenal includes a mid 90s fastball that he gets to 97, a hard curve and an average change-up. But he has yet to translate that into dominance outside of shorter stints. His mechanics are also a a cause for concern. So I think eventually he finds success in the bullpen with the ceiling of a closer.
Jonathan Pettibone Philadelphia Phillies (21) – Even with the trade of Cosart, the Phillies have a very deep system on the pitching side. Pettibone is another FSL prospect with a solid workhorse frame and polish. He doesn't beat himself when he's on the mound trusting his stuff. With a low 90s fastball, advanced change-up and two breaking pitches that while below average, he can throw for strikes. His 102 K's in 140 innings are adequate and when paired with only 32 walks he's finding success at an early stage. He has the upside of a back end of the rotation workhorse.
Tyler Thornburg Milwaukee Brewers (22) – I think Thornburg is a very talented pitcher. Mid to high 90s fastball with a plus curveball and challenges hitters. His smaller frame and ability to really kick up the velocity in short stints make Thornburg an easy call for the bullpen as a pro. So while the Brewers will continue to develop him as a starter he'll probably get the call as a RP and stick there long term. Potential future closer and 2012 setup man.
That's the FSL pitchers. We're working hard on bringing you individual breakdowns of each prospect, call up and the top Draft Prospects signing with their big league clubs at the deadline.  Plus we're going to be taking a look at the Carolina League next and I'm knee deep in stats and news to get to the cream of the crop in 2011, so stay tuned and while you're waiting check out the Prospect Instinct for Arizona Diamondbacks OF Collin Cowgill and the newest Blue Jays pitcher to take the bump in Toronto, Henderson Alvarez.