Jose Campos, RHP Seattle Mariners
7/27/1992
Height: 6'4″ Weight: 195
Looking to unearth a prospect diamond in the minor league baseball rough?  Well, then Baseball Instinct has a scoop for you.  When the Mariners signed a 16 year old, hard throwing Venezuelan pitcher away from the St. Louis Cardinals in 2009, it was essentially a non-event in the greater baseball landscape.  He then remained in the Venezuelan summer league for two years while getting his US visa squared away.  So it was difficult to get a read on what kind of talent the Mariners had.  To further complicate things, there is some confusion as to his actual name.  On some prospect lists you will find him listed as Jose Campos, but on others you may find him as Vincente Campos.  This has caused some people to wrongly assume that these were two different players. Up until now he has remained shrouded in obscurity.  Please let me introduce you to Jose Vincente Campos, a Northwest League pitcher that needs to be on your radar.
Prior to actually seeing Campos, all I had heard about him was that he had a good fastball, but otherwise was a very raw pitcher.  Rumor was that he could hit 95+ with his fastball in bullpen sessions, but didn't have any other substantive offerings to go with it.  Additionally I was hearing that his command needed work. After having seen him, I think the scouting report is a reflection of how difficult it is to get solid information on players coming from the Venezuelan summer league.  Without further ado, let's get to our observations.
The Stuff
As advertised, Campos brings a solid fastball offering.  His FB sits at 91-92Mph, but I saw him find an extra couple ticks to register at 94Mph when looking to put away a hitter.  Campos is listed as 6'4" and this helps him to get downward plane on his fastball.  His fastball has been described as heavy and I think that is a fair description.  Very few hitters are able to square up and drive the ball with any authority.  In fact, at the games that I have observed, not many hitters actually got the ball out of the infield.  However, the biggest difficulty in attempting to square up on the FB is his ability to locate it.  Campos regularly threw his 91-92Mph fastball on the inside part of the plate.  This caused a lot of weak grounders or pop ups and indicated that he was getting in on the hands of the hitters.  While the velocity of his fastball was impressive, I was more impressed by the fact that Campos could locate the FB where he wanted on a consistent basis.
Campos compliments his fastball with a nice slider.  While this pitch doesn't have huge movement, it does a have late breaking action to it.  Campos brings his slider from the same arm slot as his FB and the pitch moves to the outer half of the plate against right handers as it breaks.  This a great compliment to the FB that he likes to bring in on the hands of right handed batters.  The slider sits consistently at 83-84Mph and was highly effective.
Campos does have a curveball to go with his other pitches.  It is most certainly a work in progress.  The curve is a 12-6 offering, but does not have great breaking action to it.  However, the breaking action is not so important, since it tends to have the effect of a changeup.  The curveball consistently sat at 73-74Mph.   If he could have commanded the CB with any consistency whatsoever, it would have devastated hitters that were obviously geared up for his FB.  The hitters hardly ever offered at the curveball and often it was out of the strike zone.  But when he did manage to throw it in the strike zone, the huge difference of velocity between his FB and CB simply buckled the hitters.  Campos seems to understand that the curveball is a weapon he will need to have to use against left handed batters.  As a result, he throws this pitch a lot and seems very determined to develop it.
The Mechanics
Let's take a look at the video from Campos' 8/25 start against the Yakima Bears: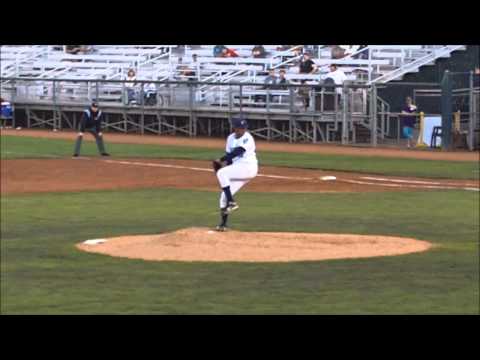 Campos stands at 6'4'' and is close to 200lbs.  His frame looks like it will fill out a bit more and suggests a workhorse type body.  His high leg kick seems to help with a long stride and easy, repeatable delivery.  Arm action was smooth and it seemed as though Campos had another gear of velocity that he could reach if needed. One word of caution is that Campos does start his arm action a fraction of a second late which is going to add to the stress on the shoulder if he tries to overthrow the velocity. Currently his arm action is what most consider "easy" and I agree. Since the 92-94 mph fastball is already his level I don't see a lot of reason for concern about this slight mechanical flaw as he moves up the ladder. Since he just turned 19 years old a few weeks ago, there is projectability to his stuff.  I would not be surprised to see an increase in velocity as he develops.
Our Instinct
Obviously, I am high on the physical tools that Campos has to work with, but there is one other very impressive facet to his game.  Campos has great presence on the mound.  This was exemplified multiple times during the games that I saw.  Campos was victimized by several errors committed by teammates on what should have been routine plays.  Each time that I witnessed this Campos would acknowledge the teammate as if to say " don't worry I got this one".  And then he would go right back to work.  He exudes confidence on the mound.  Of course, 11/82 bb/k ratio would make it easy to have confidence.  Campos is a quick worker and often had retired the side in under 4 minutes.  He is efficient with his pitches and likes to throw strikes, as 11bb in 76innings would suggest.
Pitching in Short Season A-ball is a long ways from the big leagues and Campos still has to develop his overall game.  But there is a lot to like with his tools already and there is every reason to believe that his game will develop over time.  Having just turned 19 years old, he is the youngest player on his team and one of the youngest in the league.  He more than held up to the league sporting 2.12 era over 76IP.  And is finishing very strongly with 4 earned runs over his last 5 starts.  As the Everett Aquasox fight for the playoffs Campos is dominating the league with 1.06 Era with 40K's and 2 BB over 34 innings.  Get him on your radar now….the rest of the world will be taking notice really soon.
Jan. 13th 2012 update – Campos was dealt to the New York Yankees today.  He came in #5 on our Seattle Mariners top 10 prospects for 2012 and #45° on our Baseball Instinct 360°.
Check back soon as we profile many more Top MLB Prospects and also get our baseball geek on and take a look at some of the later draft picks from the 2011 draft that we think could be big names on the prospect radars in the near future. While you are here, check out our Baseball Instinct 360° list for the top prospects in baseball.  Thanks for checking Baseball Instinct. We're working hard to bring you the best of the minor leagues and make the site the best experience it can be. So don't hesitate to tell us what you would like to read about. Email us at mailbag@baseballinstinct.com.