Stephen Strasburg, RHP Washington Nationals
7/20/1988
Height: 6'4″ Weight: 220
Everyone knows the story of Stephen Strasburg. I'm not here to rehash that in detail. Dominating 2010 debut. Elbow injury. Tommy John surgery. Rehab. Next he makes his 2011 debut about 12 months after surgery. Let's start by taking a look at what we had to say in 2010 for his Prospect Instinct:
OUR INSTINCT: With Stephen Strasburg's current delivery, there are two likely outcomes for his career. The first is the Mark Prior/Anthony Reyes outcome.  That outcome basically involves a lot of hype, shoulder or elbow injury, and a flame out.  The second, more positive outcome, is the John Smoltz outcome.  He could dominate for much of his career but also suffer through shoulder injuries.  Regardless, with these mechanics, a shoulder injury is imminent.
Stephen Strasburg is ready to face major league lineups right now and will be able to move to the front of the Washington rotation as soon as they allow him the opportunity. To expect less of him with the amount of talent that he has would be foolish. Here at Baseball Instinct we see Strasburg as an ace. He's going to put up some dominant seasons and if you're counting on him in Fantasy Baseball he's going to be able to anchor your rotation without question and as soon as this year. Our only concern is how long he will be able to sustain his success. He's a once in a generation talent. How long he can showcase that talent will be up to the doctors, not up to him.
The Stuff
Mid to high 90s fastball with hard movement and plus command. Plus curveball. Plus changeup. And a plus slider. He's a freak when it comes to his arsenal and his command. His competitive streak is also a plus tool.
The Mechanics
The major issues we had with Strasburg's mechanics heading into last year were all very fixable if the Nationals ever got the chance to rework him from scratch. That would have taken a major injury. We predicted a catastrophic shoulder issue inside of 5 years. After the torn UCL the Nationals were actually in a position to save their star. I considered it a blessing in disguise for Strasburg. While I had no access to Strasburg's rehab I thought for sure when I got the chance to see him throw again, most of the fixable mechanical flaws would have been gone. Let's take a look at some video form his first rehab outing: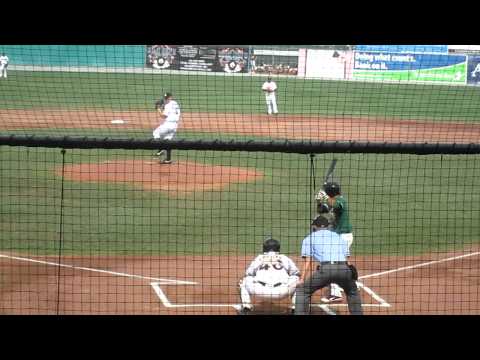 As you can tell from the video, if you compare it to Strasburg 2010, there are in fact no mechanical adjustments that have been made. I'm astounded at the fact. We are not the only publication to write about the mechanical flaws that Strasburg had. It really couldn't have been a secret to the Nationals that there were blaring red flags with the Future Ace.
Yet when they had the opportunity to rebuild his muscles and stabilizing tissue during the rehab process they chose not to do it while also reworking his mechanics. Sure, changing a pitcher's mechanics in a major way while the pitcher is healthy will undoubtedly lead to injury to under-utilized muscle and tendons now being forced into advanced action. But Strasburg was going through an intense rehab that would have avoided that issue.
Based on the video, his tempo is still way too quick at the start. He gets his arm back too quickly and too far, causing the dreaded inverted W. It's still there. Still blatantly apparent. With the torque and force that this man-child generates, he is giving his shoulder no chance at being able to hold up over the long term.
Our Instinct
I still love this kid's talent. I still stand by my summation that he's a once in a generation talent. Everyone should enjoy watching him pitch every chance they get and get out to the ballpark to see him in person. But my fear of him finding himself with a serious shoulder injury around the 1000 innings pitched mark are still very real. My compatriot, Aaron Bentley, isn't as optimistic as I am.
Next season he will be expected to front the Nationals rotation. 200+ innings.
The following season the Nationals are expected to be a contending team. 200+ innings.
With this team coming into its own, led by young players and a front office willing to shell out fat checks for some top free agent talent, the Nationals are going to ride Strasburg like a true workhorse. But his shoulder is going to have less time than it's ever had to heal between starts. That damage is going to build to the point where offseason rest is not going to fully repair it. Eventually only the knife will be an option.
I do hope I'm wrong.
Check back soon as we profile many more Top MLB Prospects and also get our baseball geek on and take a look at some of the later draft picks from the 2011 draft that we think could be big names on the prospect radars in the near future. Anyone can tell you that Mike Trout is going to be a stud now, but who told you that when he was drafted? So take a look at Jose Campos right now, right here and be a step ahead of the game. Thanks for checking Baseball Instinct. We're working hard to bring you the best of the minor leagues and make the site the best experience it can be. So don't hesitate to tell us what you would like to read about. Email me now at Tom@baseballinstinct.com.