Hak-Ju Lee, SS Tampa Bay Rays
11/4/1990
Height: 6'2″ Weight: 180
Hak-Ju Lee was signed by the Chicago Cubs as an International Free Agent out of Seoul, Korea in 2008. He was just 18 years old at the time and needed Tommy John surgery before coming to the States. Lee has moved quickly from international signee to top prospect for the Cubs and was then traded to the Rays in the Garza deal. The Cubs had Starlin Castro in the majors and that made Lee expendable. The Rays are hoping that if Tim Beckham doesn't fully develop that Lee will be able to take over SS in time. Lee came into the season in our Top 100 Prospects at #76. Here's what we had to say:
76. Hak Ju Lee SS TB – Traded by the Cubs to Tampa for Matt Garza, Lee was the Cubs top infield prospect and moves to that same post for the Rays. He's a slick fielding SS who will stick there easily. He'll have average pop and put pressure on teams with his speed from the left side.
He's packed on some weight this year, adding 10 pounds, while still keeping his speed intact. Let's take a look at the tools that Lee offers the middle infield starved Rays in the near future.
The Bat
Lee is more speed than power at this point and that will most likely always be the case. But as he adds some additional weight he should be able to develop enough power to keep defenses honest and his speed will provide plenty of doubles. He's grown his IsoP year over year and it's currently above the .125 mark for the season. The .125 mark tends to be my cutoff point for considering power as a useful tool. So he's getting there. Let's take a look at some of Lee's AB's from the FSL this season in some of our video.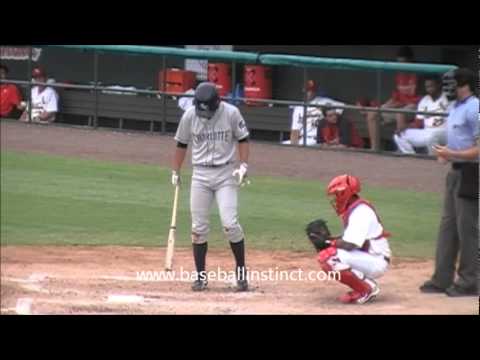 As you can see in the video, Lee's swing isn't going to be conducive to much power. He'll be more a slap and run hitter while, at times, driving the ball gap to gap with the occasional long ball. As long as his speed holds up, he'll be able to keep his OBP around .400 despite his only average bb%. He makes a lot of contact so his K rates are also very manageable in the sub 20% range.
The Glove
Lee's glove is premium and he has very quick and clean movement at SS. His arm is also above average, although like many young SS he is guilty of overthrowing or flipping the ball instead of being consistent with his release and tempo. That tends to come with maturity and Lee is a smart enough player to find the end of that learning curve.
Our Instinct
Lee is going to make enough contact while he moves up the ladder, because he has great bat control. But he doesn't have enough power to be an everyday SS in the AL West or the elite speed to overlook the lack of power. So if Tim Beckham can continue his development, I think it will be Beckham, not Lee, that gets the first shot at taking the long term role as the Rays everyday SS. If that is the case I do think that Lee will be their 2B for a time and then eventually, as his speed starts to wain, he'll settle into a utility role.
During his younger years I think Lee will have enough speed, contact and glove to be a useful player for the Rays. He has enough speed to be a 30 SB type now. The power would surprise me if he ever hit 10 HR in a season while he was still able to steal 30 bags. If he can learn to better work counts and boost his bb% over 10% it would put him at a very high OBP level and give him one elite level skill. That skill set growth alone, with the current speed, would make him an ideal leadoff hitter with or without any additional power development. That's his ceiling. Very usable. His floor is quite high as well, as a major league utility infielder. That's why he landed on our Top 100 List. He'll never be an elite level talent, but the chances are good that he becomes a league average player or better and that's tough to come by.
Check back soon as we profile many more Top MLB Prospects and also get our baseball geek on and take a look at some of the later draft picks from the 2011 draft that we think could be big names on the prospect radars in the near future. Anyone can tell you that Mike Trout is going to be a stud now, but who told you that when he was drafted? So take a look at Jose Campos right now, right here and be a step ahead of the game. Thanks for checking Baseball Instinct. We're working hard to bring you the best of the minor leagues and make the site the best experience it can be. So don't hesitate to tell us what you would like to read about. Email me now at Tom@baseballinstinct.com.