Liam Hendriks, RHP Minnesota Twins
2/10/1989
Height: 6'1″ Weight: 200
Liam Hendriks was signed by the Minnesota Twins out of Australia in 2007. He had a brief US debut before needing surgery on his knee, which cut his season short. He missed all of 2008 rehabbing. In 2009, Hendriks starting making some noise by striking out close to a batter per inning while walking just 15 batters in 66 IP at Beloit. In 2010, Hendriks broke out and made a name for himself. He was first pointed out to me by one of our staff writers and he's been on the Instinct radar as a top prospect ever since.  He made it into our Preseason Top 100 List at #79.
Let's take a look at the pitch arsenal and the mechanics of Hendriks.
The Stuff
Hendriks is a successful pitcher without a single plus pitch. But his command is plus to possibly plus plus and that's the reason he's on Top 100 Prospects Lists.
Hendriks has a low 90s fastball that induces ground balls due to its sink and he works the pitch to both sides of the plate. It's currently an above average pitch due to it's movement even without plus velocity. His slider has hard, tight bite and is a major league strike out pitch. He also throws an average change-up, which will be enough to keep left-handed hitters off balance and a curveball which might be above average or more in time. So while he doesn't have the velocity of an Ace or a plus pitch to live off of at this time, he does have many usable weapons and he knows how to use each of them.
The Mechanics
Hendriks has a clean compact delivery that he repeats very well. That is mainly what allows him to be so efficient with the strike zone and work inside out with his pitches effectively.
Let's take a look at some video from Prospect Portal: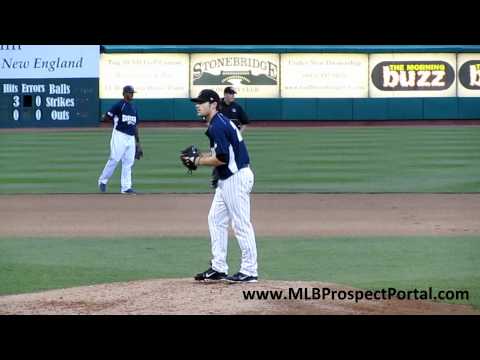 As you can see from the short video, his mechanics are simple and easily repeatable. There aren't any red flags that say he's an injury risk, although there are some things that I'll point out as fundamental changes if he were to rework his mechanics (which as a finesse pitcher, he doesn't need to). His tempo is good, but his leg extension is just a little short which causes him to bring his arm through just a moment too early. This would normally cause unnecessary stress on the shoulder. Hendriks still has excellent arm speed despite throwing without much drive off of his back leg. The lift and drop of his stride allows him to be the command based pitcher that he is. I wouldn't mess with what's working in the case of Hendriks.
Our Instinct
To  get started, this is what we had to say about Hendriks before the season:
79. Liam Hendriks SP MIN – While he doesn't have any plus pitches right now, Hendriks does have plus command and has a low 90s fastball, above average slider, changeup and curveball along with a cutter. So his arsenal is deep and he knows how to use it. He'll never be an ace type but he has mid rotation potential.
There's a chance that he turns one of the breaking pitches into a plus pitch and his change up could get there too. He's just that type of pitcher. I'll stand by the preseason notes. Hendriks, despite not having any plus pitches has elite command. He hasn't been above 5% with his walk rate in a few years and this season in Triple-A he's only walked 3 batters in 50 innings. That's ridiculous. While his K rate has dropped, I think that Hendriks is going to be a 20% K rate type and keep the groundball rates around 50% which he's done at every level, up until this season.
If he can work that ground ball rate and continue to be the low walk type of pitcher, he has #3 upside but easily slots in at the #4 spot with little downside. Minnesota has had Scott Baker as their Ace at points and I don't see Hendriks as being a vastly different pitcher overall. Hendriks may actually be a more well rounded pitcher than Baker. But neither is a true MLB Ace.
(Update: Hendriks is rumored to be in line to make his major league debut this Tuesday.)
Check back soon as we profile many more Top MLB Prospects and also get our baseball geek on and take a look at some of the later draft picks from the 2011 draft that we think could be big names on the prospect radars in the near future. Anyone can tell you that Mike Trout is going to be a stud now, but who told you that when he was drafted? So take a look at our Touch'em All | GCL Hitters and be a step ahead of the game. Thanks for checking Baseball Instinct. We're working hard to bring you the best of the minor leagues and make the site the best experience it can be. So don't hesitate to tell us what you would like to read about. Email me now at Tom@baseballinstinct.com.