Gulf Coast League – Pitchers
This is where the stars of tomorrow are playing. With the Gulf Coast League closing up shop for the 2011 season, I wanted to take a look around the league and see who some of the statistical stars were. Sure, it's Short Season ball. Sure, most of these guys are making their U.S. debuts. But this is where it starts to become a little more clear how much you really love baseball. This is when we build our 2012 farm watch lists. You have some International signees mixed with 2011 draftees. Some of the International players spent a couple of season in the Dominican Summer League or the Venezuelan Summer League while the U.S. kids finished out their High School careers. But this is from where many of the lesser heralded prospects rise. We brought you the hitters, now let's take a look at some of the pitchers.
Jean Carlos Gil, RHP Braves 10/12/1990 – Height: 6'2″ Weight 155 – He's only 155lbs at age 20, but this is the second year that he's posted more than a K per inning while keeping his walk rate below 5%. With a 2.91 ERA and a 3.02 FIP to support it. Some how he gave up 6 HR in 65 innings while still holding his ERA down. There aren't many HR hit in the GCL. So it's something to watch as are his other numbers.
Ethan Stewart, LHP Phillies 1/19/1991 – Height: 6'5″ Weight: 210 – Stewart is a big lefty, averaged a K per inning with 54 in 54.2 IP. His walk rate is manageable for a young lefty. The Phillies actually thought enough of him to give him a couple of starts at Low-A to end the season.
Mason Hope, RHP Marlins 6/27/1992 – Height: 6'3″ Weight: 190 – Drafted by the Marlins in the 5th round this year, Hope, is possibly the biggest steal of the draft in the first 5 rounds. Overshadowed by bigger names in his home state of Oklahoma, Hope probably should have been a top 2 round pick. His 31 K's and 7 walks in 27.1 IP show what he's capable of right out of High School. Here is some video of Mason Hope from his final start of the GCL season: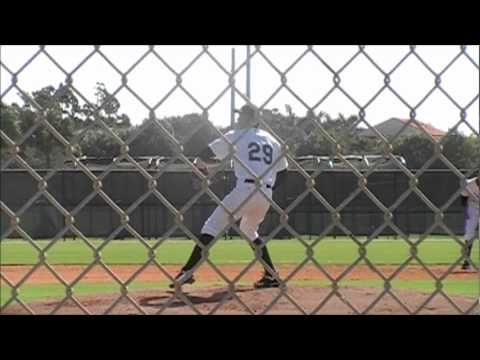 Eduardo Rodriguez, LHP Orioles 4/7/1993 – Height: 6'2″ Weight: 175 – The 18 year old is in his second season and repeating the GCL. But he did it in dominating fashion. In 10 starts he held a 1.81 ERA, supported by a 2.42 FIP and struck out 46 in 44.2 IP. His walk rate is a touch high, but for an 18 year old lefty it's acceptable. He made his Low-A debut to close out the season and is a name to watch for 2012.
Adonys Cardona, RHP Blue Jays 1/16/1994 – Height: 6'4″ Weight: 175 – Cardona is pure projection at this point with just 31.2 IP under his belt as a pro. Signed as a 16 year old, he made his debut in the GCL which is aggressive by the Jays. But he held up well striking out 25% of hitters faced and walking just 12. His ERA was 4.55 but his FIP was a more manageable 3.35. He's a name that will start to be hi-lighted in 2012.
Luis Nunez, LHP Twins 9/29/1991 – Height: 5'11" Weight: 160 – Nunez has only started one game over the past two seasons, but his 29.4% K rate deserves note. Tack on his 6 walks in 32.1 IP and you have some interesting numbers from a lefty. His 1.67 ERA was actually higher than his 1.56 FIP this season. He's not very big, but is still young enough to grow some.
Austin Brice, RHP Marlins 6/19/1990 – Height: 6'3″ Weight: 190 – I got to see Brice in person and he has room to add weight to his frame. He had 55 K's in 48.2 IP this season and opposing teams hit just .186 against him. As good as his K rate is, his walk rate is just as bad. He had 33 walks in those same 48.2 IP. So he has the ability to miss bats, but has a lot of work to do if he's going to be successful at higher levels.
Check back soon as we profile many more Top MLB Prospects and continue to get our baseball geek on and take a look at some of the later draft picks from the 2011 draft and International kids that we think could be big names on the prospect radars in the near future. Anyone can tell you that Mike Trout is going to be a stud now, but who told you that when he was drafted? So take a look at Jose Campos right now, right here and be a step ahead of the game. Thanks for checking Baseball Instinct. We're working hard to bring you the best of the minor leagues and make the site the best experience it can be. So don't hesitate to tell us what you would like to read about. Email me now at Tom@baseballinstinct.com.