Julio Teheran, RHP Atlanta Braves
1/27/1991
Height: 6'2″ Weight: 175
Julio Teheran was signed by the Braves out of Columbia in 2007 for $850,000.  He was just 16 years old and it took him all of 4 seasons to make his major league debut as a 20 year old. For a 20 year old it seems like he's been touted for a long time as a top prospect and that's because he has. Top Pitcher Awards, Futures Games, and Top Lists every preseason. 
He was in our Top 100 last year as an 19 year old and then came in at #15 this preseason on our Top 100 list:
15. Julio Teheran SP ATL – The top arm in a very talented Braves system. Teheran has a plus FB with above average secondaries and good feel for working hitters. Just 20 he still has some filling out to do so there could be some additional velocity. He has a small frame right now and a full season could wear him down. If he doesn't fill out he could end up as a closer.
Let's take a look at his pitching arsenal and mechanics to get a better idea of what this young righty could be some day.
The Stuff
Teheran works off of a mid 90s fastball that he commands well to both sides of the plate. The pitch does have late life, but it's fairly straight at this point. I think the pitch rates more as above average than plus at this point, though Teheran has a lot of room on his frame to add weight as he gets older. That additional growth should uptick his velocity and put as a plus offering.
He pairs the fastball with a mid 80s changeup that has hard late fade and rates even now, at this young age, as an above average pitch.
His breaking ball is a low 80s curveball with 11-5 break. The pitch is still inconsistent. It can be a plus pitch at times that he's commanding it in the zone and rank as an average pitch when the command is spotty.
Overall, he has three pitches that should grade at least as above average in time. Remember, he's only 20.
The Mechanics
Besides the fact that Teheran is still so young and has such a thin frame, taking a look at his mechanics will give us some additional insight into his ability to hold up under a full workload. Let's take a look at video from Prospect Portal: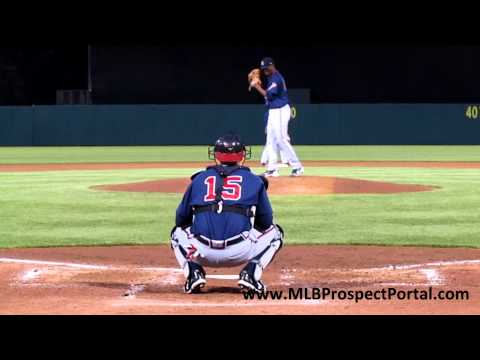 As you can see from the video, he gets good leg extension and a lot of the power comes from serious leg drive. Another takeaway is his arm speed between his fastball and curveball. Very close and while there isn't a changeup in the video, his changeup comes with a very similar arm whip.
There is definitely a lot stress on the arm with that type of arm speed, but as long as Teheran continues to add weight he should hold up well. He's going to get to around 170 innings this season. I'm thinking that the Braves will keep a similar workload next season making 2013 the first season that he takes on a full blown 200+ inning season.
Our Instinct
Julio Teheran is young enough to add another 20+ lbs to his frame. If he does there is an uptick in velocity. Enough to where even as he becomes more fine a pitcher, he'll still work in the mid 90s. His secondaries are already very close to giving him a 3 pitch mix worthy of a #2 starter. If either of his secondaries makes the jump to plus he can front the Braves rotation.
If this is the frame that Teheran will work with throughout his career I do have some worry about him holding up under a full workload. If that's the case he might wind up in the bullpen as a power reliever. That would be a waste of his 3 pitch mix and ultimate potential though. So even if he's dealing with the smaller frame, I think managing his workload closely in his early years would go a long way to making him last season in and season out as a part of the Braves rotation.
The upside for Teheran, is taking over as the Braves Ace by 2014. The downside is a power reliever. The most likely outcome is settling in as the #2 SP in the rotation with less emphasis on the workload. It's all going to come down to how much room his body has left to grow.
Check back soon as we profile many more Top MLB Prospects and also get our baseball geek on and take a look at some of the later draft picks from the 2011 draft that we think could be big names on the prospect radars in the near future. Anyone can tell you that Mike Trout is going to be a stud now, but who told you that when he was drafted? So take a look at our Touch'em All | GCL Pitchers and be a step ahead of the game. Thanks for checking Baseball Instinct. We're working hard to bring you the best of the minor leagues and make the site the best experience it can be. So don't hesitate to tell us what you would like to read about. Email me now at Tom@baseballinstinct.com.