Trevor May, RHP Philadelphia Phillies
9/23/1989
Height: 6'5″ Weight: 215
Trevor May was drafted by the Phillies in 2008 out of High School in Washington. He was a 4th round pick and signed for $375,000 before making his brief debut in the GCL. He spent the next season in Lakewood in Low-A ball and put his name on the map by striking out 95 in just 77 innings of work.
He moved to the FSL in 2010 and flashed the same dominance, but a mechanical flaw in his delivery wreaked havoc on his walk rate, eventually leading the Phillies brass to move him back to Lakewood to regain his confidence and fix the issue. He did just that, leading the Lakewood BlueClaws to a second straight title.
So in 2011, he was given a second shot at the FSL and was slated to be the #3 starter behind Jarred Cosart and Brody Colvin. Let's take a look at his 2011 season with the pitch arsenal and mechanics that made him the ace of that staff instead.
The Stuff
May has a low to mid 90s fastball working mostly in the 93-96 range. The pitch has good movement and its quality is elevated by May's large frame. At 6'5″, he's takes full advantage of his height and uses a high 3/4 arm slot to pitch downhill and gets hard arm side run when he's pitching at peak velocity. The downside is that he doesn't have greatest control when working at peak velocity either. So what makes the pitch above average also keeps it from being a plus pitch.
The secondaries are a plus 11-5 curveball that he throws in the high 70s. This has been the pitch that has given May the most trouble in the past when it comes to his control. It's a good pitch with hard break but very little command has come along with it. May has been able to take some additional command of the pitch this season which has led to his big bounce back and true breakout.
The changeup is an average pitch which should be above average in time. There is just enough separation from the fastball to make it work well. It clocks in around 83-86 mph with a similar arm slot. There is more work that needs to be done with this pitch but it should be enough to make May a starter long term.
The Mechanics
I got the chance to see Trevor May on a few occassions, so let's take a look at the big righty and see if there are any red flags in his delivery: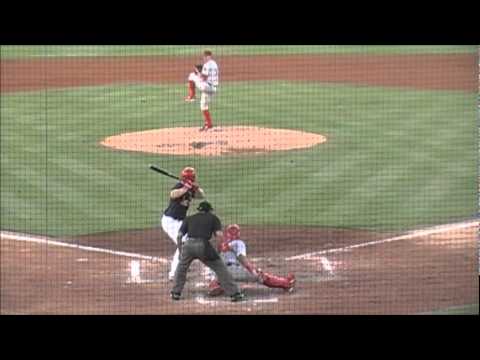 I'm going to lead of with the fact that Trevor May is a big kid, standing 6'5″ and 215 lbs. So he has a big, strong base.
However, there are some issues with his mechanics, athough they are slight. Some which cause the difficulty in repeating, which affects his command at times, and some which could be issues with his arm remaining healthy. Each issue is minor, each issue is easily corrected and each is slight enough where if not corrected it may not cause any long term troubles anyway.
To start, while May is big and he does use it to his advantage, he doesn't maximize it as much as he could. He does get a little small inside of the drive instead of being more straight downhill. But despite the drop and load that he uses he still drags his elbow through the motion slightly lowering that his shoulder. Which could add stresses to the shoulder.
The last negative is his landing point which off to the 3rd base side a little and forces him to throw cross body ever so slightly. With his large frame it's probably not an issue and may give him key deception in his delivery.
He gets good front leg extension despite the landing spot and powers off of his back leg generating excellent lower half power. As you can see, he throws with some excess effort and there is no mistaking that he is a power pitcher first and foremost.
Our Instinct
May rated higher on our 2011 Top 100 List than any other Phillies pitching prospect. With his 3 pitch mix of average to plus pitches and workhorse frame, there is a wide swing of possibilty with May. All of those possibilities have him, in my opinion, a valuable major leaguer.
His K rate is clearly elite this season, sitting above 33%, and has been elite level his entire career. That in and of itself doesn't tell me starter or reliever. It does tell me that he would be a valuable bullpen arm if he doesn't settle in as a starter long term. With his walk rate getting back to an average number this season, his future as a starter is more clear than it was last season, but still not a sure thing.
His groundball rate of 36% is low, but indicative of a power pitcher in the FSL. There is concern that when he leaves the FSL that he may see a jump in balls leaving the yard. The concern is legitimate, but not one that will undermine his success.
I think, at this point, Trevor May has the upside of a #2 starter if his pitches all max out leaving him with two plus pitches in his fastball and curveball and an above average changeup. It's more likely that he slots in as a #3 starter with high K rates. He's a pitcher that I really like at this point and stick with my preseason determination that he was the best in this system.
Check back soon as we profile many more Top MLB Prospects and also get our baseball geek on and take a look at some of the later draft picks from the 2011 draft that we think could be big names on the prospect radars in the near future. Anyone can tell you that Mike Trout is going to be a stud now, but who told you that when he was drafted? So take a look at our Touch'em All | GCL Pitchers and be a step ahead of the game. Thanks for checking Baseball Instinct. We're working hard to bring you the best of the minor leagues and make the site the best experience it can be. So don't hesitate to tell us what you would like to read about. Email me now at Tom@baseballinstinct.com.