Matt Dominguez, 3B Miami Marlins
8/28/1989
Height: 6'1″ Weight: 205
Matt Dominguez was drafted in the first round of the 2007 Draft. Dominguez will forever be linked to his High School team mate Mike Moustakas who went #2 overall to the Royals while Dominguez was taken by the Marlins at the 10 spot. Both projected as 3B with Dominguez getting the gold glove tag even before the draft and Moustakas getting the prolific power potential tag.
Dominguez signed for an above slot $1.8mm and by-passed a ride to Cal State Fullerton. He immediately ranked in our Top 100 Prospect List based on his glove alone. He came in at #83 for 2011:
83. Matt Dominguez 3B FLA – Dominguez in time should be a decent hitter with some power. But we're talking about .275/15 seasons which is lacking for a 3B. His calling card is going to be some gold glove caliber defense and a very strong arm.
Let's take a look at the Bat and Glove tools for Dominguez as well as some video shot in the FSL earlier this season.
The Bat
If you take a look at Dominguez minor league career totals there has to be questions raised. Not about how much he'll hit, but if he'll be able to hit at the major league level at all. He's topped a .200 IsoP only once, which was in 2008 in the hitters haven of Greensboro. It's not that Dominguez doesn't have power. I've seen him personally barrel up some pitches and drive them with a clean sound. So there is power lurking in there.
His line drive rate of 18% this year is in line with his career numbers. He doesn't strike out much as evidenced by the 14% K rate this year, which again is in line overall.
So what's the main issue. Well, there are two. Mechanics. Let's take a look at that video.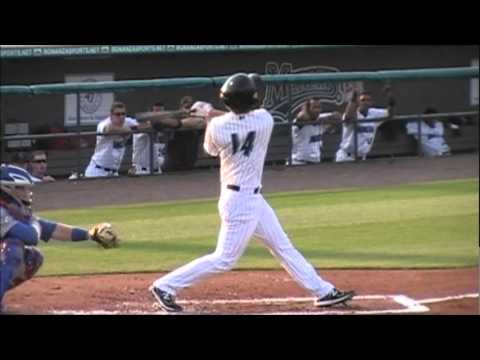 You can see in the video, there is some power in the swing. I like his wide stance, he's a big kid and the quick step and drop is workable for him if he produce power from it. He drove two of those pitches hard. He gets the bat head out and barrels up well. The most glaring issue and the one that I'm sure is causing him the most issues is his hand position before the swing.
He lays the bat on his shoulder and doesn't bring it to ready position until the pitch is on its way. That hitting 101. Have the bat in hitting position in your ready stance. From there, Dominguez, actually gets into excellent hitting position. His elbow is back, hands are ready, and he drives through to the ball. If he would simply skip the unneeded step of getting from the shoulder to the ready position and just start with his weight on his back leg and elbow up and back he could add some additional leg kick, have the extra millisecond for pitch recognition and the additional power that comes with the added drive from the leg kick.
As of right now, if changes aren't made, Dominguez is going to have limited ability to work better counts and get pitches to drive at the major league level. So my preseason assessment of a .275/15/80 type of hitter may actually be generous.
But these are glaring fixes and I can't see his hitting coach Eduardo Nunez, not being able to make these adjustments with him. Nunez is a very competent instructor and former big leaguer.
The Glove
While Dominguez may be what's considered a plodder on the basepaths, it's not due to a lack of athleticism. He's more than agile enough and has quick feet at 3B. He's also a very intelligent infielder, with an understanding of game situation and positioning. He's been ready with the glove for the Show since 2009 in my opinion after seeing him in the FSL. While his buddy, Moustakas, is bat first and glove second, Dominguez is the opposite. Dominguez is going to be a gold glove caliber defender as soon as 2012.
Our Instinct
My preseason assessment of a .275/15 hitter with gold glove defense is still where I'm comfortable projecting Dominguez. But if the changes are made to his hitting mechanics I can see him hitting 20+ HR's per season. There is more power in that bat than he's shown. Whether he's ever more than a .275 hitter is doubtful. I don't think the changes will allow him to be a better hitter than he already is. He'll get on base a bit more, score more runs and overall just be a more valuable player. But .275 is probably the sweet spot for Dominguez as a pro.
Check back soon as we profile many more Top MLB Prospects and also get our baseball geek on and take a look at some of the later draft picks from the 2011 draft that we think could be big names on the prospect radars in the near future. Anyone can tell you that Mike Trout is going to be a stud now, but who told you that when he was drafted? So take a look at our Touch'em All | GCL Pitchers and be a step ahead of the game. Thanks for checking Baseball Instinct. We're working hard to bring you the best of the minor leagues and make the site the best experience it can be. So don't hesitate to tell us what you would like to read about. Email me now at Tom@baseballinstinct.com.