Martin Perez, LHP Texas Rangers
4/4/1991
Height: 6'0″ Weight: 180
Martin Perez signed with the Texas Rangers as a 17 year old free agent in 2007 for $580,000. As a smaller framed lefty coming out of Venezuela, he draws comparisons to a young Johan Santana.
He spent his first season in the Northwest League, where he started the year still only 17. He held his own, doing what most International Signees are not even asked to try, come straight to the US and play without spending any time in the DSL or VSL. He went 1-2 with just a 3.65 ERA while striking out 53 in 61.2 innings of work. His projection and success at such a young age led to a ranking in our 2009 Top Prospects List where he was ranked #83.
He followed that up in 2009 by dominating Low-A Hickory with a 2.31 ERA and 105 K's in just 93.2 innings. Then the Rangers decided to have him skip High-A and sent him straight to Double-A Frisco for a late season playoff push. It was a tall order for such a young pitcher and he struggled. His ERA jumped to 5.57 and his K rate went from 26.9% to just 14.7%.
In 2010, Texas had him repeat Double-A and Perez battled inconsistency and lower back injury during the season. The positives were that his K rate returned, so his Dominance factor was confirmed and his GB rate remained stable near 50%. The bad was that even though he was only 19, his repeat of the level didn't lead to a dominating season.
He still ranked high on our charts and came into the season at #29 on our 2011 Top Prospects List:
Martin Perez SP TEX – Perez had a serious off season in 2010 and few account his age to level last year. His stuff was all still there and Perez owns a plus FB, plus CU and above average CB. He'll repeat Double A and should show much better production his second time around. UP: Ace, Down: diminutive lefty could bust, but that is highly unlikely. The kid is talented.
So at age 20, he started the season back at Frisco and while still young for the league, he came away with a 3.16 ERA and 83 strikeouts in 88.1 innings pitched. The Rangers have been very aggressive with him throughout his career and that didn't change this season when they moved him to Triple-A Round Rock for the stretch run. He suffered another set back in production but was so young at age 20 for the level that it's difficult to fault the pitcher for it.
Let's take a look at the arsenal and mechanics and see what the future might hold for Martin Perez.
The Stuff
Perez' pitching mix includes 3 above average or better pitches including a low to mid 90s fastball which tops out around 95. He works better in the 91-93 range as far as command is concerned. The fastball can still be erratic at times, but when he's working at his best it has excellent sink and induces groundballs at a high rate.
His best pitch is a changeup that is currently his lone plus offering. He throws it with the same arm slot as his fastball and the arm speed is an excellent match as well. The changeup is his strikeout pitch and the late fade causes both swings and misses and even more groundballs.
A third average pitch is his curveball. It doesn't have big break, but the bite is sharp and he's able to bury it. This is the one pitch that he could improve upon the most because of his lack of current command of the pitch.
Overall he has 3 average pitches with the changeup borderline plus. His command can be on at times
The Mechanics
Let's take a look at some video from the Futures Game taken by Bullpen Banter.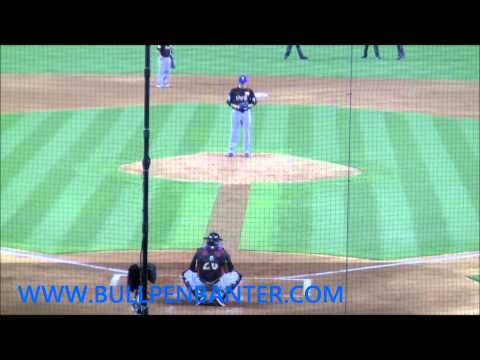 With the smaller frame that Martin Perez possesses it will take a clean mechanical approach for him to become a workhorse frontline starter.
As you can see in the video. Perez does have a good leg drive and his timing is pretty well coordinated with his foot plant. You can see why some say that there are more similarities with Perez and Santana than just there home country.
His 3/4 arm slot and arm speed are matched well through his arsenal and there isn't an overabundance of stress on his arm when he digs back for a little extra on the fastball.
Our Instinct
Perez has been pushed a step ahead of where his talent and skill level were capable of being dominant. Due to to his advanced 3 pitch mix his age and lack of experience were overshadowed.
But the overall numbers don't scream Ace.
I think if he had been handled properly and moved one level at a time, he would have had the opportunity to dominate as he learned to command his advanced pitch mix instead of just throwing it. He's going to need another year at Triple-A to polish his approach and even then I'm not sure if he's going to be able to reach what was once a very high ceiling.
He's going to be a solid left-handed starter with average K rates as he enters the majors, a little more suited for the middle of a rotation than fronting one. But over time he has the 3 pitch mix that could allow him to work as a solid #2 starter as he reaches his mid 20s.
He's still a talented young pitcher, but a lack of size and poor development path have put him in a tough position. So much has been expected of him at such a young age and placing the potential Ace tag on a kid this young without him having at least two plus pitches isn't fair for him. Can he gain the additional development on the fastball to make it plus? Yes. The Changeup is right there as well.
But an Ace is able to put together 3 plus pitches and above average or better command. He'll be close. But this is more about time than it is talent.
He should make his debut some time in 2012. But it may be 2015 before we see him hit his stride as a dominant starter.
Check back soon as we profile many more Top MLB Prospects and also get our baseball geek on and take a look at some of the later draft picks from the 2011 draft that we think could be big names on the prospect radars in the near future. While you're here, take a look at our on going series Touch'em All | Appalachian League and be a step ahead of the game. Thanks for checking Baseball Instinct. We're working hard to bring you the best of the minor leagues and make the site the best experience it can be. So don't hesitate to tell us what you would like to read about. Email us now at mailbag@baseballinstinct.com.