Tyler Skaggs, LHP Arizona Diamondbacks
7/13/1991
Height: 6'4″ Weight: 195
Tyler Skaggs was drafted in the 1st comp round of the 2009 draft by the Los Angeles Angels. He was the #40 overall pick and 3rd pick for the Angels. After sign for $1mm The Angels got him straight to work in Rookie ball.
Skaggs got his feet wet after signing with a few innings in the Arizona Summer League and then the Pioneer League., but it was his 2010 debut that opened eyes. In 82.1 Midwest League innings he struck out 82 and walked 21 good for a 3.61 ERA as a 19 year old.
Skaggs soon found himself as the PTBNL and centerpiece of the trade that sent Dan Haren to the Angels. The Diamondbacks limited his innings, but he still struck out 20 in 16 innings after the trade. It was a good enough season to land him on our preseason Top 100 Prospects List:
56. Tyler Skaggs SP ARI – Just 19 right now, Skaggs has the projection that could take this current potential number 3 lefty into true frontline starter territory. He's tall with room to fill out and take his low 90s FB into the mid 90s and compliment an average CB and changeup that's coming up around average.
Skaggs made his way to the California League where he ranked as one of the top pitching prospects in the league in our Touc'em All breakdown and then made an appearance on the Futures Games. Let's take a look at his 2011 season, pitching arsenal and mechanics.
The Stuff
Skaggs has a 3 pitch mix and came into 2011 with an average fastball that worked 88-92 but was able to add some velocity this season and worked more in the 92-93 range touching 95. The pitch has gone from average to at least above average and his command is above average, with an 8.2% walk rate in High-A and then a 6.6% in Double-A
His curveball has been his best pitch through his career. It's a hard curve with 1 to 7 break that he throws from the same arm slot as the fastball. The pitch works in the 78-80 range and will be the cornerstone of his arsenal if he's going to remain a high K rate starter.
His changeup has flashed plus potential in the past and will be the pitch that determines his ultimate upside. He made big strides with the offering in 2011, going from average to above average and it could conceivably be another strikeout pitch for him in the future.
The Mechanics
Let's take a look at some video of Skaggs from Bullpen Banter when Skaggs was in High-A: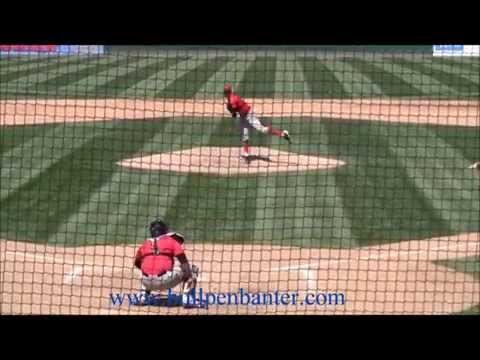 He has a clean delivery with good leg extension and timing. He's little straight up and down but it's nothing that is going to put any additional stresses on his arm. While he's added velocity this season, it wasn't at the behest of his smooth arm action. He's still smooth from leg plant to release.
He repeats his delivery well and that helps him maintain his above average command of all of his pitches.
Our Instinct
Tyler Skaggs has blossomed into a high end elite prospect. With Trevor Bauer and Jarrod Parker along for the ride with him to Arizona, the Diamondbacks future rotation is looking like a playoff contender perennially.
Skaggs 3 pitch mix contains 3 possible plus offerings. His fastball could uptick another mph or two over the next season which would take it from above average into plus territory, especially when coming from the left side and commanding it the way he does.
His curveball is already borderline plus and that puts him into mid rotation upside on its own. Add in the changeup development in 2011 and making that pitch above average and Skaggs already projects as a #2 starter.
Could he be an Ace type starter? If his changeup develops to the point I think it can, he'll have 3 plus pitches from the left side with a workhorse frame. That's a combination that doesn't come along often. So can he be an Ace? It is possible in my opinion. He may be the best of a very talented young trio.
But ultimately I think Skaggs will settle into the #2 spot behind Trevor Bauer and before Jarrod Parker so they can go righty, lefty, righty. The future in Arizona could be exciting
Check back soon as we profile many more Top MLB Prospects and also get our baseball geek on and take a look at some of the later draft picks from the 2011 draft that we think could be big names on the prospect radars in the near future. While you're here, take a look at our on going series Touch'em All | Appalachian League and be a step ahead of the game. Thanks for checking Baseball Instinct. We're working hard to bring you the best of the minor leagues and make the site the best experience it can be. So don't hesitate to tell us what you would like to read about. Email us now at mailbag@baseballinstinct.com.