Anthony Ranaudo, RHP Boston Red Sox
9/9/1989
Height: 6'7″ Weight: 230
Anthony Ranaudo was drafted by the Red Sox 39th overall in the 2010 Amateur Draft. He was the #1 overall college pitcher heading into the 2010 season but came down with a stress fracture in his right elbow and never recovered his command in season. He did eventually make his way to the Cape Cod League and went 30 innings without giving up an earned run.
It was enough proof of health that he was able to get a $2.55mm signing bonus from the Red Sox. By the time he signed though it was too late to get ramped back up for the tail end of the season and it made more sense to let him heal over the winter before starting him off in the Sally League in 2011.
But before we get into his 2011 season I want to point out that while he may have dropped to 39th in the draft he was still viewed as a top arm here at Baseball Instinct. We had him at #18 for the 2010 draft preview:
18. Anthony Ranaudo RHP LSU – Ranaudo was the number one college pitcher coming into the season after dominating in the college WS last year. His hard downer FB sitting low to mid 90s and plus curve complimented with an above average change seemed to be the can't miss combo in the draft. He's even got the frame of a workhorse. A stress fracture in his forearm has unraveled all of the pluses. His FB is still there but his arm slot has dropped, command has taken a step back and questions about his health may have him drop to the last picks of the first round. If he can get healthy this is a high end SP. Someone is going to take the chance.
and we had him at #60 over on our Preseason Top 100 List:
60. Anthony Ranaudo SP BOS – The steal of the Sox draft, Ranaudo is a big righty with a plus FB that works low to mid 90s with excellent movement and command. He works both sides of the plate and has a plus curveball that he compliments with an average changeup. Due to some injuries he'll need to time to enter into workhorse mode and build innings, but the Red Sox can give him that time.
Let's take a look at the pitching arsenal and mechanics along with the stats from his 2011 debut season with the Red Sox.
The Stuff
Ranaudo works with a 91-93 mph fastball that he can dial up to 96 at times. His 6-7 frame give him the ability to get good downhill plane. He often worked low in the zone in college and his command is above average allowing him to use both sides of the plate. The fastball is is his best pitch still and he pairs it with an above average curveball and an average changeup that works against lefties.
The Mechanics
One of the main problems with projecting Ranaudo is his inconsistent mechanics. Let's take a look at some video from the Sally League: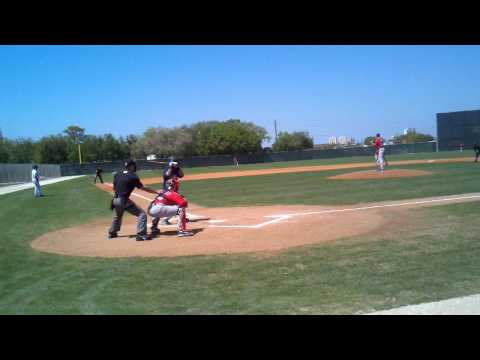 If you got the chance to see Ranaudo at LSU, you'll notice a tweak in his mechanics. His leg extension on the drive to home plate is extended in comparison to his college days. It's a positive change that should allow him to limit the strain he had been placing on his elbow with the shorter stride.
The change may be the reason that his performance in 2011 was a little lacking despite his arsenal being intact and his health not being an issue. With the longer stride he's working on less of a downhill plane and is leaving more pitches up in the zone. His 38% and 45% GB rates aren't the numbers expected from Ranaudo.
He was still able to amass a 26.6% K rate in the Sally League with an 8.5% walk rate. The 3.33 ERA was supported by his FIP but the outcome wasn't exactly dominating.
The Red Sox still decided to bump him up to the Carolina League. Despite his command remaining intact at 8.6% over 81 innings his ERA jumped a full point and his K rate dropped to 19.3%. His FIP was 3.95, so there was some bad luck involved, but he was also hit harder and more often.
Our Instinct
The change is mechanics will be a good thing for him long term. He still holds the skills of an major league pitcher, the same ones that got him touted as the top overall college pitcher heading into 2010. Once he learns to use the new delivery and brings it in line with his strengths, he'll work lower in the zone using the natural sink his fastball delivers.
In time, I also think that he'll bring his curveball back to a plus level pitch. If he can do that he'll have mid-rotation stuff. He has the upside of a #2 starter, but I don't see him reaching that level with his current pitch mix.
While he's a big 6-7 and 260 he hasn't put himself in the workhorse mold yet and may never be a true workhorse. But a solid #3 pitcher with decent K rates are possible.
Another possible outcome is using his 95-96 mph fastball potential in shorter stints with the possible plus curveball and making him a dominant RP. It's not in talks yet. He's still young. But it may be his best bet at being a dominant major leaguer.
Check back soon as we profile many more Top MLB Prospects and also get our baseball geek on and take a look at some of the later draft picks from the 2011 draft that we think could be big names on the prospect radars in the near future. While you're here, take a look at our on going series Touch'em All | Appalachian League and be a step ahead of the game. Thanks for checking Baseball Instinct. We're working hard to bring you the best of the minor leagues and make the site the best experience it can be. So don't hesitate to tell us what you would like to read about. Email us now at mailbag@baseballinstinct.com.