Texas League Top Prospects – Pitchers
Welcome to another edition of Touch'em All! We are going through the minor leagues with one goal in mind: Give you the fan, or fantasy player, the info and analysis that you need. This time, we are reviewing some of the top performances in the Texas League. Players were selected for this list with age appropriate-ness to level, draft position, performance, and physical tools in mind. So let's get started!!
Shelby Miller, RHP Cardinals 10/10/1990 – Miller dominated the FSL to start the season (check out the Prospect Instinct here). He was promoted around the All Star break to Double-A Springfield and despite a bout with some immaturity issues, he was dominant. In regards to the team based suspension for an altercation involving drinking, I'm not concerned. He is after all only just turned 21. He was once again dominant in Double-A with a 2.70 ERA and more than a K per inning. His walk rate of 9.3% is average, so there could still be some development there. But overall he had a truly dominant season and is one of the, if not the top pitching prospect in the game right now. Here is some video from the FSL with Miller in action: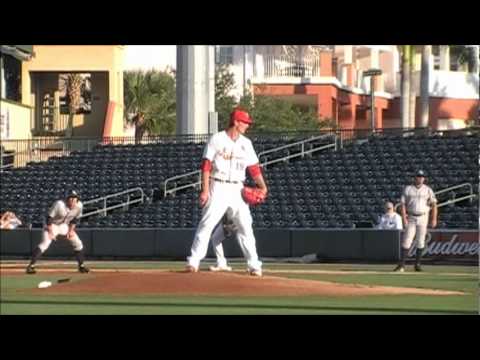 Juan Oramas, LHP Padres 5/11/1990 – An international signee in 2006, Oramas has been with the Padres a long time. He's made good strides each season and at age 21 in knocking on the door at San Diego. His 2011 season at Double-A provided 104.2 innings of 3.10 ERA ball with a 23.6% K rate and an elite level 6.5% walk rate. His fastball sits in the low 90s, but his best pitch is a biting curveball that he mixes with an average changeup. He'll continue his progression at Triple-A Tuscon in 2012.
Garrett Richards, RHP Angels 5/27/1988 – Richards made 21 starts at Double-A Arkansas where he went 143 innings with a 3.15 ERA and 103 strikeouts good for a 17.8% K rate. His 6.9% walk rate is elite, but he'll need to keep his command mastered if he's going to succeed as a starter long term. While he is the owner of a mid 90s fastball, it's a more dynamic pitch in shorter stints and mixed with his one true, a wipeout slider, it makes sense for him to move to the bullpen. But the Angels will try and keep him in the starting role until he proves that he won't make that next jump. #4 starter or dynamic RP. Check out the PI for Richards by Geo Utter.
Martin Perez, LHP Rangers 4/4/1991 – Just 20 years old and one of the TL's most dominant LH starters in 2011. He went 88.1 innings with a 3.16 ERA and 83 strikeouts. The 22.6% K rate and the 9.8% walk rate were both improvement over 2010, when he posted a 5.96 ERA at the same level. He's still young and has been pressed with each promotion. He already had 10 starts at Triple-A in 2011 where he once again struggled. He'll repeat the PCL in 2012 and should spent the entire season there as a 21 year old. Check out the PI for Perez.
Jake Odorizzi, RHP Royals 3/27/1990 – Odorizzi breezed through High-A Carolina with a 2.87 ERA and 103/22 k/bb ratio over just 78.1 innings before being promoted to the TL. In his Double-A stint, he went 5-3 with a 4.72 ERA with 54 K's and 22 walks. Not dominant. But as a 21 year old at his second level it was passable. His walk rates are excellent, but with lower GB rates and a lack of a plus secondary pitch, he's found himself with a lot of baserunners and holding runners is not a strong point for him. His fastball site in the low to mid 90s and is already a plus pitch with plus command. He'll repeat Double-A in 2012 and will need to work on refining his curveball and changeup or taking his slider and molding it into a true cutter. One makes him a mid rotation starter. The other a RP. Chances for big league success are good. Role is still up in the air.
Simon Castro, RHP Padres 4/9/1988 – Before getting promoted to the PCL where the wheels fell of the cart, Castro had a quiet but successful 16 starts. He went 5-6 with a 4.33 ERA which was a touch above his 3.80 FIP. He struck out 19.5% of batters with an elite 4.3% walk rate. I still think he's better suited for the bullpen and if the Padres decide the same we'll see him in San Diego in 2012.
Justin Miller, RHP Rangers 6/13/1987 – Miller had a dominant Double-A season out of the pen for the RoughRiders. In 48 appearances he compiled a 1.81 ERA with 77 K's and 24 walks in 69.2 innings. His 26.1% K rate is excellent and his 10.6% walk rate is passable for a RP. He was 24, so a touch older for the level , but the performance earned him a trip to the Arizona Fall League. He's a RP that we could see in Arlington next season. I don't hold him up as a stud RP, but the season deserved note.
Robbie Erlin, LHP Padres 10/8/1990 – Erlin started the season with the Rangers organization and dominated the Carolina league with a 2.14 ERA and 62 K's in 54.2 innings before being promoted to the Rangers TL affiliate in Frisco. He went 5-2 with a 4.32 ERA and 61  K's over 66.2 innings and dominated the San Antonio team of the Padres right before the trade deadline. The next day he found himself a member of that same San Antonio squad when he was traded to the Padres for Mike Adams. He started 6 games for the Padres SA team and went 1-0 with a 1.38 ERA and 31 K's in 26 innings. Good for a 30.1% K rate and his 4 walks continued his ultra elite level walk rates that had him walk just 16 batters all season long. Without a true plus pitch he landed in a great spot for command pitchers. Petco Park.
Casey Kelly, RHP Padres 10/4/1989 – Kelly was traded to the Padres in the 2011 offseason in the Adrian Gonzalez deal. He's a a former first round pick and considered the cornerstone of that deal for the Padres. He compiled a 3.98 ERA with 105 K's and 46 walks in 142.1 innings. He's not a dominant plus fastball righty, but he's athletic and smart with good command. He's reliant on his command his high groundball rates so eventual home of Petco won't be as much of a factor as it would be a for a flyball pitcher. But I expect him to be successful as a mid rotation starter. Check out his Prospect Instinct here.
Kelvin Herrera, RHP Royals 12/31/1989 – Herrera has been with the Royals since signing in 2006 as an IFA. He's really found his niche as a RP and in 2011 he went 3 levels compiling a 1.60 ERA and 70 K's over 67.2 innings including a 23 game stint in the TL where he went 36 innings for a 1.75 ERA and 40 K's in 36 innings. He should make his way to Kansas City in 2012 and become a long term player in their pen as a long reliever. Again, not a player who I'm touting as a future stud, but the great seasons need to be noted.
Joe Wieland, RHP Padres 1/21/1990 – Weiland is another piece to the Mike Adams trade, where the Padres made out well. After dominating the Carolina league for 13 starts, Wieland moved with Erlin to Double-A Frisco where he went 7 starts with a 1.23 ERA and 36 strikeouts in 44 innings of work with 11 walks. After the trade to the Padres he continued the successful season with 26 more innings of 2.77 ERA ball over 5 starts. He struck out 18 and walked just 6. He's not a dominant strikeout pitcher but his walk rates again are elite level and as a flyball pitcher he'll be happy to call Petco home. He works with a plus curveball, but just average velocity in the low 90s on his fastball and a fringe average changeup. He'll spend most of 2012 in Triple-A.
Check back soon as we profile many more Top MLB Prospects and also get our baseball geek on and take a look at some of the later draft picks from the 2011 draft that we think could be big names on the prospect radars in the near future. While you're here, take a look at our on going series Touch'em All | Eastern League and be a step ahead of the game. Thanks for checking Baseball Instinct. We're working hard to bring you the best of the minor leagues and make the site the best experience it can be. So don't hesitate to tell us what you would like to read about. Email us now at mailbag@baseballinstinct.com.