The Arizona Fall League will have it's showcase game on Saturday, November 5th 2011.  It will feature 50 of the top prospects in baseball, including the top 2 prospects in baseball; Los Angeles Angels outfielder Mike Trout and Washington Nationals outfielder Bryce Harper.  In addition, the top 2 draft picks and the #15 draft pick from the 2011 draft will hit the mound Saturday; Gerrit Cole of the Pittsburgh Pirates, Danny Hultzen of the Seattle Mariners, and Jed Bradley of the Milwaukee Brewers.
The East Squad, which consists of the Scottsdale Scorpions (Angels, Giants, Nationals, Phillies, and Red Sox), Mesa Solar Sox (Cubs, Orioles, Pirates, Twins, and White Sox), and Salt River Rafters (Astros, Diamondbacks, Dodgers, Rockies, and Tigers), will feature such players as Harper, Trout, and Cole along with Colorado Rockies 3B Nolan Arenado, Chicago Cubs SS Junior Lake, Los Angeles Angels SS Juan Segura, and San Francisco Giants 2011 1st round draft pick SS Joe Panik.
The West squad which consists of the Phoenix Desert Dogs (Athletics, Blue Jays, Indians, Reds, and Yankees), Peoria Javelinas (Brewers, Cardinals, Mariners, Mets, and Padres), and Surpise Saguaros (Marlins, Braves, Rays, Rangers, and Royals) will feature Hultzen, Bradley and such players like Seattle Mariners SS Nick Franklin, Florida Marlins 3B Matt Dominguez, Kansas City Royals OF Wil Myers, Oakland Athletics OF Michael Choice, and Tampa Bay Rays 2011 1st round draft pick OF Mikie Mahtook.
Here are the full rosters:
EAST

Catchers
Jason Castro, Astros – Castro was on the cusp of taking over the catchers role in Houston before tearing his ACL and missing the season. Technically he's not a prospect any longer after 195 major league at bats in 2010. But he's a name to keep an eye on in Spring Training as he may win the job entering the season.
Derek Norris, Nationals – Norris was considered by some, the top C prospect in the Nats system entering 2011, but here at Instinct he didn't make the Top 100. He strikes out too often, 117 K's in 334 AB. But he does have plus power and walks at a high rate. A .210 AVG, 20 HR and a 77/117 bb/k split. It's a frustrating line. And the Nats seem to have found their catcher of the future in Wilson Ramos.
Infielders
2B Joe Panik, Giants – Panik tore up the Northwest League after being drafted out of St. Johns and the Giants thought enough of him to test him with some of the best prospects in the world. He's held his own with a .295 but has shown little power. His future is bright though.
.
1B Ben Paulsen, Rockies – Big 1B drafted in 2009. He has good power and contact ability, but strikes out at high rate and unlike Norris, he doesn't walk enough. As a 1B he needs elite power and contact ability. He doesn't possess either at this point.
..
SS Jean Segura, Angels – Segura missed most of the 2011 season due to a top grade hamstring injury. But the young MI handled the move back to SS well while he was healthy. Above average to elite speed with both power and high level contact ability. Top 50 prospect and a bounce back player for 2012.
.
3B Nolan Arenado, Rockies – Arenado is one of the top overall hitters in all of the minors. He's a step below Harper and Trout, but it's not a huge step. He has .300/30 ability and has done nothing but hit and drive in runs since being drafted.
.
SS Brian Dozier, Twins – Dozier had quite a season between the FSL  and Eastern League where he hit .320 overall with 33 doubles and 9 HR tossing in 24 SB. He has a high level contact ability and should see Minnesota some time in 2012. He could end up a solid utility MI if he doesn't enhance his power output because he probably won't stick at SS with a fringe arm.
SS/3B Junior Lake, Cubs – Lake took a step forward in 2011 with his speed game, stealing 38 bases. He's very toolsy and additional power should be on the way. He's carried over the success to the AFL where he's stolen 16 bases and is hitting .315. He's a name you'll be hearing a lot more of in 2012.
.
3B Will Middlebrooks, Red Sox – Middlebrooks actually won't be playing in the game after being injured. But he's one of the top Red Sox prospects. His 2011 season puts him on the cusp pf making his major league debut. He has the ability to be a .300 hitter and hit 20 HR a year. He shouldn't have a problem sticking at 3B and may actually make Kevin Youkilis expendable relatively soon.
Outfielders
Mike Trout, Angels – The Wonder Kid. He's a stud. Not much more to say. He's a major leaguer at age 20 playing with minor leaguers. He might see some Triple-A time to start the 2012 season, but he's ready for regular at bats in Anaheim.
.
Tim Wheeler, Rockies – Wheeler had a breakout 2011 with 33 HR and a .287 AVG. But those numbers come with a very high K rate and a below average walk rate. He's struggled in the AFL and needs to grow as a hitter if he's going get the full use of his above average power in Colorado.
.
Xavier Avery, Orioles – He certainly has the tools to be an above average leadoff hitter, but he strikes out far too much at this point. If he isn't able to turn that around and turn more of the K's in walks and infield hits he will not be able to utilize his speed to its full level.
.
Robbie Grossman, Pirates – Grossman had a breakout in the FSL that I got a front row seat for on multiple occasions. He hit .294 with 34 doubles, 13 HR and 24 SB while walking 104 times and striking out 111 times. Across the board. He's continued to rake in the AFL to the tune of .375 and 5 doubles with 6 HR. Here is some video of Grossman in the FSL: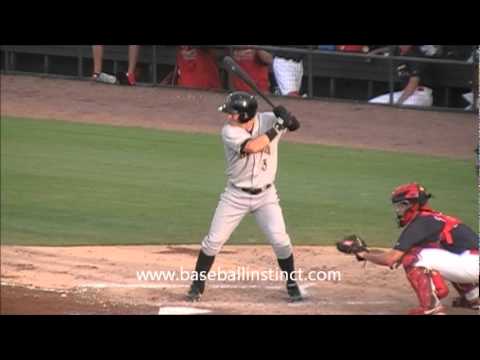 Bryce Harper, Nationals – Harper had a great debut. He's going to be very young for each level as he climbs the ladder to Washington. He has elite power and above average speed. It's really only a matter of how much he'll hit. Will he be a .280 hitter with 40 HR power or a .300+ hitter with 30 HR power?  A lot can go wrong with such a young player, but Harper is elite level without question.
Pitchers
RHP Steve Ames, Dodgers – For Ames, being in this game is a testament  to his hard work in the Dodgers system.  He was a 17th round draft pick in 2009 out of Gonzaga.  The owner of 37 career saves in 106 innings of work over 3 seasons, the 23 year old is a likely candidate to join the Dodgers bullpen sometime in 2012.
.
RHP Charles Brewer, Diamondbacks – Another 2009 draft pick, Brewer has been our watch list for awhile now and after another good season, despite a June injury, there should be little doubt as to why.  He's 23-11 over a 3 year span, posting virtually the same 2.45 ERA each season,  with a 266/59 K/BB rate in 260.2 innings pitched.  The Diamondbacks are stacked with pitching talent, but Brewer could force the issue before too long.
RHP Chris Carpenter, Cubs – Carpenter got a chance to briefly display his 100 mph fastball in the Chicago Cubs' bullpen in 2011.  Like his 2011 minor league season, he showed flashes of dominance, but control plagued him, walking 27 batters and getting behind to batters, forcing him to give up 42 hits in 42.2 innings pitched.  He gave up 7 walks and 12 hits in his 9.2 innings of work in the majors.  Not all is lost though, his work so far in the Arizona Fall League is very promising, as he has a 16/2 K/B ratio in 11.2 innings of work.  He should get a shot this spring to win a job in the Cubs bullpen.
RHP David Carpenter, Angels – The 24 year old Carpenter was lights-out nasty with the Arkansas Travelers in the Texas League.  He went 1-0 with a 0.00 ERA with a 16/5 K/BB ratio in 18.2 innings after being promoted from Inland Empire of the California League.  Overall he posted a 0.57 ERA and 52/14 K/BB ratio along with 16 saves over 47.2 innings in 2011.  He's going to get an invite to spring training with the Angels.
RHP Kevin Munson, Diamondbacks – After posting a 4-3 record with a 3.81 ERA and a 78/42 K/BB ratio in 2011, he has been named to the Rising Stars game representing the Salt River Rafters.  The 22 year old is a polished pitcher, but has limited velocity (works in the low 90's), limiting his overall ceiling, but has a good chance to have a career in the bullpen in the majors.
RHP Rob Scahill, Rockies – Scahill was selected in the 48th round of the 2008 draft by the Yankees, but opted to improve his fortunes by returning for another year at Bradley University.  It paid off and he was selected in the 8th round of the 2009 draft by the Rockies.  Over his 3 years he's shown steady improvement, and in 2011 went 12-11 with a 3.92 ERA and a 104/60 K/BB ratio in 160.2 innings pitched.  Not bad for pitching in the hitter friendly Texas League, however after the Rockies aquired some pitching depth for Ubaldo Jimenez, it will take a couple more years and some more development for Scahill to crack the Rockies rotation.
RHP Casey Weathers, Rockies – The 26 year old Weathers just hasn't found his command since coming back from Tommie John Surgery, missing the entire 2009 season.  He's playing in the Arizona Fall League with hopes of salvaging his career, which at this point it looks like it may be a challenge to get into a major league bullpen.
.
RHP Gerrit Cole, Pirates – The #1 overall pick in the 2011 draft is being showcased in the Rising Stars game.  The 21 year old is 2-0 with a 3.00 ERA and a 12/3 K/BB ratio thus far with the Mesa Solar Sox of the Arizona Fall League.  He should have little trouble mowing down batters when he takes the mound for the East vs the West.
.
LHP Jacob Diekman, Phillies – The soon to be 25 year old has been in the Phillies organization for 5 seasons now.  2011 was certainly his most promising year, posting a 0-1 record with a 3.05 ERA, with a 83/44 K/BB ratio in 65.0 innings out of AA Reading's bullpen.  The Phillies want to give him a look against the some of the top prospects in the Arizona Fall League.  He's a candidate for an invite to spring training with a shot to find himself in the bullpen sometime in 2012.
RHP Terry Doyle, White Sox – The 2008 37th round draft pick was promoted from High-A Carolina League to the Double-A Southern league, midway through the 2011 season.  Statistically, he took a slight step back in 2011 then from a full season in the Carolina League in 2010.  His K/9 fell, but so did his BB/9.  He can't really be considered one of the White Sox top prospects, and his ceiling seems a bit limited as well.  Possibly an inning eater at the end of the rotation, or a long relief guy if he makes it that far.
RHP Trey McNutt, Cubs – McNutt should be in this game as a top prospect on the rise.  That's not really the case as he declined in 2011 after a fantastic 2010 season.  The drop off from 132 k's in 116.1 innings in 2010 to 65 k's in 95 innings in 2011 is troubling.  His results so far in Arizona Fall League do not point to an improvement either.  Here's hoping he can turn it around in 2012.
WEST
Catchers
Christian Bethancourt, Braves – Made our Top 100 in 2010 and just missed this year. But he took another step forward with his contact ability and is an above average receiver. He'll be right there again on our Top 100 list in 2012. He'll return to high-A in 2012 and is still a few years away. How much power he develops will determine if he can be a regular at the highest level.
Kyle Skipworth, Marlins – A top draft pick for the Marlins, he's been pushed to the higher levels before ever finding above average success at any level. He hit just .207 in Double-A this season and hasn't hot near .300 at any level. I'm not high on the idea that the big catcher will ever hit enough to be a major league regular despite his above average power possibilities.
Infielders
SS Nick Franklin, Mariners – Frankin is in the AFL to play a little catch up in his development after losing time in 2011 to injury. He's a power speed combo. Check out his Prospect Instinct above for full detail, but overall I don't see him as a SS long term and have cncerns that he'll develop enough power to be a 3B where his defensive ability would play best.
.
3B Mike Olt, Rangers – Olt lost time to injury in 2011 as well. He's a power bat with high strikeout totals and walks at a fair clip. But his 70 strikeouts in just 240 AB in 2011 is going to put him in a dangerous zone as he starts to face higher level starters. But he has the type of power that will at the very least put him in the majors as a bench bat. But he will need to learn how to control the strikezone if he's ever going to be a regular.
1B Joe Terdoslavich, Braves – A 1B needs elite power. Terdoslavich had 52 doubles and 20 HR is 2011. So he has the power that he needs to make it as a 1B. His strikeout rate was an acceptable 20% when paired with a .240 IsoP. He should find his way into the Braves Top 10 List which will be released in our special Top 10 Reports.
.
1B Matt Adams, Cardinals – Adams is a big boy with good power. He's going to need it as a righthanded defender. He hit from the left side though and was able to post a third straight .300 or better campaign. This season posting a .300 AVG with 32 HR and 23 doubles. He kept his K rate under 20% which is excellent for a power hitter. His walk rate is passable at 7.8% as well, though he could stand to take a few more walks. The Cards sent him to the AFL and it's time to take this kid serious. Three great minor league seasons.
2B Tyler Bortnick, Rays – 2012 will be a telling season for Bortnick because he had an excellent season in the FSL, batting .306 with 34 doubles and 43 SB. But he was old for the level and isn't a surefire SS. He fits better as a utility infielder in the long run probably and will start the 2012 season in Double-A.
.
SS Christian Colon, Royals – Colon had a disappointing 2011 season. While he was solid across the board, it wasn't up to the expectation that we had going into the season. There's a .300 type of hitter under the struggles somewhere. But he's going to need to work into better counts to get more pitches to hit. His K and walk rates are excellent and I expect a bounce back in 2012.
3B Matt Dominguez, Marlins – The gold glove caliber Dominguez is running out of time to have his power develop. He's ready to take over as the 3B for the Marlins defensively, but is no where near hitting enough to be the 3B of the future there. 2012 is a make or break season and the AFL hasn't been kind to him.
Outfielders
Michael Choice, Athletics – Choice is a plus power prospect and hit 30 HR in 2011. He's actually kicked it up a notch in the AFL with another 6 HR and a .311 average. The power is legit. Where the K rates level out will determine if he's an all-star or battles his demons his whole career never reaching his true potential. I think he hits somewhere close to his ceiling. He's going to be an excellent power hitter for the A's.
Jaff Decker, Padres – Decker got off to a torrid 2011 start before struggling badly midseason. He has a great bat and walks at an elite rate. But how well his contact ability develops will determine if he'll ever be a major league regular. 2012 will an important season in his development. Another .236 AVG will put him way behind the curve.
.
Anthony Gose, Blue Jays – Another prospect with the tools to be an excellent player and a problem with making enough consistent contact to be an elite prospect. He stole 70 SB, but struck out 154 times while hitting just .253. Unacceptable for a player with elite speed. He's going to need to mature quickly and develop a professional approach to at bats. I don't think he'll have the time to become that player and might be relegated as a 4th OF in time.
Mikie Mahtook, Rays – Mahtook is making his pro debut and has hit .320 in the AFL with a hand full of SB. He's an all around OF and the Rays did well in getting him with their plethora of upper level selections in the 2011 draft. He should start the 2012 season in the FSL.
.
Wil Myers, Royals – Myers had an injury plagued 2011 season where he hit just .254 with 9 HR, but still got rave reviews. His AFL is more in line with what was expected. He's hit .338 with 5 doubles and 3 HR. His peers have spoken highly of him in the AFL. Check out his Prospect Instinct for full details on him.
Pitchers
LHP Danny Hultzen, Mariners – The toast of Seattle and the man who would be the #2 overall pick in the 2011 draft to the disbelief of most GM's, baseball experts, and Mariners fans is going to take the mound against Bryce Harper and Mike Trout on Saturday.  This should be fun to watch.  He will be invited to spring training with a good chance of securing a spot in the Mariners rotation without ever stepping on the mound in the minor leagues.  So far the 21 year old is 1-0 with a 1.62 ERA and a 12/4 K/BB ratio in 16 innings for the Peoria Javelinas in the Arizona Fall League.
RHP Jeremy Jeffress, Royals – Jeffress was one of the key pieces in last seasons deal with the Brewers that sent Zack Greinke to the Brewers.  What's with his fastball?  Is it going to be a mid to upper 90's force, or is it going to be a low 90's yawn?  He bounced between the Brewers and the minors bullpen in 2010 and then again in 2011 with the Royals, but made 11 starts in the minors for the 1st time since 2009.  I think the Royals are still trying to figure out what they got here.
RHP Taylor Whitenton, Mets – Spending his 2nd straight season with Low-A Savannah, Whitenton improved his numbers accross the board.  ERA, K/BB rate, and Batting Average against.  The Mets sent the 23 year 2009 39th rounder to the AFL to see what he's got.  They may push him right past High-A St. Lucie of the GCL into Double-A Binghamton of the Eastern League if he pitches well this winter.
RHP Nate Adcock, Royals – Adock spent the entire 2011 season in the Royals bullpen, and while he was adequate, the Royals sent him to the AFL to see if they could get more out of him.  He hasn't been great so far this fall, but in fairness he's been working on his delivery and his spot in the Royals bullpen should be fairly safe.
.
RHP Anthony Bass, Padres – After 2 call ups and 2 demotions, the 3rd time around Bass stuck with the Padres for the rest of the way in 2011.  He spent most of his minor league career in the rotation, but has settled into the Padres bullpen, pulling a few starts along the way.  In 48.1 innings Bass went 2-0 with a 1.68 ERA, a 24/21 K/BB ratio.  I think the Padres are a little concerned in the K rate going down.  Based on his minor league numbers, he should of been around 36 K's over the same period.  He should have a spot with the Padres in 2012.
RHP Brad Boxberger, Reds – After a mediocre 2010 season, was promoted to AAA half way through the 2011 season.  He went 2-4 with a 2.03 ERA and an impressive 93/28 K/BB rate in 62 innings.  The 23 year is continuing this trend with a 19/4 K/BB rate in 11 innings in the AFL.  He could very well find himself in the Reds' bullpen in 2012.
.
LHP Jed Bradley, Brewers – The 2011 1st round, 15th overall pick is the only lefty besides Hultzen on the West squad.  He won't need a lot of time in the minors and should start out with either the High-A Brevard County Manatees of the Florida State League or the Double-A Huntsville Stars of the Southern League in 2012.
.
RHP Cory Burns, Indians – Burns should feel right at home playing in the AFL after playing for the University of Arizona before being drafted 8th round of the 2009 draft.  After racking up 11 saves in his 2009 debut, he then had 42 saves in 2010, and another 35 in 2011.  He went 2-5 with a 2.11 ERA and a very impressive 70/15 K/BB ratio in 59.2 innings with Double-A Akron.  It will be interesting to see what's next for the 24 year old.  Will he be the closer at Triple-A Columbus or will he be in the Indians bullpen in 2012?  We shall see.
RHP Wes Etheridge, Blue Jays – After 2 of going nowhere with the Brewers in 2007 and 2008, Etheridge decided to hang it up and become a pastor.  After 2 seasons off, baseball was calling to him and the Blue Jays decided to give him a chance and he pitched very well going 1-1 with a 1.89 ERA and a 38/7 K/BB ratio in 47.2 innings and 32 saves with the High-A Dunedin Blue Jays of the Florida State League before getting promoted to Double-A New Hampshire of the Eastern League.  It's a feel good story, but I can't get excited about a guy who is 27 years old that had success against 21 year olds.  He's likely to be thrown in against the big boys in the Pacific Coast League with Las Vegas before the Blue Jays decide if he will get a shot in their bullpen.
RHP Preston Guilmet, Indians – Guilmet shinned through out the 2011 season, and like Burns racked up 35 saves on the season 1 level behind Burns.  Though Indians closer Chris Perez' job is plenty safe, both these players should give the Indians something to smile about as they should really solidify the pen very soon.  Expect Guilmet to slide into Burns spot as closer of Double-A Akron next season.
RHP J.J. Hoover, Braves – It would appear the Braves have decided that the best place for Hoover is in the bullpen.  While I can't say I agree, it does lend to him getting to the majors sooner rather than later.  After a late season promotion to Triple-A, it appears that Hoover will get a chance to make the Braves opening day lineup out of spring training.
Check back soon as we profile many more Top MLB Prospects and also get our baseball geek on and take a look at some of the later draft picks from the 2011 draft that we think could be big names on the prospect radars in the near future. While you're here, take a look at our on going series 2011 MLB Draft | Shortstops Review Part 1 and be a step ahead of the game. Thanks for checking Baseball Instinct. We're working hard to bring you the best of the minor leagues and make the site the best experience it can be. So don't hesitate to tell us what you would like to read about. Email us now at mailbag@baseballinstinct.com.