It's the time of the offseason when Baseball Instinct goes from Club to Club and we take a look at the Top 10 prospects from each team before opening it up to our Top 21s later in the winter. This year we're working with some of our friends that share an a more focused view of particular clubs.
We're going to start the festivities off with the Kansas City Royals Top 10 done by our friend Clint Scoles from Pine Tar Press. This is Clint's first venture at Instinct and I think you'll be impressed. Be sure to check out his work at Pine Tar Press as well.
1.  Wil Myers, OF 12/10/1990 H: 6'3 W: 205 lbs –  The former 2 million dollar man zipped through Single A and High A putting up a .315 combined average in his first year of pro ball but then struggled at AA with injury and a position switch that could have hurt his offensive output.  Myers appears to be putting that tough season behind him while currently leading the Arizona Fall League in OPS and looking much more comfortable in rightfield.  If he stays in the Royals organization he should be ready for a move to AAA and a possible September callup.
Our Instinct – Tough to argue with Clint on this one. Despite the down year, Myers is still an elite bat and proved that in the AFL. Another season to settle into the OF and the bat will be fine. Check out his Prospect Instinct.
2.  Bubba Starling, OF 8/3/1992 H: 6'5 W: 200 lbs-  The 1st round draft pick from last year is a physical freak with size and speed that are unmatched by most minor leaguers.  If he can translate the god given tools he has been blessed with he'll surely be a 5 tool dynamo in centerfield who could make the four teams picking in front of Kansas City last season jealous.  A lack of top notch competition and a minor injury during instructs has left plenty of mystery on the Kansas high school product but a likely assignment to the usually difficult Midwest league and Kane County will answer plenty of questions.  Starling flashed above average movement in center as well as a ridiculous arm.  He appeared to have moved his hands up and opened his stance ever so slightly since high school which should help him make solid contact in his first season in the minors.
Bubba Starling Video by Clint Scoles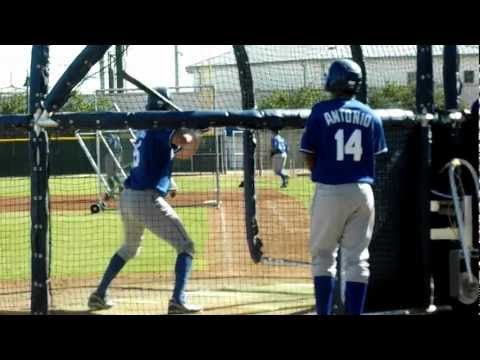 Our Instinct – Gotta love the tools. Could he crash and burn? Sure. But only an advanced talent like Myers kept Starling from the #1 spot in the organization That speaks to his immense 5 tool ability.
3.  Mike Montgomery,LHP 7/1/1989 H: 6'4 W: 190 lbs- It was a difficult introduction to AAA for Montgomery but there were glimmers of progress that one could see if you happen to see him as much as I did.  Mike maintained velocity throughout games regularly throwing in the 90-94 range while touching 96  as well as improving his changeup to his best pitch.  The big lefties biggest problems at this point is finding consistency with his looping curveball and with the strikezone throughout an entire start as he tended to lose it at times.  He started to work with a cutter late in the season which combined with his change could keep righthanders off of his fastball.  Montgomery can flash the stuff that makes him look like a potential #1 but he'll need to find consistency with his curve to achieve that goal.
Our Instinct – I don't find myself agreeing across the board with many other evaluators, but Clint's order is tough to argue. Montgomery still has the most upside of the upper level pitching prospects for the Royals. Check out the Prospect Instinct for Montgomery here.
4.  John Lamb, LHP 7/10/1990 H: 6'4 W: 200 lbs - Lamb by some was the best Royals pitching prospect headed into last season and while he missed most of the year with Tommy John I believe that will be a learning experience that will only make him better.  Lamb's knack for pitching combined with three solid pitches (90-94 fastball, curve and change) can help him get through lineups even when he doesn't have his best stuff.  Last seasons adversity should only make the talented lefty better showing him that he should never take his conditioning for granted.  While at instructs I heard he was working as hard as ever and should be ready to go by midseason.
Our Instinct – We weren't one of the outlets that had Lamb ahead of Montgomery, but they were back to back as they are here. While the surgery is definitely a blow to Lamb's timeframe, I agree that it will make him a better pitcher in the long run.
5.  Jake Odorizzi, RHP 3/27/1990 H: 6'2 W: 180 lbs- Odorizzi, acquired from the Brewers in the Zack Greinke trade, dominated the Carolina league with over 11 K's per 9 innings while only walking 2.5 per 9 in his 15 starts there including a couple career high 13 K performances.  Those type of results are impressive, but will be hard to duplicate as he climbs levels considering he works mostly with a low 90s fastball that he tends to elevate at times leading to over a home run per 9 innings when he was promoted to AA midseason.  Odorizzi's five pitch mix (fastball, slider, cutter, curve and change up) is the deepest in the system, but he'll need to concentrate and refine all of his offspeed offerings as well as staying on top of his fastball to reach is 2-3 ceiling.  Look for Jake to start the season at AA where he'll need to work on keeping the ball down to achieve at the AA/AAA levels.
Our Instinct – We liked Odorizzi a ton heading into the 2011 season, seeing him as a potential #3 starter in the future and he didn't disappoint. There is still some additional velocity in his frame and if that happens he should reach that ceiling.
6.  Cheslor Cuthbert, 3B 11/16/1992 H: 6'1 W: 190 lbs – The young third baseman is probably the least physically impressive player you will find on this list but he mixes a solid group of average to above tools to help him achieve despite being one of the youngest players in the Midwest league last season.  At 18 he carried a .900 OPS through July until an injury and fatigue slowed him down and put him into a major August slump decreasing his numbers.  Cheslor has shown above average defense with good agility and a good arm that will make him a above average defender in the future.  He'll be challenged next season in the tough righthanded hitting environment of Wilmington(High A) but his above average patience and hitting ability teamed with average power should give him the tools to hold his own.
Our Instinct – What Cuthbert did in the first half of his season shows his upside. It will be interesting to see if he can carry that over into 2012 at Wilmington when he's back to full health.
7.  Kelvin Herrera, RHP 12/31/1989 H: 5'10 W: 190 lbs - The most electric group of pitches in the Royals system may come out of the right hand of this Dominican born reliever who sped from High A to the majors last season.  Herrera mixed his fastball that touches triple digits at times with a low 80s change up which might be his best pitch as well as a low to mid 80s curve.  You won't fine many relievers with this type of arsenal but arm problems have relegated him to the pen where he could have the stuff to replace Joakim Soria in time.  Herrera should start the season in Kansas City pen working as a setup man.
Our Instinct – Herrera is ready now and his role has been defined. If you value high end bullpen arms it's easy to see why a pitcher like Herrera would make the Top 10. If the Royals move Soria it would open up a path to success for Herrera. It will then be up to him to seize that opportunity.
8.  Elier Hernandez, OF 11/24/1994  H: 6'4 W: 195 lbs - Hernandez earned the Royals franchise biggest international bonus ever this July inking a 3.1 million contract.  Elier was ranked as the IPL's top prospect as well as being one of the top international free agents available this last July and should combine with Starling to give the Royals two legit 5 tool talents.  During instructs he showed projectable power and an already strong arm with good movement in center.  I would project a season in Burlington (NC) rookie ball to work with Royals manager Nelson Liriano similar to Jorge Bonifacio last season.
Our Instinct – I may have even been tempted to rank Hernandez a spot higher than this. He could be a special player.
9.  Chris Dwyer, LHP 4/10/1988 H: 6'2 W: 210 lbs - The best curveball in the organization belongs to Dwyer who can flash superior stuff at times but far too often can't find the strikezone.  Dwyer's knee buckling curveball teams with a low 90s fastball and a below average changeup that he will need to lean on more in the future to reach his ceiling.  When controlling the zone Dwyer has the appearance of a middle of the rotation type but he struggled mightily last season looking more like that of a lefty relief specialist in the future.  This season will be huge as to what role he will play in the future if he can bring the changeup along he'll have the three pitches necessary to be a big league starter if not his fastball-curve combo should be good enough in a relief role.
Our Instinct – Dwyer became a borderline top 10 after a disappointing 2011. As Clint mentioned, his changeup lags so far behind his other two pitches that he's not far from being relegated to a Lefthand bullpen arm.
10.  Jorge Bonifacio, OF 6/4/1993 H: 6'1 W: 192 lbs – The brother of Marlins infielder Emilio, had a solid season in the Appy league holding his own as the second youngest player in the league while putting together a .825 OPS.  Bonifacio has a good five tool mix while being much bigger than his older brother and has the appearance of a frame that will add more strength.  He'll likely move to rightfield with more athletically gifted outfielders in the system with him but Bonifacio shows good pop, ability to make contact and decent speed that should team with Bubba and Elier to make the Royals future outfield prospects something special to watch in the future.  Look for a Midwest league assignment for Jorge.
Our Instinct – This is an aggressive ranking. I like it. He was borderline Top 10 for me and I probably would have have snubbed him until the Top 21 List. But that's the reason that we're teaming up with talented analysts like Clint Scoles.
Check back soon as we profile more Top 10 Lists for each MLB team and also get our baseball geek on and take a look at some of the later draft picks from the 2011 draft that we think could be big names on the prospect radars in the near future. While you're here, take a look at our recent article:  Prospect Instinct | Jaff Decker, OF San Diego Padres and be a step ahead of the game. Thanks for checking Baseball Instinct. We're working hard to bring you the best of the minor leagues and make the site the best experience it can be. So don't hesitate to tell us what you would like to read about. Email us now at mailbag@baseballinstinct.com.