It's the time of the offseason when Baseball Instinct goes from Club to Club and we take a look at the Top 10 prospects from each team before opening it up to our Top 21s later in the winter. This year we're working with some of our friends that share an a more focused view of particular clubs.
This time we turn it over to Baseball Instincts' own BK who follows the Mariners system for us in the Pacific Northwest.  He breaks down the top 10 Mariners prospects.
1. James Paxton, LHP 11/7/1988 H: 6'4 W: 220 lbs – After losing a year of development time because of a NCAA rule that disallowed him from playing college ball after going unsigned from the 2009 draft, there was some concern that Paxton would struggle to regain his top 10 skill set. In fact, there was some adjustment time needed for Paxton. Once he shook off the rust, Paxton proved he was going to be a great future. Paxton was known to have a good fastball, average slider, developing curve and needed work on his command. His first year of professional ball proved that his command is coming along nicely with a BB/K ratio of 43/131 in year that included time in A and AA ball. With 131 K's in a combined 95 innings, Paxton's stuff was overpowering for his competition.
Our Instinct – At this point he has the look of a #3 starter, possibly a #2 starter in a major league rotation.  He will get a shot at a rotation spot this spring, and there is a great chance we see him in the majors at some point in 2012. His K's make him an attractive fantasy option and I expect him to be a fast riser in the Mariners organization.
 2. Danny Hultzen, LHP 11/28/1989 H: 6'3 W: 200 lbs – When the Mariners chose Hultzen with the number 2 overall pick in the draft, there was a lot of surprise around MLB and even Hultzen himself. What the Mariners saw, was a left-handed pitcher with good command that can bring mid 90s fastball and a plus changeup. Additionally they loved his makeup and felt that he would fit well in a rotation including King Felix and Michael Pineda. As a left-handed pitcher Hultzen should benefit from an excellent pitchers park in Safeco field. Hultzen was not a drafting of the "best talent available", but rather identifying a player that fit into an organizational long-term plan. I look for Hultzen to flourish in that environment.
Our Instinct – As of yet, he has no pro experience being late signer from the draft. However, he is pitching quite well in the Arizona Fall League and the word is that Mariners will bring him into spring training to compete for a starting job. Even if he doesn't win a job going into the season, I would expect to see him pitching at Safeco Field before the end of the 2012 season. Baseball Instinct's Geo Utter discusses his stuff and his mechanics in his Prospect Instinct | Danny Hultzen article that he wrote up earlier this week.
3. Taijuan Walker, RHP 8/13/1992 H: 6'4 W: 195 lbs – When he was drafted Taijuan Walker was known as a hard throwing but very raw talent. He certainly can bring the heat throwing in the mid-nineties with his fastball. He spent 2011 with class A Clinton for the Mariners. He was able to garner 113k's in 96 innings of work while only allowing 39 bb's. He still has to improve on his secondary pitches and needs to prove that he can continue this kind of performance as he moves up to higher levels.
Our Instinct - The thing about Walker is that he has a high ceiling and has a chance to become a 1-2 pitcher in a MLB rotation. By the same token, he is still raw and is far from guaranteed to reach that potential. It will be key to see how he does when he faces AA hitters, which is quite likely in 2012.
4. Nick Franklin, SS 3/2/1991 H: 6'1 W: 170 lbs – Where to begin with Franklin? This is a player that is hard to get a handle on. He opened eyes in 2010 by showing a lot of power from the short stop position. He hit 23 homers at class A Clinton with 65 rbi's, but did a fair amount of striking out at a rate of 21.4% along the way. He then started the 2011 season at High A ball which is a notorious hitters paradise. Sadly the power numbers dropped to almost half the level of productivity as the year before. Then for no obvious reason Mariners decided to promote him to AA Jackson where he began to hit better though it was a very small sample size. At this point it is hard to know what to expect from him. The positives were seeing him decrease his strikeout rate while increasing his walk rate. On the other hand there was a marked drop off in power while playing in a park that should have enhanced that aspect of his game.  Check out our own Tom Belmont's take on Franklin in his Prospect Instinct | Nick Franklin article from last month.
Our Instinct – There is some question as to whether he will remain at the SS position. His range is adequate, but his throwing ability may prompt a move to 2b, which certainly affects his fantasy value. Assume caution with this player, but he plays at a premium position and could return to his 2010 ways.
5. Jose Campos, RHP 7/27/1992 H: 6'4 W: 195 lbs – An almost complete unknown when the season started, Jose (Vincent) Campos had a breakout 2011 season. For a more in-depth look at Campos see my article Prospect Instinct | Jose Campos that I wrote a few month ago. Campos displayed a 3 pitch arsenal that includes a heavy low 90s FB, a slider with late-breaking action and developing curveball. Between his plus command on the FB and slider and ability to changes speeds from a 93mph FB down to a 75mph curve, Jose displayed high-ceiling potential. Campos pitches with a great deal of confidence and can dial up an "extra gear" as the situation dictates. He pitched short season A ball for the Mariners during 2011 and finished the season much stronger than he started it.
Jose Campos Video by Baseball Instinct -BK (Copicetic)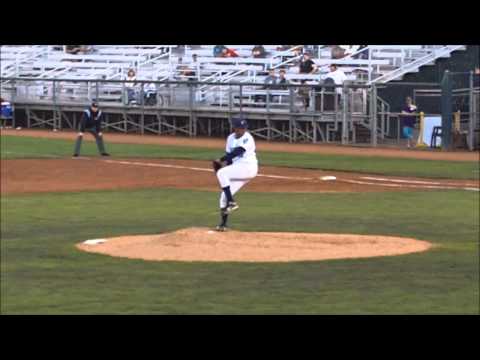 Our Instinct – I would expect him to wind up starting the season in High A ball in 2012. If he can maintain consistency of his FB and slider while developing his curveball, Campos will become a well-known prospect. However, I wouldn't be surprised to see the Mariners exhibit patience with him and take their time with a potential number 1 or 2 starter. I look for big things from the young pitcher and advise you not to be late to the jump on the Campos bandwagon.
6. Vincent Catricala, 3B 10/31/1988 H: 6'2 W: 210 lbs – V-cat is a player that seems to be flying under the radar and this writer can't understand why. All the dude does is hit everywhere he goes. He started 2011 in High A (as previously mentioned a notoriously friendly park for hitters) mashing a .351 batting average with a .574 slugging percentage. But the hitting goodness didn't stop there. With 33bb in 282 at-bats, Catricala was able to garner a .420 on base percentage. As a result of the dominating hitting performance the Mariners promoted V-cat to AA Jackson; a much less friendly hitting environment. V-cat responded by putting up even better numbers with a slash line of .351/.424/.636. If you don't like numbers let me translate for you. He hits for average, power and has a very respectable walk to strikeout ratio along the way.
Our Instinct – His bat looks like it could be very good. Interestingly V-cat probably has a higher fantasy value than he does real value to the Mariners. His bat is too good not insert into the lineup, but his glove is below average. He has played 1b, 3b and is likely capable of some outfield. But he will likely never even be major league average at any of those positions. This is a player I expect to see receiving a lot more fantasy love very soon. I would expect V-cat to start in AA, but look for a promotion by the end of the season.
7. Guillermo Pimentel, OF 10/5/1992 H: 6'1 W: 180 lbs  – This is a player that gets a high ranking more on potential than actual results. He is a young player signed out the Dominican Republic in 2009. Since playing in professional baseball he has shown decent results. Hitting 11Hr and 46 rbi's in 245 at bats in Pulaski rookie ball in 2011. With a 27.4% strikeout ratio per at-bat Pimentel needs to control the strike zone much better and his is Achilles heel to better results. However, he flashes a left-handed power swing that would play nicely in Safeco park. He is so strong that he doesn't need to hit the ball squarely to drive the ball out of the park. His defense in the outfield seems adequate for playing at higher levels so position is not likely to be a problem as he develops. It should be noted that Pimentel' struggle with strike zone management is quite common for young international players and at 18 years old he has time to work on his approach at the plate. If he can get it together, he has a bat with plus power.
Our Instinct – After 2 seasons of Rookie Ball, we are hoping that we get a chance to scout and take video of him with Low-A Everett of the Northwest League in 2012.  There is a chance however that Mariners decide that he's ready for full season Single-A ball and send him to Clinton in the Midwest League.
8. Francisco Martinez, 3B 9/1/1990 H: 6'1 W: 180 lbs – The Mariners are still trying to figure out exactly what they have with Francisco Martinez. Acquired late in the 2011 season by way of trade, Martinez only spent 2 months in the Mariner system. Word is that he is a "good tools" player that hasn't lived up to expectations yet. What we do know is that he hit a combined 69 rbi in 477 ab's during the 2011 season. He had a slugging percentage .481 including 7 triples and 10 homeruns this season, so he has decent power potential. However, that power came with 104 strikeouts and a strikeout percentage of 21.8. With a ratio of 23bb/104k, Martinez needs to work on his strike zone management. Martinez has good defensive range and a strong arm, though he has committed a high number of fielding errors. That being said, Martinez was young for the AA level at only 20 years old. It is promising that he has been holding his own against older competition, and he is certainly young enough to develop his approach at the plate.
Our Instinct - Because he is new to the organization, I would expect the Mariners organizational approach with him to be patient and help him refine his game. Martinez is a player to watch If it clicks for him there is good fantasy potential.
9. Erasmo Ramirez, RHP 5/2/1990 H: 5'11 W: 180 lbs – There are players that seem to be better than their scouting reports and Ramirez is one of those kind of players. Scouting reports indicate that Ramirez has less than average velocity and an above-average changeup. He doesn't profile as a high strikeout guy, however, what does stand-out is his excellent command. In the 2011 combined AA and AAA season he allowed a miniscule 32 walks in 152.2 innings of work. Another interesting aspect of Ramirez's development path is that the Mariners have been uncharacteristically aggressive in promoting him. The surprise began when the M's had him start the 2011 season in AA, completely by-passing High A ball. Then they promoted him to AAA late in the season. His 2011 numbers are not eye-popping, but that should be taken in the context that he has seen a rapid rise through 4 levels of minor league ball in 2 years.
Our Instinct – He has the look of an innings-eating back of the rotation starter. He is the kind of pitcher that has an excellent feel for the game and likely would benefit greatly from the pitcher-friendly Safeco field. This is a player to track as he adapts to the level of competition in AAA next year.
10. Chance Ruffin, RHP 9/8/1988 H: 6'1 W: 185 lbs – Here is another pitcher that seems to be able to perform better than the scouting reports would indicate. He has a 90-94 mph fastball and a good slider to with an average curve. His first professional season of 2011 saw him make a quick ascension from AA to the majors where he saw 17.2 innings of work. In all he pitched 63.1 innings of work during the 2011 season between the Tigers and Mariners organizations. The scouting reports say that he is very aggressive on the mound. That characteristic is both a blessing and a curse for Ruffin as evidenced by the 78 k's and 31 bb's. Ruffin, however, went through a very aggressive development path and there is reason to think that he can make some adjustments tighten up the walk ratio.
Our Instinct - He is very likely going to be working as a high-leverage pitcher out of the bullpen for the Mariners next year. He has the right mentality to be a successful in that capacity.
Check back soon as we profile more Top 10 Lists for each MLB team and also get our baseball geek on and take a look at some of the later draft picks from the 2011 draft that we think could be big names on the prospect radars in the near future. While you're here, take a look at our recent article:  2011 MLB Draft | Catchers Review and be a step ahead of the game. Thanks for checking Baseball Instinct. We're working hard to bring you the best of the minor leagues and make the site the best experience it can be. So don't hesitate to tell us what you would like to read about. Email us now at mailbag@baseballinstinct.com.