Allen Webster, RHP Los Angeles Dodgers
2/10/1990
Height: 6'3″ Weight: 185
Allen Webster was selected by the Dodgers in the 18th round of the 2008 MLB Amateur Draft. Dodger pitching coaches recognized something wrong in his throwing mechanics and immediately began teaching him how to pitch with successful results.  From the moment he made his debut in the Gulf Coast League in 2008, Webster began to soar through the Dodgers farm system.
After a brief stop in Rookie Level Pioneer League with Ogden in 2009, Webster posted a 12-9 record with a 2.88 ERA in 23 starts with Single-A Great Lakes in 2010.  His natural gift is his mechanics and his command. His changeup as the best among all of the Dodgers' pitching prospects. However up until recently, his overall velocity was much lower than scouts and coaches had hoped. It seemed that whenever he tried to crank up his speed, he immediately became wild.
Webster said he spent a huge amount of time working with the pitching coaches trying to perfect his throwing motion. "I worked on my mechanics and changed my delivery a little so that I could repeat it, so that it was the same every time I threw."
The results were noticeable in 2011 as he raised his K % and lowered his B % from 2010.  He went 11-5 with a 4.03 ERA, 135 K, and 57 BB in 145 innings over 27 games with the High-A Rancho Cucamonga Quakes of the California League and the Double-A Chattanooga Lookouts of the Southern League.  Despite posting a 6-3 mark at Chattanooga, he struggled a bit control and coughing up a few home runs and earned runs to the older, more talented Southern League Hitters.
Webster was ranked #66 in our 2011 top 100 list before the 2011 season.  We had this to say about him:  66. Allen Webster SP LAD – Webster has the makings of a solid MLB rotation mainstay. He's still growing into his frame and as he does he's adding to his velocity. An average changeup and potential average curveball give him the three pitch mix he needs. He has solid mechanics that allow him to repeat his delivery and keep the ball down in the zone. He's a couple of years away but should continue to add to the K numbers as he matures and has a pretty high floor.  I would say that our opinion hasn't changed at this point.  Iwould classify his 2011 season as a success.
The Stuff
Webster has a remarkable feel for pitching.  For a guy with limited experience (converted short stop), he looks confident on the mound.  Webster has 5 pitches that he uses in his repertoire.  A four-seam fastball, a two-seam fastball, and a slider, a curveball, and a change-up.
Four-seam fastball:  There's some movement on this pitch and he likes to run it in on players hands.  He generally works in the 93 mph ranges, but can dial it up to 96.  From what I've seen, he may have a a couple ticks left to increase on his fastball, which would certainly elevate his status.
Two-seam fastball:  Less velocity more movement than the four-seamer.  This is a quality out pitch.
Slider: This breaking slider has good movement and comes in at about 84-86 mph. He needs to develop this pitch a little more.  If he can get more batters to chase this pitch, his stock will rise.
Curveball:  He throws this pitch often, keeping this high 70's offering low in the strike zone.  It lacks a sharp bite on it and unless he can develop it, will never fool anyone and is definitely not an out pitch.
Change-up: This isn't a great pitch either at this time.  He stays tall and feels forced.  This is most certainly a pitch that needs to improve if he is to be a part of the rotation and not end up in the pen.
The Mechanics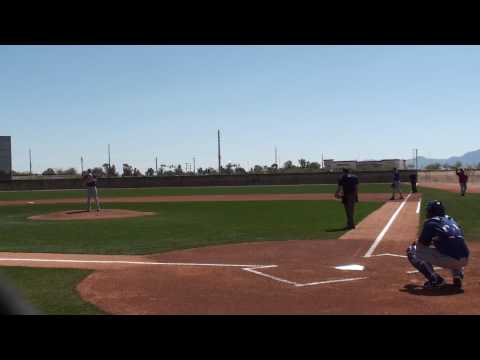 Mechanically speaking is pretty sound.  There isn't much there to suggest that he's on a path to injury.  His arm action is a little bit short on his delivery and could certainly stand to be cleaned up.  This could be the difference in becoming a quality, middle of the rotation starter or becoming a mop up man in the bullpen.  He seems to of corrected the problem where he shows the ball to the hitters loading, then goes out of his way to hide it on the delivery.
Our Instinct
He's still working the kinks out of switching from a position player to a pitcher, but he's been remarkable so far.  With 2 plus pitches and the development of one of his other pitches into a third plus pitch he could have a ceiling as a number 2 starter.  Of course, continued increase of velocity will help make that a reality, but if he peaks out at 94-95 mph he's still got a good shot at being a quality 3 or 4 in the majors.  Expect a repeat of Double-A in 2012, but if all goes well don't be shocked if he gets called up like  Nate Eovaldi did.  I would say that his ceiling probably isn't as high as Eovaldi's is, but his floor certainly is.
Check back soon as we profile many more Top MLB Prospects and also get our baseball geek on and take a look at some of the later draft picks from the 2011 draft that we think could be big names on the prospect radars in the near future. While you're here, take a look at our recent article:  Prospect Instinct | Yasmani Grandal, C Cincinnati Reds and be a step ahead of the game. Thanks for checking Baseball Instinct. We're working hard to bring you the best of the minor leagues and make the site the best experience it can be. So don't hesitate to tell us what you would like to read about. Email us now at mailbag@baseballinstinct.com.