Jedd Gyorko, 3B San Diego Padres
9/23/1988
Height – 5'10" Weight – 195
Jedd Gyorko was drafted out of West Virginia University in the 2nd round as the 59th overall pick of the 2010 draft. He played shortstop during his very successful college career. Scouting reports indicated concern that he lacked the defensive ability to stay on the position. On the other hand, Gyorko was known as a hitter with good bat speed and a fairly polished set of offensive skills. After 2 years of professional ball, we are now able to compare those scouting reports to some professional data and see how well they match up.
The Bat
The scouting reports out of college indicated polished hitting skills. After 2 years of data, we are seeing evidence of those same attributes that were highlighted coming out of college ball. One of the skill sets on display during his college career was good pitch recognition skills. His bb/k ratio of 64/110 during 647 plate appearances in 2011 is a very promising marker. His bat speed and quick hands have allowed him to maintain a nice batting average coming in at .333 across two levels of competition during the 2011 season. Combine his batting average with his advanced strike zone management, and you get an on-base percentage of .400 for that same 2011 season. He also made a nice improvement in his power numbers from the 2010 season to the 2011 season. While there was nothing wrong with the 7hr's, 41 rbi's and a ,444 slugging percentage in 2010, I really like the 2011 line of 25 hr's, 114 rbi's and a .552 slugging percentage.
However, I also need to take note of the concern about his tendency to open his swing. This manifests itself in two ways. First, he tends to become a pull-happy hitter. Second, it can make him vulnerable to poor coverage of pitches on the outside half of the plate. It must be noted that Gyorko had a distinct drop off in performance from High A to AA ball during the 2011 season. His dominating slash line of .365/.429/.638 in high A Lake Elsinore stands in stark contrast to his .288/.358/.428 slash line in double A San Antonio. This may just be a function of Gyorko needing time to adjust to a higher level of competition, but it could also be indicative of a higher level of pitching competition that can exploit a weakness in his offensive game.
Preview the video from Bullpenbanter.com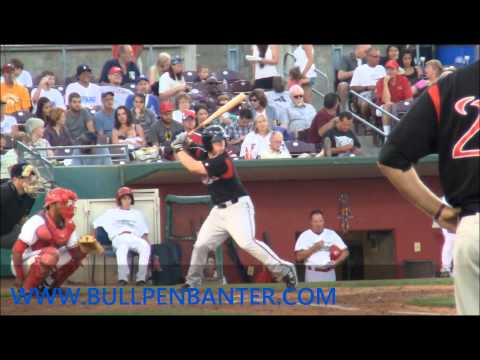 The Glove
Immediately after being drafted Gyorko was moved to third base. Moving off of the shortstop position was inevitable for Gyorko, and the Padres to decision to make that change early on was appropriate. He simply lacks the range and athleticism to hold up to the demands of shortstop. The curious thing about the change of Gyorkos' position, was that they moved him to third base rather than second base as most had expected. This is strange because it puts Gyorko behind James Darnell who is another highly rated 3b prospect in the Padres system. With Gyorko's 5'10" stature and medium to stocky build, he lacks length, speed or quickness. And this prohibits him from having any exceptional defensive attributes. For the record his arm strength is decent and will be sufficient for the major leagues. He is the kind of defender that makes the plays that he can get to, however, he lacks exceptional range. Overall, his defense is adequate for the major league level.
Our Instinct
This writer expects Gyorko to start 2012 in AA ball and it will reveal a lot about his offensive game, and, particularly his power production. Since his bat will determine how far he goes and how successful he will be, the competition at AA will be an excellent litmus test of his prospect legitimacy. However, there are a couple of questions that need to be answered along the way. First one has to wonder where does he play? With hot prospect James Darnell seeing some major league time in 2011at 3b, does this allow Gyorko any future at that position within the organization. Second, we raise the question in our Touch 'em all Texas League whether he can maintain his power production. The fact that Petco would become Gyorko's home park in the major leagues, is going to do nothing but hurt his power production. Overall, there is a lot to like with Gyorko including good bat speed, advanced pitch recognition, solid strike zone management and good contact skills. Because of his questionable power and unclear path to the majors, Gyorko needs to continue to develop those tools and push his way up the development ladder. My belief is that Jedd Gyorko can become a productive hitter in the major leagues and has just enough of a defensive game to get him there.
Check back soon as we profile many more Top MLB Prospects and also get our baseball geek on and take a look at some of the later draft picks from the 2011 draft that we think could be big names on the prospect radars in the near future. While you're here, take a look at our recent article in our top 10 series:  Seattle Mariners Top 10 Prospects List  and be a step ahead of the game. Thanks for checking Baseball Instinct. We're working hard to bring you the best of the minor leagues and make the site the best experience it can be. So don't hesitate to tell us what you would like to read about. Email us now at mailbag@baseballinstinct.com.