Jeurys Familia, RHP New York Mets
10/10/1989
Height: 6'3″ Weight: 185
Jeurys Familia was signed by the Mets in 2007 as an International Free Agent. Familia spent his first 2 season between the GCL and Sally League with some interesting numbers. He amassed a 2.79 and 2.69 ERA respectively in 2008 and 2009 a 6% and 8.2% walk rate in those same seasons. Keep those walk rates in mind. His 2009 performance made him the Mets minor league pitcher of the year.
In 2010 Familia had made enough noise to start turning up on Mets Top lists heading into the season and he was given the assignment of the FSL as a 20 year old based on his success.
Despite a Futures Game invite, the 2010 season wasn't as kind to Familia though and we'll take a good look at why most of the national publications had dropped his stock. And why we actually moved him well up the Instinct charts.
Let's first take a look at the numbers with his ERA jumping to 5.58 in 121 innings. Clearly not the same end result as his first two seasons. His walk rat jumped to 13.3%. An uncharacteristic number for Familia. But his K rate also jumped to 24.6% in comparison to 17.6% and 19.5% in 08 and 09. So if he had additional dominance why did we see such a drastic change in success, especially considering the FSL's positive effect on pitchers. Well, for one, his BABIP jumped up to .351 when his previous two seasons had been .278 and .277. So there was an unusual amount of bad luck even while Familia was figuring things out as a strikeout pitcher.
The additional growth matched with the obvious stroke of bad luck was enough for me to realize that there was a regression to the mean coming for Familia. So he ranked in our 2011 preseason Top 100:
89. Jeurys Familia SP NYM – Familia had a first half to forget in 2010 but came back around in the second half to show why he was one of the most exciting arms in the Mets system. Familia has been young for each level and struggles can happen in the situation. He has a plus plus fastball that can touch triple digits but he works in the mod 90s with a hard slider and what should be an average changeup. His frame will make him a viable #2 or #3 innings eater. Nice upside.
So let's take a look at his 2011 season, the arsenal and the mechanics to see what makes him one the Mets top prospects.
The Stuff
Familia best pitch is a plus fastball that he works in the 92-95 range, but I've seen him work it into the high 90s hitting 99 on occasion in the FSL. The pitch has good movement, especially now that he works more up and down with his delivery.
His slider is his second best pitch and it has hard bite while working well with his fastball release point. The pitch is good enough to be dominant against right-handers and enough to get in tight on left-handers to work as a neutralizing pitch.
His changeup is still below average, but he's learning to use it as a weapon to make his fastball that much more effective. If he's given enough time to concentrate on and develop the changeup it will be an average offering or better based on current movement the pitch has.
The Mechanics
Take a look at some highlight video of Familia this season at Binghamton: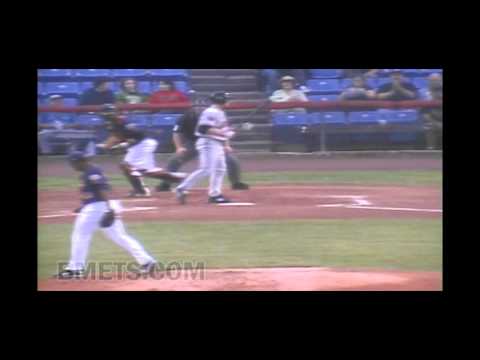 Familia has cleaned up his mechanics since the 2010 season. He comes more over the top than he had prior. With that said there is still some recoil in his arm action and that recoil puts added stress on the shoulder that is unnecessary.
He gets decent leg extension and overall isn't using max effort to get his premium velocity.
Our Instinct
Jeurys Familia's 2011 season made it more clear that his success as a young starter was real. There are two possible outcomes for success into the future for him now. One is as a #3 starter with a premium pitch that could work solid innings for the Mets. For him to remain a starter he's going to need to bring the changeup from its current level up to an average pitch. Something that is more than possible if he's given enough development time.
The second possible outcome for success would be a move to the bullpen where his fastball would work as a plus plus offering in short stints and his slider would be more than enough to work lower innings totals. His changeup is already good enough to be helpful when opposing hitters only get one look at him during a game.
The Mets are at least two seasons from being a contender in the NL East, so they have the ability to give Familia another half season at Double-A to refine his changeup and mature as a pitcher. It's their best avenue at this point because if he can be a #3 starter he's going to be very valuable to the future of the Mets. If he fails to be dominant enough in the starting role, I think the move to the bullpen will be an easy transition for Familia and one that he should be able to handle well.
Check back soon as we profile many more Top MLB Prospects and also get our baseball geek on and take a look at some of the later draft picks from the 2011 draft that we think could be big names on the prospect radars in the near future. While you're here, take a look at our recent article in our top 10 series:  Chicago Cubs Top 10 Prospects List  and be a step ahead of the game. Thanks for checking Baseball Instinct. We're working hard to bring you the best of the minor leagues and make the site the best experience it can be. So don't hesitate to tell us what you would like to read about. Email us now at mailbag@baseballinstinct.com.