Zack Cox, 3B St. Louis Cardinals
5/9/1989
Height: 6'0" Weight: 215
Zack Cox was drafted out of the University of Arkansas with the 25th overall pick in the first round of the 2010 Amateur Draft by the St. Louis Cardinals. The young third basemen had the eye of the Los Angeles Dodgers in 2008, but then, they selected him in the 20th round. So Cox obviously bettered himself by choosing college ball over the minor leagues early on. His professional career started with a small taste of Gulf Coast League Rookie Ball at the end of 2010, but, he proceeded straight to Advanced A in Palm Beach to begin 2011.
Then, in the same season, after only 164 at bats and hitting .335, Cox was promoted again to Double-A Springfield. There, in 352 at bats, he hit .293 with 103 hits, 10 homeruns, 29 walks, 69 strikeouts, and .355/.432/787 line. But the substantial jump in competition from High-A to Double-A also showed him raise his BB% from 6.1 to 7.5 and elevate the ISOP from .106 to .139 while only increasing his K% a measly 1.6% between the two leagues.
His bat was advanced enough that he broke into our Top 100 Prospects List in 2011 without much in the way of professional experience. This is what our Tom Belmont said about him way back in April:
91. Zack Cox 3B STL – Cox has a smooth all fields swing from the left side. He isn't the prototypical power hitting corner but could hit for average power at either 3B or 2B. He has the arm to handle 3B but the Cardinals are known for moving players to 2B and Cox would be a prime candidate. He should move through the system quickly.
The Bat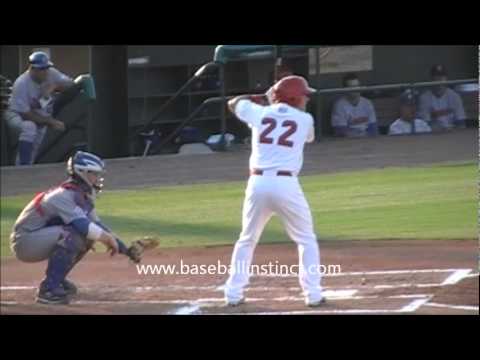 As you can see from the video, Cox is super-relaxed at the plate. He keeps the bat up high in his stance and gently (not a lot) rocks as he waits for the ball. And even though his body sways, there isn't a lot of hand movement. He turns his hips while bringing the bat through the zone with good timing and coverage. The power comes from his hip turn and good bat speed. Right now, he doesn't sell out his swing to pull the ball, which tells us that he has the makings to hit for a higher average. He has a true line drive swing and contact isn't a problem right now in the minors. There are, however, questions about his future power output and whether he'll hit for enough power to stick at 3b, or, as Tom suggests, will he, possibly, be moved to 2b where his current power and hitting ability will have an even greater impact in the Cardinal batting line-up.
The Glove
At this point, it looks that Cox is striving to be an average third basemen defensively. The main problem being his range. He simply has to learn how to get to more balls. His future at 3b has more to do, however, with the health of current Cardinal 3B David Freese and the development of fellow 3b prospect Matt Carpenter. Of the two, my money is on Cox, simply because of his skill with the bat. If World Series hero Freese can stay healthy, then a conversation about moving Cox to a new position can begin. There is no such conversation right now though.
Our Instinct
Quite simply, Zack Cox's bat is what will get him to the majors the fastest. He has good contact skills, a line drive swing, can get on-base, and improving walk ratios, but also, as stated earlier, a questionable projection for power production that slows down the impending man-crush a bit. But, alas, the youngster only has one full professional season under his belt. A change in approach or defensive position could be in the future. A position change, depending on when it is made, could slow his ascent to the bigs by a year or so. Without such a change and Cox achieving at least average power, look for him to arrive in St. Louis sometime in 2013.
Check back soon as we profile many more Top MLB Prospects and also get our baseball geek on and take a look at some of the later draft picks from the 2011 draft that we think could be big names on the prospect radars in the near future. While you're here, take a look at our recent article in our top 10 series: New York Mets Top 10 Prospects List  and be a step ahead of the game. Thanks for checking Baseball Instinct. We're working hard to bring you the best of the minor leagues and make the site the best experience it can be. So don't hesitate to tell us what you would like to read about. Email us now at mailbag@baseballinstinct.com.