It's the time of the off season when Baseball Instinct goes from Club to Club and we take a look at the Top 10 prospects from each team before opening it up to our Top 21s later in the winter. This year we're working with some other sites that share a more focused view of particular clubs.  Today though, we're working in house because of our tight following of the Cardinals Organization based on the proximity to both their GCL and FSL affiliates and their Spring Training complex which houses both. So here's the St. Louis Cardinals Top 10.
1. Shelby Miller, RHP 10/10/1990 H: 6'3″ W: 195 - Miller was the Cards top prospect heading into the 2011 season and he didn't disappoint with the best minor league season for a RHP. He dominated High-A FSL and then found more success in Double-A when promoted to Springfield as a 20 year old.
Our Instinct: Expect Miller to spend another spring with the big league club before some additional minor league seasoning. This future Cardinals ace could see the #4 slot in the Cardinals rotation before the end of the 2012 season. Check out the Prospect Instinct | Shelby Miller for even more detail and video.
2. Carlos Martinez, RHP 9/21/1991 H: 6'0″ W: 170 - Martinez is following in the footsteps of Shelby Miller and actually has better overall stuff. His fastball is an electric high 90s offering with plus late life. His curveball is also a plus offering based on movement. Still working on the changeup and his overall command and maturity as a pitcher.
Our Instinct: Martinez will start the 2011 back in the FSL where he'll continue to work with pitching legend, Dennis Martinez, on his transition from flamethrower to pitcher. Martinez is just a half season away from making another jump in game. Upside is a co-Ace to Miller and the downside is an elite level closer. Check out the Prospect Instinct | Carlos Martinez for more details.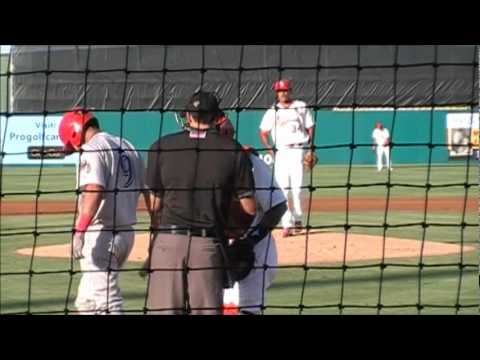 3. Oscar Taveras, OF 6/19/1992 H: 6'3″ W: 195 - Taveras is just 19 years old and won the Midwest League batting title in 2011. His low walk rate is an issue, but not to the level it normally would be. His contact ability is off the charts and he's simply able to make hard contact with anything around the zone. Average power and defensively he should eventually settle into a corner spot.
Our Instinct: He should see High-A Palm Beach to start the 2012 season and I wouldn't expect his power to develop there. But right around his 20th birthday I think he'll make a jump to Double-A where his power should get a boost. He could be a .300 hitter with 15-20 HR power and solid corner defense. His arm would play in RF if needed.
4. Tyrell Jenkins, RHP 7/20/1992 H: 6'4″ W: 185 - Jenkins is the youngest of the four possible high end starters in the system. Jenkins spent his 2011 season in extended spring training and then rookie ball in Johnson City. He has a mid 90s fastball that works in the 92-96 range and has more velocity to come. His curveball is a tight 12-6 that he's still mastering and changeup is below average but a usable pitch that should be at least average inside of the next year.
Our Instinct: He should turn an already above average fastball into a plus pitch. His secondaries are still a work in progress, but he's so young that it's far from a concern. They both flash potential and some tweaks to his mechanics point to above average command as well. He has #2 upside depending on how far along his changeup advances. He'll probably start back in Johnson City before heading the Midwest League.
5. Trevor Rosenthal, RHP 5/29/1990 H: 6'2″ W: 190 - Rosenthal made the the biggest jump inside the Cards system in 2011. He sat just outside the Top 15 last season and is now viewed as one of the top arms in all of the minor leagues. That shows you how deep this system is in right handed starters. Rosenthal has a mid 90s fastball and touches 97. He uses a mid 80s slider as a put away pitch, but it was his change up that made the biggest strides in 2011. The Cardinals forced him to use it more with a mandatory minimum pitch count which actually had him pitching backwards and using it early in counts. Check back when we do a more extensive break down of Rosenthal's pitch development in our Prospect Instinct series.
Our Instinct: Rosenthal has the 3 pitch mix to be a mid rotation starter and could be as much as a #2. He should move to the FSL sometime in 2012 where he'll work with Carlos Martinez and coach Dennis Martinez. I can see him moving station to station and making his pro debut some time in 2014. This is going to be an aggressive ranking in some opinions. Not in ours.
6. Kolten Wong, 2B 10/10/1990 H: 5'9″ W: 190 - Wong was clearly a Cardinals style pick. He's an elite level contact bat and projects to hit for a high average. His power is below average though and he doesn't possess elite speed. But he has a high baseball IQ which we like to call baseball instinct, oddly enough. He'll be a solid defender at 2B and has more than enough arm to handle the position.
Our Instinct: Wong projects as a .300+ hitter and should develop 10-15 HR power. While he isn't fast, he is a good base runner and could steal 20 annually. I had Zack Cox pegged as the Cards 2B of the future, but Wong is now the one on the depth chart that makes the most sense and shouldn't take long to make the move all the way to St. Louis. Possibly as soon as 2013.
7. Matt Adams, 1B 8/31/1988  H: 6'3″ W: 230 – Adams is a big boy with good power. He's going to need it as a righthanded defender. He hit from the left side though and was able to post a third straight .300 or better campaign. This season posting a .300 AVG with 32 HR and 23 doubles. He kept his K rate under 20% which is excellent for a power hitter. His walk rate is passable at 7.8% as well, though he could stand to take a few more walks. The Cards sent him to the AFL and it's time to take this kid serious. Three great minor league seasons.
Our Instinct: He's not going to be the greatest defender but will be effective enough to be an everyday 1B. What happens with Albert Pujols will be a deciding factor on his future with the Cardinals. He has enough power and contact ability to be a solid regular at 1B and could be a 30+ HR type. Whether the .300 type average translates is doubtful but .280 is possible and he controls his K numbers well for a power hitter.
8. Zack Cox, 3B 5/9/1989 H: 6'0″ W: 215 – Cox is more of a pure hitter than a typical power corner infielder. He has the potential to be a .300+ hitter in the majors, but lacks the power to be above average at 3B. He also lacks the quickness to be an above average defender at 2B which is where his bat would profile best. Where do you put a .300 hitter with below average power?
Our Instinct: He's currently blocked at 3B by David Freese, but if Cox continues to produce as a .300 hitter they will find someplace to put him. He shows moderate power, but a .104 IsoP in the FSL and a .139 in Double-A isn't going to cut it as corner infielder. He's behind Kolten Wong as a 2B so it's doubtful that transition will be made. Even with his elite level contact ability being a possible major league tool, it's difficult to project more than a league average player, possibly a platoon 3B/2B/OF in the future.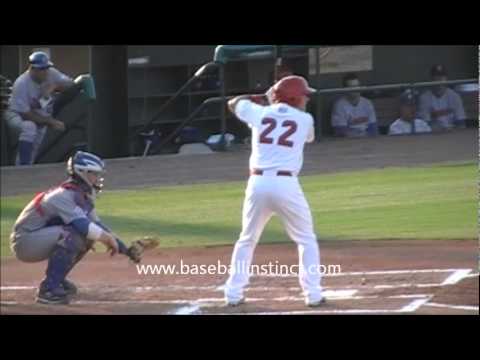 9. Lance Lynn, RHP 5/12/1987 H: 6'5″ W: 250 – Lynn is a big bodied righty with a fastball that sits 92-94 when he starts. He's been projected as a back of the rotation starter. That is until 2011 when the Cards needed bullpen help and started dialing up a 4 seam to 97-98. Combined with his sinking 2 seam fastball that gets ground outs and hard curveball and he was very successful in the pen. A 3.12 ERA and 40 K's in 35 innings.
Our Instinct: He found his home in the bullpen and unless the Cardinals starting rotation becomes depleted by injury, he should spend the duration of the 2012 season and beyond in the pen. I wouldn't put the Closer tab on him, but of the RP arms in this system, Lynn has the most stable skill set.
10. Jordan Swagerty, RHP 7/14/1989 H: 6'2″ W: 175 – Swagerty is an college closer turned starter in 2011. He had 1.50 and 1.82 ERAs between Quad Cities and Palm Beach as a starter before closing out the season with Double-A as, well, the closer. His fastball touches 96 in short stints and his slider is one of the best breaking pitches in the system. The development of his changeup could put him on the fast track.
Our Instinct: While Swag might be able to ascend as a 4-5 starter, he has a closer mentality and the stuff to work well at the back end of the bullpen. The Cardinals can either spend the next 3 seasons building up his innings count until he can handle a full season or get a cost controlled back end arm with strikeout ability and above average command as soon as 2012. Expect him in the pen next year. There really isn't any other outcome.
Check back soon as we profile many more Top MLB Prospects and also get our baseball geek on and take a look at some of the later draft picks from the 2011 draft that we think could be big names on the prospect radars in the near future. While you're here, take a look at our recent article in our top 10 series:  New York Mets Top 10 Prospects List  and be a step ahead of the game. Thanks for checking Baseball Instinct. We're working hard to bring you the best of the minor leagues and make the site the best experience it can be. So don't hesitate to tell us what you would like to read about. Email us now at mailbag@baseballinstinct.com.