Jose Iglesias, SS Boston Red Sox
1/5/1990
Height: 5'11" Weight: 175
The Red Sox signed then 19 year old Cuban Shortstop Jose Iglesias for $8.25 million over 4 years back in 2009, with the contract starting the 2010 season.  He and pitcher Noel Argüelles defected while in Canada with the Cuban Junior National Team and then took up residency in the Dominican Republic before signing with the Red Sox.  Known as a defensive wiz in the mold of Ozzie Smith and Omar Vizquel, the Red Sox hope that Iglesias will also develop the bat that these two former multi-gold glove winners had.
Joining with me today on this Prospect Instinct is our own Adam Rodrigues.  Adam, who follows and writes about the Red Sox for us, calls Massachusetts home.  So with Adam's help, let's dive right into it.
Iglesias started his professional career in Cuba in 2008 where he posted a triple slash of .322/.356/.430 in 75 games with Habana before joining up with the National team.  After signing with the Red Sox, he was sent right away to the Arizona Fall League where he hit .275/.324/.420 with the Mesa Solar Sox in 18 games.
2010 saw Iglesias jump into regular play with Low-A Lowell where he would stay for all of 40 at bats, posting a .358/.458/.500 line with an insane .438 BABIP.  He jumped right over Single and High-A to AA Portland for the rest of the season, posting a .285/.314/.357 line there.  His BABIP remained high at a .366 mark, however his K% of 20.8% and BB% of 2.9% were truly ugly and a possible repeat of AA would of seemed likely for 2011.
Wrong.  The Red Sox promoted Iglesias to Triple-A Pawtucet for the 2011 season.  He played spectacular defense, but his line of .233/.281/.267 suggests the Red Sox just keep on pushing him.  At age 21, one can't help wondering if he wouldn't been served better by refining his skills at High-A or Double-A.  He did improve his discipline at the plate.  The 15.1% K% was a nice improvement, while 5.5% BB% was better, it still shows that Iglesias needs to work the count more and try to get on base any way he can.  He got a taste of the majors in 2011 as well, going 2 for 6 with the Red Sox.
Video from Youtube user Farmsystem.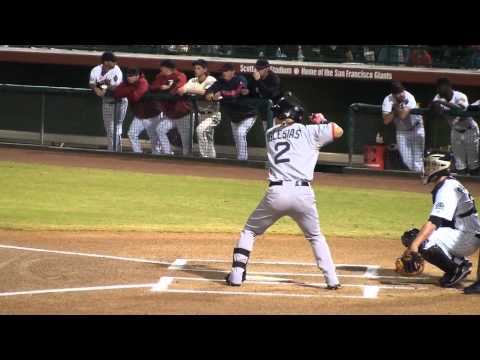 Prior to the start of the 2011 season we ranked Jose Iglesias in our  Top 100 Prospects for 2011:
81. Jose Iglesias SS BOS - A plus plus defender with an excellent arm. He's this high on the prospect charts because of his glove. It's that advanced. But his bat is only average and he's not going to have much power. His speed is also average and he's not a great base runner. Not a fantasy baseball star. But he'll be on a lot of highlight reels.
We certainly hit the mark based on the 2011 season with our remarks.  Let's take a look at what we are talking about.
The Bat
Iglesias has average, maybe slightly above average bat speed to go along with good hand-eye coordination.  He puts his lower back into this fairly compact and clean swing.  He generally pulls the ball and cannot drive it the other way.  There's not a lot of power here, though he may develop some gap power and while hes not a burner, could turn long singles into doubles.  That's provided that he improves his strike zone judgement and learns how to read breaking pitches.  He tends to go fishing on the hard breaking stuff. He's aggressive at the plate putting many balls in play, 7-8-9 hitter. struggles when he falls behind in the count, will he learn to be patient and work counts, or has an aggressive tendency become a habit?  This as I mentioned before, leads me to believe he should be at High-A or Double-A attacking pitchers who are trying to perfect their craft with the off-speed and breaking stuff.
The Glove
Electrifying defense.  He certainly has the range.  He definitely has the arm.  There's no question that he has the glove and it should carry him to a long major league career.  He definitely has what we call "baseball instinct" in the field.  He may already be a gold glove caliber shortstop.  He reads the ball extremely well off the bat, great jump to it, very fluid in most athletically demanding positions in the game, great agility and footwork, covers ground like a tennis pro, quick hands and amazing balance and body awareness, direct path to intercept the ball.  While Jose has a flair for the dramatics in the field, theres not much wasted movement, instinctively able to turn and complete throws to first base without more than a glance at his target. (too bad web gems don't offer much fantasy value)
Not yet "Wizard of Oz" status, a fielding magician in his own right whose slight of hand will draw comparisons to perhaps the greatest fielding SS in 'sawx history, Alex Gonzalez, can seamless transition from glove to throwing hand as if he bare-handed it or it just appeared there in mid-motion.
Our Instinct
Jose Iglesias is going to be a major leaguer.  The million dollar question is will he hit?  Previously I mentioned great hand-eye coordination and good instinct on the ball in the field.  If he can transfer that same ability to read the ball in the field to reading the ball out of the pitchers hand, he may very well enjoy some of the same success as Omar Vizquel had.  The question is will the Red Sox allow for his development?  They have a lot of time and money and invested in him and seem hell-bent on pushing him.  I maintain that he should start the season at High-A at the heart of where pitchers go from just throwing hard to fine tuning their secondary pitches.  I think he has the intelligence to eat that up fast and move up to Double-A fast.  Likely though, the Red Sox will be content on pushing him at Triple-A once again.  If they are not careful they can kiss the Ozzie Smith-Omar Vizquel comparison good bye and start flirting with a Rey Ordonez type of player.
Check back soon as we profile many more Top MLB Prospects and also get our baseball geek on and take a look at some of the later draft picks from the 2011 draft that we think could be big names on the prospect radars in the near future. While you're here, take a look at our recent article in our top 10 series: Detroit Tigers Top 10 Prospects List and be a step ahead of the game. Thanks for checking Baseball Instinct. We're working hard to bring you the best of the minor leagues and make the site the best experience it can be. So don't hesitate to tell us what you would like to read about. Email us now at mailbag@baseballinstinct.com.