Trey McNutt RHP Chicago Cubs
what8/20/89
Height: 6'4" Weight: 220
A name of particular interest around major league baseball lately is right handed pitching prospect Trey McNutt, currently property of the Chicago Cubs. I put emphasis on the word "currently", because the Boston Red Sox would like to change that status. But let's start back at the beginning. Kenneth (Trey) McNutt was drafted by the Chicago Cubs in 32nd round and 980th pick overall in the 2009 draft. He signed with the Cubs for the reasonable price of $115,000, which has the look of a great bargain for the Cubbies or whomever should land him in the very near future.
Coming out of college McNutt found a significant increase in velocity, which brought his stuff to a completely different level. In 2009 McNutt pitched 27.2 innings and made a good showing statistically, but the sample size was too small to glean any accurate information. However, 2010 was a season that made McNutt a darling of the prospect world being mentioned alongside many of the elite prospects of minor league ball…and, for good reason. He breezed through 3 levels of competition and was dominant at all 3 stops. Through that season he pitched 116.1 innings with 132/37 k/bb ratio and amassed a sparkly 10-1 win/loss record. All systems were "go" for McNutt; and then the 2011 season happened. Suddenly all the things that made McNutt such a highly coveted prospect, seemed to disappear. The walk rate went up, the k rate went down dramatically, and his era rate nearly doubled. While far from a disastrous season, it was a severe departure from extremely successful accomplishments of 2010.
Then the Chicago Cubs acquired Theo Espstein away from the Boston Red Sox as their new President. This is significant because Epstein had one year remaining on his contract as general manager with the Red Sox organization; and this means that Boston has to be compensated by the Cubs organization in some way. It has been widely reported that Boston is seeking one Trey McNutt as that compensation. Obviously somebody within the Red Sox organization still considers McNutt a very valuable prospect. Furthermore, it is reported that Chicago is resisting the request to give up McNutt; so they too consider him a commodity worth keeping. So what do we know about this prospect that is the source of so much interest and speculation?
The Stuff
Here is where it gets interesting. His first 2 years of professional baseball McNutt was known for excellent control which helped to stockpile a winsome strikeout total. Then in 2011 the strike out totals seemed to disappear. It seems that the "stuff" that we saw in 2011 is not the same "stuff" as the previous seasons. Unfortunately, the trademark, command and control of 2010 did not follow McNutt into the 2011 season.
Fastball – This was the pitch that transformed McNutt from 32nd round after thought to well-known prospect. Somewhere between his final year of college ball and the start of his professional career McNutt found several ticks in velocity. Currently McNutt can throw a fastball with decent movement at a consistent 92-94 mph clip. And when he wants to, McNutt can rush it to the plate at 97mph. This pitch has makings of an above average major league offering.
Curveball – Like the fastball of 2010, the power curveball was considered a plus pitch and one of the best in the minor league system. However, the 2011 version of this pitch is a marked departure from its' previous version. The curve lost its power breaking action and became a slurvy pitch and certainly does not qualify as a plus offering. Again a noted loss of command occurred with the 2011 incarnation of this pitch.
Changeup – The changeup was widely considered his most important pitch to develop at the start of the 2011 season. Because he needed to bring an offering that would be effective against opposite-handed hitters, this was the pitch that could help him to become a high-end major league starting pitcher. Unfortunately, there was little to no development in this below average pitch.
The Mechanics
Video from ScoutingtheSally.com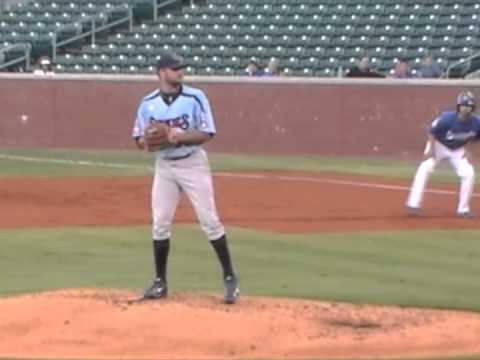 To evaluate McNutt's delivery, one has to start with McNutt's physique. He stands tall on the mound at 6'4". McNutt has a big and imposing 220-pound body. With a broad set of shoulders and athletic build one can easily see McNutt being able to chew up innings. He missed some innings in 2011 due to blister issues on his hand, but has not suffered any injuries that would compromise his development in the future. He drives towards the plate with an easy effort delivery that belies the heavy velocity with which throws.
The mechanics seem smooth and don't portend any particular injury concerns. However, I have noticed that the arm slot from which he throws is not always consistent. This was particularly noticeable in video taken from games played in the Arizona Fall league. He must learn to make the release point consistent for two reasons. First he needs to have consistent delivery for the sake of regaining his 2010 control. Second, an inconsistent release point can tip hitters at higher levels of competition as to what the pitch will be. Either situation is detrimental to his overall success. I strongly suspect that the blister issues that he suffered throughout the year had an impact on the mechanics of his delivery.
Our Instinct
McNutt's career has a severe "roller coaster affect" happening. He went from unknown draft pick; to budding star in the making; to significant disappointment; all in the span of about 2 years. However, I think the current context of the "Theo Epstein for Trey McNutt compensation" is a significant indicator of his value. While it is easy to point to the significant drop-off in results from the 2011 season relative to the breakout season of 2010, there is a reason that the Red Sox have been asking for him. Furthermore, the Cubs don't want to give up on him for sentimental reason. The simple fact is that a little over 12 months ago this guy was looking to be a very successful starting pitcher likely destined for the front half of the rotation. And there has not been any substantial injuries that have reduced his raw physical talent or ability. Translation: It is way too early and his talent is too good to give up him.
Basically the command issues of the 2011 season pervaded all aspects of McNutt's development. Priority number one is to determine what needs to be done to regain his control. One should remember that he was rushed through 3 levels of competition in 2010, so consolidation time is completely understandable. And the inconsistency of 2011 likely is related to the on-going blister problems that he experienced. Because all of the raw tools that made him so promising in 2010 are still there, the Cubs (or Red Sox) likely will give McNutt most of the 2012 season to regain his form and renew his developmental path. He could be so valuable as a starter that he will likely be given some additional time to fit into that role.
However, the fallback plan isn't a terrible idea. He has the demeanor and stuff to become a shut down closer quite nicely. That role is a lot more forgiving of command and control issues and would not require the development of the change-up as a third pitch. If a solid decision is made to move him into the bullpen, likely his rise to the big show will happen quickly. He already has so many of the fundamentals that are required to be successful in that role. My suspicion is that any move to the bullpen would be a rather soft landing. All that being said, I wouldn't give up the starting pitcher idea for a while still. He could still be very good and needs a continued opportunity to realize that potential. For now I would advise that you remain seated, because the "roller coaster" ride is not over yet.
Check back soon as we profile many more Top MLB Prospects and also get our baseball geek on and take a look at some of the later draft picks from the 2011 draft that we think could be big names on the prospect radars in the near future. While you're here, take a look at our recent article in our top 10 series: Detroit Tigers Top 10 Prospects List and be a step ahead of the game. Thanks for checking Baseball Instinct. We're working hard to bring you the best of the minor leagues and make the site the best experience it can be. So don't hesitate to tell us what you would like to read about. Email us now atmailbag@baseballinstinct.com.