Jake Odorizzi, RHP Kansas City Royals
3/27/1990
Height: 6'2″ Weight: 175
Jacob Odorizzi was drafted by the Milwaukee Brewers in the 1st round of the 2008 draft. He went 32nd overall out of Highland High in Illinois and he signed for $1.06mm before spending some time in the Arizona Summer League and striking out almost a batter per in his brief 20 inning debut.
In 2009, the Brewers, took a careful approach with their first rounder, limiting him to just 48 innings in the Pioneer League. He put up another solid campaign with 43 K in 47 innings, but the 4.40 ERA and lack of innings caused him to fall down the prospect ladder in some circles.
But in 2010 he moved to the Midwest League and the gloves came off and Odorizzi responded with a 3.43 ERA with an even better 2.93 FIP and 135 K in 120.2 IP. His 26.7% K rate was the best of his young career and since he was still high on our list of Brewers propsects it was easy to find a spot for him in our 2011 preseason Top 100 Prospects:
48. Jake Odorizzi SP KC – The gem of the Greinke trade, Odorizzi, is a tough righthander that was the top arm in MIL. He takes a bit of a back seat to more advanced arms in KC but he has the upside to be a future #3 starter. He has good size with an above average 3 pitch combo and command. His mechanics are clean and future physical growth could take his fastball into plus territory.
Well after the season started and Odorizzi's run through the Carolina League was complete that high praise prospect look seemed conservative. Let's take a look at Odorizzi's pitch mix and mechanics.
The Stuff
Odorizzi best offering is still his low to mid 90s fastball. Due to his smooth mechanics the pitch explodes out of his hand even though the velocity isn't elite level. The pitch has good movement and is what scouts describe as heavy finish. He was +1/1 on the GB/AO ratio the first three seasons but dip just below that in 2011.
Odorizzi's secondary arsenal consists of 4 possible pitches that include a curve, slider/cutter and his changeup.
Each offering is bordering on average, with his curveball the best bet to be an above average pitch. His changeup is also a good bet to be average and the slider and cutter, while similar at this time are two distinct pitches at times.
2011 led to a dominant stint in the Carolina League with a 2.87 ERA and 103 K in 78.1 IP. Solid walk rate and K rate on the rise.
He'll need to fully develop both the curve and change and he should be able to. The slider and cutter will either be scrapped or if he continues to show the aptitude, he could have a very deep arsenal.
The Mechanics
Take a quick look at some video by Mrkupebaseball: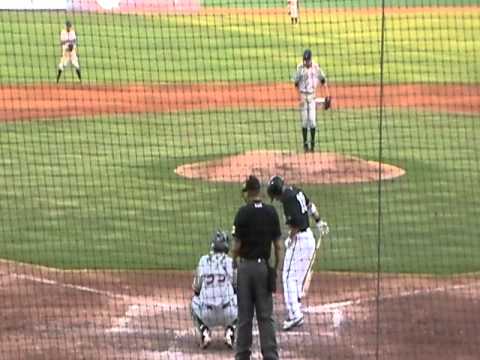 Odorizzi has clean and fluid mechanics. Very little excess stress is put on his arm, so the velocity he has now is probably not everything he has in the tank. I don't see anything that says he's an injury risk and that has been the view since high school.
One issue that he does have is landing a little short at times which forces him to lose the strike zone on the high side. His velocity is good but not enough for him to live away from his ground ball strength. It's not a major issue as his mechanics are more often very repeatable.
Our Instinct
Sticking with the preseason assessment here. Odorizzi has the pitch mix to succeed as a #3 starter and be a good one too. I think there's a little more gas left in the tank and see him working in the 93-95 range as he matures. There's some weight to be added to his frame and final refinement of his mechanics.
The secondaries still need refinement, but it's only a matter of time before he has them at average or better levels. He'll see Double-A again to start 2012 and will probably spend most if not all season there. His ETA is mid year 2013 with a rotation spot at the back end in 2014.
While he doesn't have the highest upside in the system I think he is the most well round pitcher and the likelihood of him reaching his #3 projection is high.
Check back soon as we profile many more Top MLB Prospects and also get our baseball geek on and take a look at some of the later draft picks from the 2011 draft that we think could be big names on the prospect radars in the near future. While you're here, take a look at our recent article:  Kansas City Royals Top 10 List collaboration with Clint Scoles from The Pine Tar Press and be a step ahead of the game. Thanks for checking Baseball Instinct. We're working hard to bring you the best of the minor leagues and make the site the best experience it can be. So don't hesitate to tell us what you would like to read about. Email us now at mailbag@baseballinstinct.com.