Welcome back to Baseball Instinct's Top 10 Lists for 2012.  Geo here, and it's that time in the off season when we go from Club to Club and we take a look at the Top 10 prospects from each team before opening it up to our Top 21s later in the winter. This year we're working with some of our friends that specialize a more focused view of particular clubs.
With these top 10's we've done a lot of work with other sites familiar with their respected teams, but we've also turned in-house to our staff who follows certain teams closely.  This time, Baseball Instinct's Brandon Kung who follows the Blue Jays closely.  Brandon will provide the breakdown and We'll work together to bring you "Our Instinct" on each player.
1. Jake Marisnick, OF 3/30/1991 H:6'4″ W: 200 – Drafted by the Jays in the 3rd round of the 2009 draft, this toolsy player started translating his tools into results having a breakout year at the Low-A Mid-West League posting a triple slash line of .320/.392/.496. He's a good center fielder, but will probably move to the corner outfield spot once his body fills out. He has the speed to hit at the top of the lineup as evidenced by his 37sb. Marisnick has a broad range of skills, and though he doesn't project to have plus power, he is a rare player who has a solid hitting approach and has a chance to develop 5 above average tools.   I don't think his .375babip is sustainable with a 16% line drive rate.
Our Instinct:  It's true; we do love toolsy outfielders.  Our own Tom Belmont broke him down in our Prospect Instinct|Jake Marisnick article in October.  As he hit on, we should be able to get a better look and provide video of him when he reaches the FSL.  30/30 potential is real.   Nathaniel Stoltz of S2S did a solid write up on Marisnick and ranked him #40 on their prospect list.
2. Travis D'Arnaud, C 2/10/1989 H: 6'2″ W: 195 – A first round supplementary pick in 2007, D'Arnaud was viewed as the weakest of the three prospects that the Phillies sent in the Halladay trade. Since then he's overtaken Michael Taylor and Kyle Drabek, and is viewed as one of the top 2 catching prospects in the game.  D'Arnaud has a quick bat and uses the whole field. Offensively he had a great year in AA putting up triple slash line of .311/.371/.542 including 21 home runs. Though scouts believe in his tools, temper your expectations of him. He played in a hitting friendly environment but still had 33bb to 100k in 466pa, 424ab.
Our Instinct:  For the time being, D'Arnaud is blocked by J.P. Arencibia in a catcher rich Toronto organization.  Rumor has it that the Phillies would like to re-acquire him.  D'Arnaud projects to be an above average hitting catcher. He has above average power and should be able to hit for average. That combined with the fact that he will be average defensively means that  he will have a shot at being one of the better catchers in the game.
3. Drew Hutchison, RHP 8/22/1990 H: 6'2″ W: 165  – With the trade of Nestor Molina, Hutchison slides up from #4 to #3 in our Blue Jays top 10 where Molina previously was.  When selected by the Jays in 2009, he was viewed as being advanced pitcher for his age, but with a back-end ceiling. In 2011 he was one of a handful of Blue Jays prospects who vaulted their prospect status with breakout years. He started the year at low-A and finished at AA, maintaining elite peripherals through all three levels (10.3k/9ip, 2.1bb/9ip).  Hutchison is a good pitcher, but he does not have "ace" stuff. His fastball sits at 91-93mph, touching 95mph, but it plays up as being a plus pitch because it has good life and he can sink and cut it to both sides of the plate.
He's got a good feel for his changeup, and it has a chance to be a plus pitch. His weakest offering is his slurvy slider, which he doesn't command well, but is much better now then when he was drafted, giving him a third usable offering. His delivery is a bit "funky" which adds deception to his offerings.
Our Instinct: Despite having a lanky frame at 6ft2 165lbs, it seems unlikely that he'll pick up much more velocity because there's not much more projectability left in his body. Hutchison is good enough to pitch in the big leagues now. His ceiling is probably a solid #3, possibly a decent #2.  This kid is the emerging prospect that get's Jays' fans excited, and I have to say I'm right there with them.
4. Deck McGuire, RHP 6/23/1989 H: 6'6″ W: 220 – Selected by the Jays as their top pick in the 2010 draft, McGuire has fallen in the Blue Jays ranks this year is not so much because of a bad year, he had a good year by all accounts: 3.45era, 8.9k/9ip, 3.35bb/9ip, but rather because of big years by a many of the Jays' prospects.  McGuire was selected by the Jays because he combines good stuff and polish. His fastball sits in 88-92mph with some sinking action, but he needs to tighten his command. His slider is arguably his best secondary pitch and seen as a possible strikeout pitch. He has a good feel on his changeup which might end up being better than his slider. He also throws a curveball.
Our Video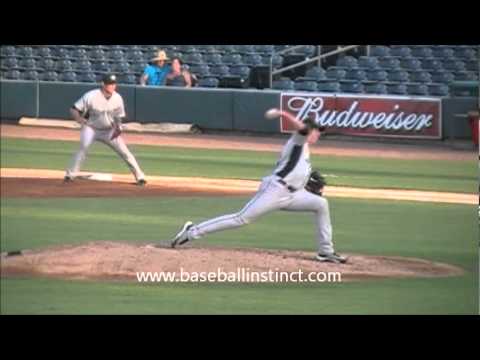 Our Instinct:  The big work horse doesn't have over powering stuff, which limits his ceiling.  Having said that, his floor isn't as low as a lot of pitchers.  He could be a solid #3 in the majors, with really a worst case of a #4-5.  He should bounce around a bit between AA-AAA before landing in Toronto sometime in 2012, probably to stay.
5. Noah Syndergaard, RHP 8/29/1992 H: 6'5″ W: 200 – a first round supplementary pick in 2010, Synderggard is yet another one of the many talented Blue Jays prospects who status soared in 2011.  Synderggard has a power pitcher's frame, and mindset. He has advanced command of a fastball for his age that sits at 92-94mph, touching 97mph. His curveball is promising, while his changeup needs more work.
Our Instinct:  He performed well in 2011, starting in rookie ball and finishing in Low-A.  He's looking like he could have front-line starter stuff.  We really want to see what he does at higher levels.  Brandon says to temper your expectations for now, but I say get excited about the possibilities now.
6. Justin Nicolino, LHP 11/22/1991 H: 6'3″ W: 160 – It seems like the Blue Jay can do no wrong in their draft selections. Justin Nicolino was a second round pick in 2010.  Nicolino is a lefty with a three pitch mix of fastball, curveball and changeup. His fastball sits in the 89-92mph range that he locates well.  He throws an advanced changeup for his age, while his curveball has made progress during the year and looks to be at least an average offering for him. He has a repeatable delivery and projectable frame.
Our Instinct: The Jays have quite a few pitching prospects in the low minors who all have a legitimate chance to be frontline starters if they continue to develop. Nicolino's ceiling isn't as high as Norris', but he has a greater chance of becoming a major league #3.  Here's yet another Jays' pitcher worth watching.
7. Daniel Norris, LHP 4/25/1993 H: 6'2″ W: 180 – The top prep lefthander in the 2011 amateur draft, Norris dropped to second round where the Jays took him with the 74th overall pick for U$2mil.  At times Norris has shown three potential plus pitches, but he's a bit raw- having only started focusing on baseball in the last year. His fastball generally sits in the 89-93mph range, though he can dial it up to 96mph. He has a curveball that he is inconsistent, but he has shown he has the ability to throw a good curveball. His changeup has good arm speed. Like many high school pitches he has inconsistent mechanics, but he's athletic enough to make the adjustments.
Our Instinct: Norris might have the highest ceiling amongst the Jays; collection of pitching prospects, but he's also the most raw out of those mentioned above him.  I'm starting to feel like a broken record on these Jays' pitchers.  Norris could be the top of our list next season, or not on it at all.  While we love his upside, we just don't know.  Just don't tell the Jays' faithful, they think he's already a CY Young candidate.
8. Adonys Cardona, RHP 1/16/1994 H: 6'1 W: 170 – Cardona broke the signing bonus record for Venezuelans' when the Jays signed him for $2.8mil in 2010. In many other farm systems Cardona would receive more notice, but it is a testimony to how well the Jays' have revamped their scouting and player development that he ranks where he is. Cardona gets good reviews on his fastball, which sits in the low 90s and hits 95mph, as well as a changeup that is advanced for his age.  However because his curveball is below-average, and the fact that his effort requires some effort have some scouts wondering if he might end up as a relief pitcher.
Our Instinct: It's still a bit early to project a ceiling for Cardona as he only turns 18 in January. However the Jays' remain optimistic, with one of his minor league coaches comparing him to Kelvin Escobar. High praise indeed for a young prospect.
9. Anthony Gose, OF 8/10/1990 H: 6'1″ W: 190 – Originally drafted by the Phillies in 2008, the Phillies thought highly enough of him that they refused to include him in the deal that brought Halladay. However he ended up making his way north when he was he was traded to the Astros as part of the Oswalt deal, and then subsequently flipped to the Blue Jays for Brett Wallace.
Gose has been amongst the fastest players in the minors since he was drafted. But his inexperience in reading pitchers and getting good leads got him in trouble last year, getting caught 32 times in 77 attempts In A+ ball. His improvements on the base path is evident as he stole 70 bases in 85 attempts playing full year at AA. In addition to speed, Goose also shows plus tools in his arm and glove, but his hit and power tools might never be more than average, if even that. Of growing concern is his high strike out rates which has increased to 154k in 509ab, 587pa. Though considering the kid is only 20 and playing in AA ball he has time to cut down on his strikeouts.
Gose has always been loaded with tools, but it was only this year that he started translating them to results. His display in the AFL has drawn many favorable reviews from scouts and baseball analysts. His ceiling is enormous if he can develop close to average hit and power tools and cut down on his strikeout rates.
mlbprospectportal.com video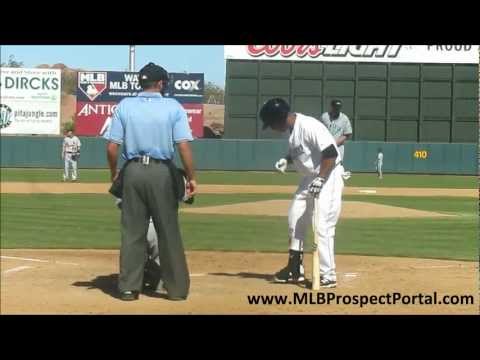 Our Instinct:  This rank is going to be unpopular to many and we almost left him off our top 10.  What I'm about to say is going to be even more unpopular.  Anthony Gose may not get the time to correct his problems at the plate as the Jays push him towards AAA and undoubtedy to the majors late 2012/early 2013.  Here's a kid who has the potential to be a Ricky Henderson knock off in his prime.  Unfortunately, you can't be Ricky Henderson if your the Blue Jays 4th or 5th outfielder.  Simply put, he knows that he swings at everything.  He admits to chasing balls in the dirt.  The problem is that he chases every ball in the dirt.  You can not expect him to put up monster numbers in the big leagues striking out 26% of the time in the minors.
The Bottom line here is that Gose needs to stop guessing at the plate and develop a professional approach to balls and strikes.  When the peanut guy throws a bag to a fan, Gose can't be taking a cut at it.  He's an extremely toolsy player that people fall in love with, but tools alone do not make a player special.  While the ceiling is high, without the proper discipline he's more likely to fall through the floor than shoot through the roof.
10. Adeiny Hechavarria, SS 4/15/1989 H: 5'11" W: 180 – With the Nestor Molina trade to the White Sox, Adeiny Hechavarria joins our top to list.  Scouts are universal in their praise of Hechavarria's defense, there is a difference of opinion of whether he'll  a below average hitter, or if he can eventually be an above average hitter. His career stat line as a whole suggests the former, however taken into context that he's made significant improvements with both his 2010 and 2011 mid-season promotions you could make a good case for the latter. Hechavarria has some pop in his bat, and some speed, so if you're optimistic he has 15/15 potential.
Our Instinct: It seems likely that Hechavarria will have a major league future, but whether he ends up being a super utility player  or a regular will depend on how his bat develop. It'll be interesting to see how he performs in 2012, but for now it looks like he profiles more of a back-of-the-lineup type hitter.
Check back soon as we profile more Top 10 Lists for each MLB team and also get our baseball geek on and take a look at some of the later draft picks from the 2011 draft that we think could be big names on the prospect radars in the near future. While you're here, take a look at a recent article in this series: Baltimore Orioles Top 10 List  and be a step ahead of the game. Thanks for checking Baseball Instinct. We're working hard to bring you the best of the minor leagues and make the site the best experience it can be. So don't hesitate to tell us what you would like to read about. Email us now at mailbag@baseballinstinct.com.