Nestor Molina, RHP Chicago White Sox
1/9/1989
Height: 6'1″ Weight: 180
Nestor Molina was signed by the Blue Jays in 2006 as an International Free Agent. Originally signed as a Middle Infielder he was quickly asked to make the transition to the mound where his plus arm would be better used. He spent his first four seasons in the minors as a RP with little fanfare or spotlight shone his way, despite some solid numbers.
In 2008 through 2010, Molina was able to keep a sub 3.00 ERA with close to a strikeout per inning. But it wasn't until his move to the Dunedin's rotation in 2011 that he really began to make some noise in the prospect ranks.
In our 2011 Touch'em All Series we highlighted Molina based on his stint in the DL and getting the chance to see him throw in person:
Nestor Molina Toronto Blue Jays (22) – Molina wasn't considered one of the Jays top prospects heading into the season but that hasn't stopped him from putting up some eye-popping numbers. He has 115 K's through 108 IP with a 2.58 ERA. One would think he was pitching way over his head, but his FIP is 2.63. He doesn't have over powering stuff. But he has excellent control and a nice 3 pitch mix. With that said, this isn't a front of the rotation type by any means. But a #4 or 5 possibly. Nice surprise.
Well, since then Molina had a strong 5 games stint in Double-A and finished as the top Blue Jays minor league pitcher of 2011 in my opinion.
And then yesterday, he was traded to the Chicago White Sox for RP Sergio Santos. Well, let's take a look at his arsenal and mechanics and see what the ChiSox got.
The Stuff
Molina's best pitch an 89-93 mph fastball that he command very well. With just 16 walks in 130.1 innings in 2011 he's a pitcher who hits his spots and doesn't beat himself. He works fastballs low and outside painting the black and uses a sinker to get ground balls and a slider as an out pitch.
His 4 seam is an average pitch with plus command but the sinker is a plus pitch with movement and command.
The slider is average but he commands that pitch as well.
He has a changeup but it's not a major offering despite his feel for it. It could continue to develop and give him a 4th offering in time.
The Mechanics
Take a look at our video from the FSL: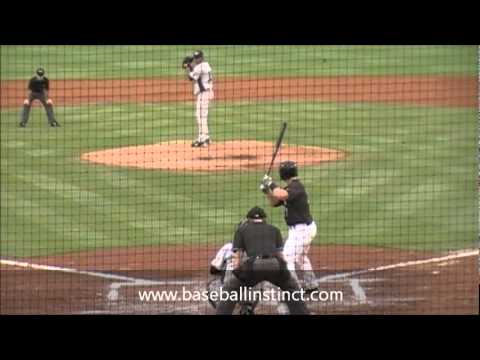 Molina's has smooth mechanics despite an over rotation of the hips before he comes to the plate. The additional rotation actually gives him enough deception that his fastball plays up.
His leg plant is a little short and keeps his arm from coming through in tandem with his leg drive. So Molina tends to throw with more arm than a power pitcher would. I don't see it as  a major issue for Molina because of the fact that he doesn't try to over power hitters.
The delivery is easily repeatable and his plus command make it all work.
Our Instinct
Nestor Molina may slide right into the top of the White Sox SP prospect ranks. While he isn't an Ace type, his pitch mix and command make him a nice bet to fill out the #4 spot in a rotation. His frame is a little small, so workhorse #3 is unlikely.
Molina came in #3 recently on our Toronto Blue Jays Top 10 Prospect List, which we have revised.  Look for Molina to appear on our Chicago White Sox Top 10 Prospects List soon.
Check back soon as we profile more Top 10 Lists for each MLB team and also get our baseball geek on and take a look at some of the later draft picks from the 2011 draft that we think could be big names on the prospect radars in the near future. While you're here, take a look at a recent article in this series:San Francisco Giants Top 10 List  and be a step ahead of the game.  Also, check out a friend of ours for all of your fantasy sports needs.  Fantasy Rundown is updated religiously and is truly an awesome resource.   Thanks for checking Baseball Instinct. We're working hard to bring you the best of the minor leagues and make the site the best experience it can be. So don't hesitate to tell us what you would like to read about. Email us now at mailbag@baseballinstinct.com.