Today's edition of Baseball Instinct's top 10 prospect list is going to be a unique one for us.  While we've delivered to you our own analysis of the top prospects within certain organization, we've also brought to you several top 10's that we've worked with team based sites who have what I like to call a more focused view on their respected team.  In this version, we are going to take on the Chicago White Sox and we are going to share the spotlight with a site that does what we do, but in their own unique and passionate way.  That site being Seedlings to Stars on the Fansided Network.  The Guys at "S2S" (as its coined), Wally Fish and Nathaniel Stoltz, along with their staff, work very hard to bring a quality product to their readers.  Like Baseball Instinct, this dynamic site is enjoying a huge surge in popularity.  Wally and I often reference each other's sites in our posts and links, so teaming up on an article just seemed to make sense.
Nathaniel is going to break down the views on each player of the Seedling to Stars staff and then I will circle in behind and give you our "Baseball Instinct" on those same players.
Here's Nathaniel:
The White Sox system is often considered the worst in baseball, and it's true that most of the players in the system either lack high upside or have one major weakness in their game that clouds their viability in the majors.
The two notable exceptions to that rule are the system's top two prospects, starter Nestor Molina (who was acquired from Toronto in exchange for Sergio Santos during the winter meetings) and reliever Addison Reed. It's at #3 that things start to get cloudy, and in fact, you could make a strong case for nearly any ordering of prospects 5-20.
Of course, that's not necessarily a bad thing; in some ways it's better to have an army of C+ prospects than to have a few B-graders and little else. The White Sox are deep in potential bullpen arms, and have a number of sleepers in that role who didn't make the cut for this list, such as Dan Remenowsky, Brandon Kloess, and Ryan Kussmaul. On the hitting side, they have a number of intriguing infielders; you'll read about two of them below, but Juan Silverio, Tyler Kuhn, and Carlos Sanchez are three other names to keep in mind.
Given the team's stature and big market, the concerns about the system come off as somewhat overblown—this is an organization that can afford to find its stars through free agency and trades, and this is a system that should supplement that core with a number of complementary parts. It'll be interesting to see if Chicago lets that dynamic play out, or if the South Siders elect to trade a number of their MLB stars and inject more high-status players like Molina into this minor league system.
Without further ado, let's get to the rankings:
1. Nestor Molina, RHP 01/09/1989 H: 6'1" W: 180 – (Nathaniel's take) Nestor Molina had a breakout season in 2011, posting unbelievable strikeout-to-walk ratios at both High-A Dunedin (115/14 in 108 1/3 IP) and Double-A New Hampshire (33/2 in 22 IP). Originally a third baseman/outfielder, Molina converted to pitching in 2008, and wasn't even a starting pitcher until this season, so his huge year caught many by surprise. While Molina's pure "stuff" isn't quite as good as his numbers suggest, it's no slouch, either: he works at 89-94 mph and boasts a very good splitter.  Molina will probably start 2012 in either Double-A or Triple-A, but he's very polished and should end up in Chicago at some point during the season. Don't be surprised if Chicago initially lets his two pitches work in relief upon his reaching the majors.
Our Video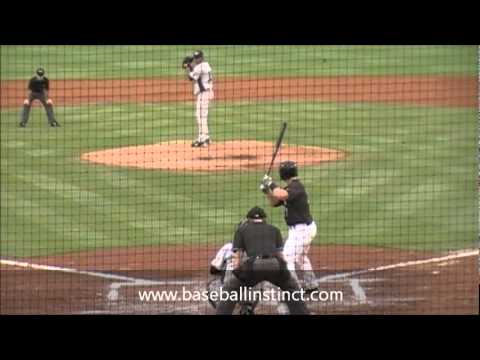 Our Instinct: We had Molina #3 in our Blue Jays Top 10 and scouted him ourselves.  Tom Belmont took the above video of Molina in July, and it's been used on several notable sites.  We love what Molina brings to the table, but as Tom said in his Prospect Instinct|Nestor Molina article, he's not going to be an ace, nor does he have the body to be a workhorse in the middle.  He figures to be a nice fit as a #4, however, as Nathaniel suggested, he could end up in the White Sox bullpen. 
2. Addison Reed, RHP 12/27/1988 H: 6'4" W: 215 – (Nathaniel's take) Addison Reed pulled off a rare feat in 2011, starting out at Low-A Kannapolis and getting promoted a whopping four times during the season, closing the year with the major league team. In the process, he put up numbers that would make Molina blush, striking out 111 batters and walking just 14 in 78 1/3 innings. Reed comes at batters from a low-three-quarters arm angle with a 93-97 mph fastball, a huge, sweeping slider at 78-83, and a surprisingly good changeup for a reliever.  Reed has "closer" written all over him. He's probably the best relief prospect in baseball, and there's no reason to think he won't be the team's bullpen stopper by the end of 2012. It's tough to dream up a better relief arsenal than his—frankly, it wouldn't be a surprise if he became an impact starter if the Sox chose to convert him to the rotation.
Our Instinct:  Chris Sale part deux?  It sure seems that way.  Clearly, with the White Sox dealing Santos and pushing Sale to the rotation they feel that they have the real deal in Reed.  You fantasy baseball types out there may want to remember this come auction/draft day or make a push for trading for him in those keeper leagues with farm systems.
3. Tyler Saladino, SS 07/20/1989 H: 5'11" W: 180 –  (Nathaniel's take) Tyler Saladino has done nothing but hit in his pro career since being drafted out of Oral Roberts in the seventh round of 2010. He boasts unusual power for a shortstop, slugging 16 home runs in just 102 games in the pitcher-friendly Carolina League, ranking third in the circuit in slugging percentage (.501). He also hit 26 doubles and nine triples, and he brings a solid approach to the plate that allowed him to post a .363 OBP. There are some concerns about his defense at shortstop, but he should at least be able to handle second base at a major league level.  Saladino remains underrated; he's not a flashy player, but he has a very good bat for the middle infield. In a system where most of the position players have serious question marks in at least one area of the game, his well-rounded skill-set is refreshing.
Our Instinct: Saladino probably isn't going to be a star, but he could be a solid major league regular in time.  The .231 ISoP was an unexpected development.  He might stick at SS, but as Nathaniel pointed out, 2B could be in his future.  Nothing wrong with a plus defender with a little pop from a middle infielder in an organization starving for positional prospect players.
4. Trayce Thompson, OF 03/15/1991 H: 6'3" W: 195 – (Nathaniel's take) Trayce Thompson slugged his way to this spot on the list, bashing 24 homers and 36 doubles with Low-A Kannapolis. A very athletic player who is just beginning to harness his potential, Thompson also walks at a good clip, with 60 free passes in 136 games. He may slow down too much to be a center fielder, but he should be a very good defender in right field, and he has the power bat to carry that position as well. His Achilles' heel is the strikeout, as he whiffed 172 times this past year.  Thompson probably has the most upside of any position player in the system, between his power and athleticism, but the strikeouts are a serious problem that will need a lot of work. A comparable player is Dodgers outfielder Kyle Russell, who has a similar build, athletic ability, and statistical profile, and the proverbial jury is still out on Russell even as he's advanced to Triple-A.
Our Instinct: You're right Nathaniel.  He's not going to stick in CF, it's got that prototypical large framed RF with a plus arm and plus power.  Speaking of the power, it's raw and elite.  It could be really special if he plugs that hole in his bat.  Don't expect him to be in the South Side anytime soon, he's going to need time to mature.  He could be special if he can pull it all together.
5. Jeff Soptic, RHP 04/08/1991 H: 6'6" W: 230 – (Nathaniel's take) Jeff Soptic offers intimidating size on the mound, and he has the power arm you'd expect from someone with his build, regularly cranking his fastball into the mid-90's. The team's third-round pick in 2011, Soptic has just 2 2/3 innings of professional pitching under his belt, but he's considered to have the highest upside among the team's 2011 pitching selections.  It's hard not to fall in love with a big power righty, but Soptic's lack of good off-speed offerings and a tendency to fall apart mechanically make him a prime candidate to move to the bullpen if he doesn't make improvements in a hurry. He is a potential impact pitcher there due to his imposing size and fastball.
Our Instinct: Chick's dig the fastball.  I think that's how it goes.  We dig that he has a hard slider to go along with that high-octane arm that brushes 100 mph every so often.  He lacks polish and his changeup needs some serious work or he's going to be just another big hard throwing guy out of the pen.  
6. Jake Petricka, RHP 06/05/1988 H: 6'5" W: 170 – (Nathaniel's take) Jake Petricka was a second-round pick in 2010 out of Indiana State, and like one would expect from a highly-drafted college pitcher, he dominated the Low-A South Atlantic League in his first pro season, walking 13 batters and striking out 48 in 41 1/3 innings. His strikeout and walk numbers fell off after a promotion to High-A Winston-Salem, but the one thing that didn't change was his ability to induce ground balls—his groundball rate was 55% in Kannapolis and 56% in Winston-Salem. Petricka throws a very good sinking fastball in the low-90's, and he also throws a curveball and changeup. He bounced back from his Winston-Salem struggles by striking out 18 batters in 16 innings as an Arizona Fall League reliever, and many think a power relief role is his eventual destination.  Petricka is a higher-floor, lower-ceiling version of Soptic in a lot of ways. He throws nearly as hard and throws on just as steep of a plane, and he has better secondary pitches. However, he's three years older than Soptic, and it's thus far less likely that he has a big breakout season. It's easy to see him as a quality power reliever, however.
Our Instinct:  Despite what GM Kenny Williams said recently about Petricka being one of the top potentials for the rotation, it seems that ship has sailed as evident as RP in the AFL.  When he was drafted in 2010, we mentioned that his time-table would to become a starting pitcher would be limited.  The curveball that Nathaniel mentioned does have some nice bite on it, but his release point is all over the place most of the time that it's not very effective. We've not seen much of the changeup either.  Look – A future bullpen of Reed, Soptic, and Petricka isn't a horrible thing folks. 
7. Rangel Ravelo, 3B 04/24/1992 H: 6'2" W: 210 – (Nathaniel's take) Rangel Ravelo is another product of the White Sox's strong 2010 draft, as he was their sixth-round selection. Ravelo utilizes a short, compact swing that allowed him to hit for average in both the Rookie-level Appalachian League (.384) and the Low-A South Atlantic League (.317), figures made even more impressive when considering he was just 19 years old. He's also more polished defensively than most young third basemen, fielding a combined .942 in 2011. He did not hit a homer in 63 games, but his size and the leverage in his swing indicate that more power should come.  Ravelo remains under the radar, but he's a very polished hitter for his age. He shows an impressive knack for contact; the big question is whether he'll develop close to average power once he settles into pro ball. He's an intriguing sleeper prospect, which is one thing this system does not lack.
Our Instinct:  Ravelo may have been over looked if it wasn't for the fact that scouts flocked to Hialeah High School in Florida to see team-mate and fellow 2010 draft pick Manny Machado, who went #3 over all.  I'm curious about the lack of power.  His .063 ISoP suggests he's more of a singles hitter.  I'm also curious about him filling out his frame like I keep hearing about.  He's still 6'2″ and has put all of 3 pounds on in the past 18 months.  Still, he's a polished hitter and will find a place to play if he keeps hitting.  Here's the catch though; if the power doesn't develop he's a good bet to stay at 3B, which isn't what you want to hear.  If his power does develop, he will most likely have to shift to 1B due to diminished range.  So he better hit for a high average or start crankin' um out of the park.
8. Kevan Smith, C 06/28/1988 H: 6'4" W: 240 – (Nathaniel's take) Kevan Smith was Chicago's seventh-round pick in the 2011 draft, and he immediately crushed the ball at both Rookie-level affiliates in the system, batting .355 with a .626 slugging percentage between Bristol and Great Falls. Smith ripped 22 doubles and nine homers in just 52 games, showing off an advanced approach that allowed him to walk (28) nearly as often as he struck out (30). He also has a good arm behind the plate that allowed him to nab 34% of runners stealing against him, although his big frame makes blocking pitches a challenge sometimes.  It's hard to get overly worked up about a 23-year-old's performance in the rookie leagues, but it's just as hard to overlook a catcher slugging .626 and walking nearly as often as he strikes out. Smith will need to move quickly, but quality offensive catchers are hard to find, and he has a legitimate chance to be one.
Our Instinct:  I agree.  Sometimes, and I know I won't hear the end of it from Tom on this statement, I think too much get's made out of age in a particular league, especially in debuts.  Don't get me wrong, it becomes increasingly important as time goes by.  The Appalachian League (average age 21) and the Pioneer League (average age 22) are designed primarily for college players.  Specifically those who played late in the year in the college world series. Which, Smith hit the crap out of, hitting .417 with 3 HRs in Pitt's 3 game stint.  Back on task, The kid gloves are off now though, he's going to need to prove quickly that he can hit breaking stuff, handle a pitching staff, block the plate, and throw out runners at High-A.  If he can, he's at a premium position and will have a couple of years to develop.  Odds are stacked against this big boy, but I for one like him.
9. Jared Mitchell, OF 10/13/1988 H: 6'0" W: 205 –  (Nathaniel's take) Jared Mitchell once ranked as an up-and-coming star after being drafted in the first round in 2009 and enjoying a successful pro debut. However, everything changed after he tore an ankle tendon in spring training in 2010; he missed the entire season and then wasn't the same in 2011, striking out 183 times in 129 games with Winston-Salem. He still flashes good athleticism, and he managed to rip 47 extra-base hits despite whiffing in over a third of his plate appearances; he also walked 52 times and swiped 14 bases in 20 attempts.  It's now or never for Mitchell; if he doesn't return to his pre-injury form in 2012, it will be hard to both a) excuse his performance in light of an early 2010 injury and b) continue to expect that he'll recover from said injury. Unlike Thompson, he should be able to stay in center field, but he doesn't have Thompson's grade of power, and his strikeout problem is even more severe. It's still reasonable to hold out a glimmer of hope he becomes the player he was initially supposed to become, but hope is fading quickly.
Our Instinct:  Mitchell had been moving smoothly through the White Sox organization, and ranked in the top 50 of our 2010 top 100 prospect list.  He was going to need time to develop his raw tools, but tearing a tendon in his left ankle wasn't what we had in mind.  People are quick to point out that the White Sox took Mitchell, while the Angels took OF Mike Trout 2 picks later.  I'm not even going to address that because you can write on that subject until the end of time.  What is important is that Mitchell was the most impressive looking player in October instructional league and still has the same skill set to become an impact major league player.  A lot of people have written him off as the "Mike Trout Mistake", and that in itself could be a mistake.  2012 will dictate his future and everyone needs to pay close attention.  If you were looking for a hint on a player to stash away as a sleeper on your farm, this was said hint.
10.  Keenyn Walker, OF 8/12/1990 H: 6'3″ W: 195 – In the process of doing these top 10 lists with other people, regardless of it being with our staff or with other sites, there comes a time when you have a player in the mix that makes you feel like a preteen girl who brings an uninvited friend with a little attitude to the party.  "Oh you brought her? GAH!"  I'd like to state for the record that Keenyn Walker isn't a preteen girl, nor, at least to my knowledge, are the guys from Seedlings to Stars – with all due respect to (as I have one) pre-teen girls out there.  Back to the task at hand, Walker was not in S2S's top 10.  Wally felt that he wasn't as talented as Mitchell and Thompson, and was underwhelming on the field.  Who can blame him for his thoughts?  With a triple slash of .257/.335/.320 and a 81/21 K/BB rate in 222 at bats, it's hard to get too excited.  Many scouts felt that he was a reach by the Chisox in the 1C round.  They felt he was at best a late 2nd round to a mid 3rd round pick.
Our Instinct:  Walker is very raw for a 20-year-old.  He's a burner that's going to be on the slow track to the majors.  He's got a tremendous arm and the skill set to play the centerfield, but his read on the ball is awful and his routes are suspect, as his speed covers up his poor choices.  He also looked lost from both sides of the plate.  This ranking is entirely based on his plus-plus speed and athletisism.  2012 will tell us if he's at the top of this list or 2013, or buried down in our top, or worse – completely out of it.
Baseball Instinct's top 21 "freeview"
In this series, we've been giving you a player or two that will be in our top 21 later in the winter.  The following is a player that came in at #10 on the Seedlings to Stars list, but didn't quite make it onto our list.
Dylan Axelrod, RHP 07/30/1985 H: 6'0" W: 195 – (Nataniel's take) Dylan Axelrod was originally a 30th-round pick of the Padres back in 2007, and after two mostly nondescript seasons as a reliever, he was let go and drifted into the independent Frontier League. The White Sox picked him up later that year and moved him into the rotation, where he immediately found success; he's risen through the minors ever since. Axelrod walked just 35 batters in 150 innings between Double-A Birmingham and Triple-A Charlotte this year, striking out 132, and closed out the season with 18 2/3 impressive innings with the big club, whiffing 19 and walking nine. Axelrod leans heavily on a very good slider, and he hits his spots with an 88-92 mph fastball.  In a system where most of the quality arms aside from Molina are either already relievers or seem likely to move to the bullpen at some point, Axelrod is a breath of fresh air as a guy who's successfully worked in the rotation all the way up to the majors. Obviously, as a 26-year-old without overwhelming "stuff," his upside is as an innings-eating fourth starter, but he has a higher floor than any prospect in the system beyond the top two. He should be ready to go in the White Sox rotation from day one of the 2012 season if called upon.
Our Instinct:  It sounds like either Danks or Floyd will be moved this off season, but nothing has transpired yet.  In the event this does happen and the White Sox don't bring in a veteran to compete for a job, Axelrod along with Zach Stewart will compete for a job in the rotation along with either Floyd or Danks to go with Humber, Sale, and Peavy.  Nathaniel summed things up with Axelrod nicely.
We want to thank the guys from Seedings to Stars for their participation and hard work on another successful crossroads top 10 edition here at Baseball Instinct.  If you haven't yet been to their site, get over there and check things out as they continue to release their top 100 list and the weekly "Sprouts" report.
Check back soon as we profile more Top 10 Lists for each MLB team and also get our baseball geek on and take a look at some of the later draft picks from the 2011 draft that we think could be big names on the prospect radars in the near future. While you're here, take a look at a recent article in this series: Oakland Athletics Top 10 List and be a step ahead of the game. Also, check out a friend of ours for all of your fantasy sports needs. Fantasy Rundown is updated religiously and is truly an awesome resource. Thanks for checking Baseball Instinct. We're working hard to bring you the best of the minor leagues and make the site the best experience it can be. So don't hesitate to tell us what you would like to read about. Email us now at mailbag@baseballinstinct.com.