Our Baseball Instinct top 10 prospects list march continues on with the Texas Rangers.  We dove into this one knowing the system was deep, but when we came to an agreement on which players who should be on this list and which players will have to wait until our top 21 later this winter, even we were surprised, but pleased with our final top 10.  We think that you will be too.
The Texas Rangers made it to their first World Series in 2010 and right away made it back to the show in 2011.  They didn't win it all either time, but they made it clear that the A.L. Pennant runs through Arlington, not the Bronx nor New England.  Despite division rival Los Angeles Angels shelling out gold coins to 1B Albert Pujols and former Rangers' SP C.J. Wilson, the Rangers are still a team to be reckoned with.  And they may not be done yet, as of the time of this article being scheduled for publishing they were in on the bidding of Japanese SP Yu Darvish (rumor having Toronto with the highest bid),  and CANNOT be counted out on the 1B Prince Fielder derby.
1. Jurickson Profar SS 02/20/93 H:5'11" W:170 –  Being aggressive with their international signings may pay off handsomely for the Texas Rangers in the form of Jurickson Profar. Signed at the age of 16, Profar has already played 2 years of professional ball and he isn't even 19 years of age. There had been some question as to whether he can stick at SS, but his glove work has been very good if not excellent. Offensively, the potential for Profar is crazy good. We start with his excellent pitch recognition and strike zone management in the form of a bb/k ratio of 65/63 in the 2011 season. It is simply outstanding that an 18-year-old has that advanced knowledge of the strike zone. His power is developing and already has shown significant improvement with 12 hr's and 65 rbi's in 430 at-bats in 2011. His athleticism is highlighted by the fact that he stole 23 bags and scored 86 runs.  Check out the fantastic Prospect Instinct|Jurickson Profar article that Tom Belmont wrote in October.
Our Instinct: He has seems to have all of the tools for success in the big leagues. One has to wonder if there is room for him to be a shortstop with the Rangers as long as Elvis Andrus is playing in Arlington. A positional move is quite possible, and Profar has the athleticism to profile at 2b or in the OF. The question isn't will he be successful, but rather, will he be an elite player. He has the tools and seems to have the makeup to be the real deal.
2. Martin Perez SP 04/04/91 H:6'0" W:178 – Martin Perez has been under heavy scrutiny from the prospect world since 2009. He has a good delivery, very nice stuff, and has held up to an aggressive development path consistently facing older competition. We give an in-depth look at that path along with his stuff in our Prospect Instinct|Martin Perez article. With a k/bb ratio of 120/56 in the 2011 season there is some room to improve command of his pitches. Despite having a clean delivery, his slight frame could be vulnerable to injury under the physical demands of a major league starting pitcher. It was reassuring to see that Perez logged 137.1 innings across 2 levels of competition in the 2011 season after lower back issues hampered his production during the 2010 season. Overall the strikeout rate per inning looks solid with 120 k's in 137.1 innings pitched and reflects very good raw stuff. His pitching arsenal tends to induce ground balls rather than line drives and fly balls; and that increases his chances of success at the major league level.
Our Instinct: Early in his professional career there was a belief that he was "Ace" material. Those expectations should be tempered. He does belong in the top half of major league rotation, perhaps as high as a #2 starter. And, barring injury, Perez has a high likelihood of reaching that potential.
3. Rougned Odor SS 02/03/94 H:5'11" W:170 – Signed out of Venezuela as a 16-year-old, Odor has an interesting bloodline. His Uncle Rouglas is the double A hitting coach for the Indians and hopefully this translates into strong knowledge and fundamentally sound approach to the game. He spent the 2011 playing in short season a ball in Spokane. After logging 258 plate appearances, he held his own against competition that was consistently older than him. With a .262 batting average, 33 runs scored and 10 stolen bases, he shows flashes of table-setting type hitter. The bb/k ratio of 13/37 could use improvement, but is a decent start for such a young player. He is athletic and has a chance to stick in the middle infield where his bat and speed projects well. Since he just turned 18 years old it is likely that he will develop more power as he fills out his slight 170-pound frame. After having been suspended from a July 11th game because of a fight that Odor started, we want to see not only development in his game, but also in his maturity level as well.
Our Instinct: It is too early to make a solid judgment on Odor right now, but there is an intriguing set of skills with a potential speed/power combination at a premium position. We would like see Odor improve his strike zone management skills and develop some power along the way, while making sure that he stays out of trouble. Odor is light years away from being a finished product, but his development bears watching closely.
4. Leonys Martin OF 03/06/88 H:6'1" W:180 – A Cuban defector that was signed to a major league contract in 2011, Leonys Martin didn't waste any time making an impression on the prospect world. We did a scouting report on him here in our Prospect Instinct|Leonys Martin article. His defense will hold up well at centerfield in the majors. His speed combined with good aptitude, allow him to cover a lot of ground and make a lot of plays. His bat is the appropriate for a speed based table setter and profiles well for a center fielder. He did a great job of keeping the strikeout totals low with only 38 k's in 302 at-bats. Additionally, he demonstrated good contact skills with a .348 batting average in double a ball and an overall .295 batting average across 3 levels of competition. We would like to see an increase in the walk totals as he had 27 in 343 plate appearances as this would increase his overall on-base abilities and allow him to not rely solely on his contact rates. When Martin was successful in reaching the base paths and he swiped 19 bases while scoring 53 runs.
Our Instinct: He would look good batting ahead of the power bats in the Texas lineup. One cautionary note, his performance dropped significantly from double A to triple A competition. There is a substantial decrease in Martin's slash line and walk rate as well as significant increase in Martin's k-rate as he rose to the triple A level. However, the amount of transition he underwent in such a short time can account for much of the performance hit. Already 23 years old, there isn't any reason to hold Martin in the minors for very long. I expect him to be the regular centerfielder in the Texas outfield in short order. His speed and on-base capabilities are an excellent fit with the team he will be joining. Success will soon follow.
5. Mike Olt 3b 08/27/88 H:6'2" W:210 – A player that garnered a lot of attention with his 2011 season, Mike Olt is powering his way through the minor league system. After being drafted in the 1st round and 49th overall, Olt spent the 2011 season trying to validate the high selection. He lost time in 2011 due to injury, but he did have 307 plate appearances for the season. His batting average comes in at .264 for the 2011 season and this is due to the fact that he strikes out a lot. Accumulating 75 k's in 240 at-bats across 2 levels of competition, Olt needs to fix the holes in his swing. This is partially mitigated by his ability to draw walks with 49 free passes in 307 plate appearances and this helped his OBP to come in at a respectable .381 for the year. His defense is very good and will help him climb through higher levels of professional ball. His swing is powerful and productive. In 2011 he amassed 14 hr's, 42 rbi's and .500 slugging percentage in his 254 at-bats.
Our Instinct: He definitely has major league power, and a major league glove. He looks to be a prototypical Texas Ranger power hitter that punishes opposing pitchers. Likely going to start in double A ball, and any improvement in the k-ratio will have him moving up quickly.
6. Roman Mendez SP 06/25/90 H:6'2" W:180 – Acquired by way of a trade from the Boston Red Sox, Roman Mendez makes the Texas minor league system even more pitching-rich. Mendez is a hard-throwing Dominican that has been brought along in a deliberate manner, not skipping through levels very quickly. He rewarded that patience with a 9-1 win-loss record and a 3.31 era last season in the Sally league during the 2011 season. His arsenal consists of a mid-90's fastball, a slider that shows plus potential and a developing changeup. That "stuff" was good enough for a sparkly k/bb ratio of 130/45 in 117 innings pitched. After playing for 4 seasons, the last of which was single A ball, it seems that Mendez needs to be challenged a bit.
Our Instinct: While it is understandable to bring along pitchers at their own pace, there is a point where you have to see how a pitcher will respond to the challenge of higher levels of competition. It would seem that Mendez is ready for that now. Likely he starts in High A ball, but I would move him quickly if he continues his dominant ways. The raw stuff and statistical performance have the markers of a top half of the rotation starter. If his changeup develops, he can become lights out.
7. Christian Villanueva 3b 06/19/91 H:5'11" W:160 – After 2 years of professional ball, Christian Villanueva could plant himself onto the prospect radar if he continues his current trajectory.  The Rangers moved him from rookie ball in 2010, to full season single A ball in 2011.  The results show some promise as he flashes a good speed/power combo.  In 469 at-bats he accumulated 17 hrs and 84 rbis while swiping 32 bags.  He does show overall growth with a drop in the k-ratio and a slight increase in his base-on-ball ratio from season 2010 to season 2011.  In particular, we need to see the walk ratio improve even more.  He needs to increase his .338 OBP to more fully realize his speed potential.
Our Instinct: It is entirely reasonable that Villanueva will increase his power and home run production.  At only 160 pounds and 20 years of age, one would expect Villanueva to fill out his frame and add some muscle.  While that may come at the expense of some speed and stolen bases, his plate production could see increases in some already decent numbers.  High A ball will provide a good test for Villanueva, the pitching competition will be a good litmus as to how he will handle pitchers that have good secondary pitches.  Villanueva has good raw tools and needs to work his pitch recognition and plate discipline.
8.Robbie Ross SP 08/12/89 H:6'3" W:210 – After 4 professional seasons Robbie Ross, is finally garnering some well-deserved prospect attention. We touched on him in our Touch'em All series. Ross has a good pitching repertoire including a low-90's fastball and potentially plus slider with a change that shows improvement. And perhaps best of all, his groundball rate of 57% means that hitters have a hard time getting the ball to leave the park. In 161.1 innings-pitched he fanned 134 batters across 2 levels of competition, so his stuff isn't dominant. He simply isn't going to blow away hitters. However, the 2.34 era and k/bb rate of 134/33, suggest a smart pitcher that uses his strengths. He is not afraid to challenge hitters. When you only give up 6 home runs in 161 innings, there isn't a lot to fear from the long ball.
Our Instinct: As a left-hander that seems to be getting better with each level, Ross is an excellent bet to have a good professional career. Likely he starts in double-A, but moves to Round Rock (triple A) later in the season. Good make-up and good stuff gives Ross a solid chance be a solid, "back-half of the rotation" SP in the majors.
9. Neil Ramirez SP 05/25/89 H:6'3" W:185 – Toiling in the Rangers minor league system for 3 years previous to 2011, Neil Ramirez remained fairly obscure to the prospect world at large. Then in 2011 he caught fire and demanded the world notice. In one of the most aggressive promotion schedules of the year, Ramirez was promoted from High A ball to Triple A. The good news is that Ramirez took the increased levels of competition in stride. In 74.1 innings pitched he was good for 86 k's while allowing 6 home runs.
Relying on a solid 3 pitch arsenal, his stuff is quite good. To compliment his fastball which sits in the low to mid 90's is a curve and change up which both show flashes of major league average or better. There are 2 concerns with Ramirez that need to be monitored. We would like to see the walk ratio come down from the 35 free passes in the 74.1 innings pitched. Furthermore, there is some durability questions with Ramirez. He missed time from July 15th to August 15th due to shoulder fatigue.
Our Instinct: Since he already has major league quality offerings, a move to the bullpen is an option. However, Ramirez looks very close to major league ready as a starting pitcher. The way that he handled the aggressive promotion schedule was quite exceptional. He has the makings of a 3-4 in a major league rotation, but watch for health concerns. If he stays healthy, there is a strong chance of seeing Ramirez in Arlington in 2012.
10. Miguel De Los Santos SP 07/10/88 H:6'1" W:170 – A pitcher that has been around the Rangers organization for a while now, is Miguel De Los Santos. Having played 5 years of professional ball, it would seem that De Los Santos has been a prospect forever. Despite that perception, he just 23 years old. Another power pitcher in the Rangers organization, De Los Santos brings a lively 3-pitch arsenal of FB, Curve and Change. This power left-hander can fan batters at an amazing rate. Through 3 levels of competition in the 2011 season he amassed a rate k/9 of 13.5. Yes, that wasn't a mis-print; 13.5 k's per 9! And this is a trademark of his game throughout his 5 years of professional ball. However, there is a dark side to that strikeout dominance. With a high k-rate, comes a high walk rate as well. In the 2011 season and 94.2 innings pitched De Los Santos issued 46 free passes for a bb/9 rate of 5.5. While he is excellent at retiring batters via the strikeout, he also allows too many base runners. After 5 years of professional ball he has only pitched 28 innings at the double A level. Additionally he has not pitched an excessive amount of innings, with the 94.2 innings pitched in 2011 being substantially higher than any previous year. That is a long ways from a workload for a major league SP. There is durability concerns here.
Our Instinct: He needs to prove he can pitch significant innings in the minors prior to being brought up to the major leagues. His stuff is excellent, but command remains inconsistent. He had an excellent showing in the Arizona Fall League, but he would benefit from more time in the minors. Has front-half of the rotation stuff, but inconsistency is a huge obstacle for him. Let's hope that the Rangers resist moving him too aggressively.
Baseball Instinct's Top 21 "freeview"
We've been giving you a couple extra player here and there in our top 10 reports.  It's small look into our top 21's that we will release later this winter.  The following 2 players are bold rankings for us.  We think most people will think we are reaching here, and possibly so based on the fact that neither of these players have any professional stats yet, not to mention there's several other Rangers' prospects that are deserving.   But no one can deny that Don Welke and the Rangers scouting department has shown in recent years that they have an eye for talent.  Starting with Josh Hamilton and continuing with Neftali Feliz and on to this remarkably stacked farm system, Welke an Co. were very aggressive here and saw something, at least at the price, that others didn't.  So in turn, we're going to be just as aggressive and rank these guys right at the edge of the top 10.
11. Nomar Mazara, OF Age: 16 H:6'4" W:185 – Signed out the Dominican Republic in July of 2011, Nomar Mazara was at the center of a lot of questions throughout the baseball world. When the Rangers signed the young 16-year-old prospect for a signing bonus worth over $5 million dollars, many were left asking how the Rangers could be so certain that he would become a player that would justify that much money. Because Mazara has no professional data, it is hard to get a definitive read on his overall game. The reports are that he strikes out a lot and has a very raw approach at the plate. This would not be surprising for a 16-year old kid, and he obviously has time to learn and improve under the instruction of professional coaches.
Our Instinct: Mazara's power potential was what prompted the large payday. It stands to reason with a 6'4" frame and only 16 years old. The reports are that the ceiling for this young player is immense. There are a lot of questions in regards to Mazara, but also lots of potential. We are anxious to see him play.
12. Ronald Guzman, OF Age: 16 H:6'5" W:205 – The Rangers continued to make an impression on the baseball world this summer when they made another splash by the signing Ronald Guzman. At the age of 16 Guzman signed for a $3.45 million dollar bonus with the Rangers.
Watch this video from DPLBaseball.com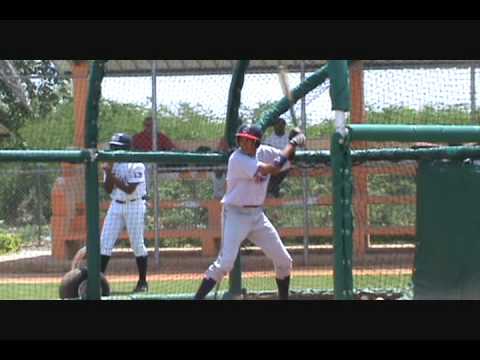 Our Instinct: Like Mazara he has no professional data, so we are left with very little to evaluate. However, Guzman has great frame for filling into another power hitter for the Rangers organization. Being 205 pounds at such a young age, one has to wonder exactly how big he will get as he matures. There is a chance that he becomes so big, that it might be difficult for him to play effective defense. At 16 years old and years away from the majors, there is a lot of adjustment and learning for Guzman. But when watches his powerful swing, it isn't hard to imagine what could be.
Check back soon as we profile more Top 10 Lists for each MLB team and also get our baseball geek on and take a look at some of the later draft picks from the 2011 draft that we think could be big names on the prospect radars in the near future. While you're here, take a look at a recent article in this series: Chicago White Sox Top 10 List and be a step ahead of the game. Also, check out a friend of ours for all of your fantasy sports needs. Fantasy Rundown is updated religiously and is truly an awesome resource. Thanks for checking Baseball Instinct. We're working hard to bring you the best of the minor leagues and make the site the best experience it can be. So don't hesitate to tell us what you would like to read about. Email us now at mailbag@baseballinstinct.com.