Thanks so much for your interest in our Cleveland Indians Top 10 list.  The trading of Drew Pomeranz and Alex White to Colorado and the graduation of Lonnie Chisenhall  and Jason Kipnis to the majors  really has blown a hole in the Cleveland farm system.  You are gonna see some names move to the top that may not be household names . . . yet.  Also, make sure you check back later for the rest of the list in our Top 21's feature.  Consider the "Freeview" at the end of the article our holiday gift to you.  Well, lets begin!
1. Dillon Howard RHP 7/1/1992 H: 6'4″ W: 210 – Tabbed as a sure first round selection, signabililty concern reared its ugly head and Howard was finally taken as the 7th pick of the 2nd round. It's easy to see why baseball people were so high on him. His fastball travels in the mid-90s with sink and lateral movement. The other 2/3 of his three pitch mix is an average curveball and a change-up that he's reportedly getting a good feel for.
Interview and some pitching clips from Indians' Minor League Magazine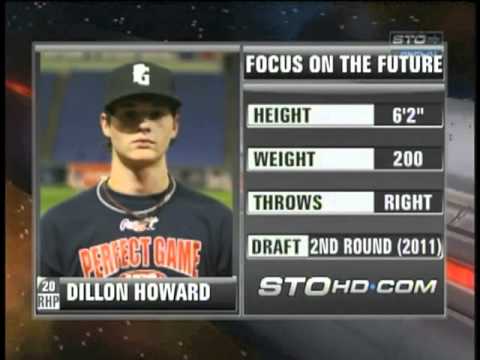 Our Instinct: With Howard's projectable frame and high powered stuff, we just can't wait to see him in action and dive into some stats for you. Unfortunately, he hasn't thrown a pro pitch yet. Let's just say, he has all the skills of a front of the rotation starter. Lake County would be a reasonable place for him to start next year but he may get his feet wet in Short Season ball first. We could of easily went with Francisco Lindor here, but with the depletion of  the Indians system we went with the player we felt had the higher upside.
2. Francisco Lindor SS 11/14/1993 H: 5'1″ W: 175 – Playing in New York/Penn League at just 17-years-old, Lindor is already considered to be a defensive wizard at shortstop and his selection in the first round earlier this year proves that he has the confidence of the Cleveland organization. Without much projection for power in the future, Indians management will work on refining his line-drive swing from both sides of the plate.
Our Instinct: The consensus of opinion is that Lindor will stick at shortstop. He has quickness, great range and a cannon-arm. Offensively, they hope he can play the table-setter role in the batting line-up and use his plus speed to cruise the bases. With Wolters a year ahead of him development-wise and Cabrera and Kipnis in the bigs already, there won't be any need to rush him. Unfortunately, he signed just in time to provide us with only a tiny sample of statistical data. He should go back to NY/Penn to start 2012. Then we'll have some numbers to dig into.
3. Tony Wolters SS 6/9/1992 H: 5'10" W: 165 – Grabbed in the 3rd round in 2010, Cleveland hopes Wolters may be their shortstop of the future. Hitting .292 with 78 hits and 30 walks against 49 strikeouts over 267 at bats in Short Season New York/Penn League, the youngster hasn't changed anyone's opinion. He gets raves from scouts and coaches as being a "baseball rat". And his speed on the bases with a .385 OBP show he could have the stuff to hit near or at the top of a batting order.
Our Instinct: Wolters could play at shortstop or second base when the majors come calling, which won't be for a few years yet, since the Indians already have a pretty good double play combo in Asdrubal Cabrera and Jason Kipnis, as well as stiff competition in recent draftee Francisco Lindor. Both will be given the needed time to develop.
4. Jake Sisco RHP 12/9/1991 H: 6'3″ W: 200 – Drafted in the 3rd round in 2011, Sisco's spot on this list has more to do with his upside than his debut season in the Arizona League where he carried a 5.24 ERA, giving up 40 hits, 20 earned runs, and 17 walks with 31 strikeouts in 34.1 innings. Sisco throws his fastball at 92-95 mph and also features a slider, curveball, and change-up, all have a chance to be above average offerings. Reports say that Sisco keeps his velocity late into games and may even add a few ticks to the radar gun readings.
Our Instinct: Although the 31 strikeouts in 34.1 innings is a decent mark, Sisco's lack of command that allowed 40 hits and too many walks was most likely due to the fatigue since he had already pitched 108 innings before the draft. A fresh Sisco should fair better in Lake County in 2012 where the 20-year-old will be young for the level.
5. Luigi Rodriguez OF 11/13/1992 H: 5'11" W: 160 – Originally signed as a second baseman, Rodriguez's move to the outfield, with his speed and athletism, has gone very well. He isn't a slouch with that bat either as witnessed in Rookie ball where he hit .301 in the Dominican Summer League in 2010. Then started out the Arizona League with a .379 mark in 2011. The same season a promotion to Single-A Lake County saw him stuggle for the first time. His K rate rose to 24.3% from 14.1%. He wasn't getting on-base with the same frequency.
Our Instinct: With the point of struggle starting in Lake County, that's probably a good indication that he'll begin again there for 2012. He's still very young for the level. Look for this talented young man to make the proper adjustments to get on base and show off his speed more on the basepaths starting next season. It takes time to develop a professional approach at the plate and that is what it will take for his skill set to be maximized.
6. Ronny Rodriguez SS 5/17/1992 H: 6'0″ W: 170 – Signed as an undrafted free agent in 2010, Indians management agressively started Rodriguez's professional baseball career out in Single-A Lake County as 19-year-old. The young shortstop actually held his own, hitting .246 with 91 hits, 28 doubles, 7 triples, and 11 homeruns in 370 at bats. Still very raw, Ronny has shown an attractive combination of power (.203 ISOP) and speed (11 stolen bases) at a premium middle infielder position.
Our Instinct: With this encouraging performance, Rodriguez has also shown that his approach at the plate needs refinement as should be expected for his age and experience. He'll need to draw more than 13 walks in 370 at bats, as well as cut down the k's. Reports have said that he plays very good defense at shortstop. When I saw him this past summer, he still looked raw to me defensively. He showed quickness and a strong throwing arm, but the lack of decision-making and execution produced a few errant throws. All things that can be fixed with coaching and experience. Look for him to repeat Lake County for 2012.
7. Jesus Aguilar 1B 6/30/90 H: 6'3″ W: 241 – Aguilar, the physically imposing right-handed slugger, broke out in his first full season of professional ball. Having never before played in more than 100 games in one season, he hit .284 with 131 hits, 30 doubles, and 23 homeruns, while also walking 46 times and striking out 126 in Single-A Lake County and High-A Kinston combined. Also earning a .359/.506/.865 triple slash. In Lake County, Jesus mashed at a .252 ISOP clip.
Our Instinct: Aguilar has as much or more power potential as any hitter in the system. That said, he'll need to make sure he keeps that big body under control weight-wise in order to be an average defender at first base. Strikeouts come with the power, but plate discipline needs to improve too because the pitching he will face won't get any easier. I've seen some reports predicting he'll spend some time in Double-A Akron in 2012. Since his production slowed some at High-A, possibly due to fatigue, I am betting they start him off there.
8. Chen Lee RHP 10/21/1986 H: 5'11" W: 175 – Signed out of Taiwan in 2008, Lee has the skills to pitch in the 7th, 8th, or 9th innings of games, though, historically, he hasn't been used as a closer. His fastball runs up to 95 mph with movement. He has a plus slider that, with his low arm slot, is rough for right-handed hitters to pick up. His split change-up, used against lefties, keeps balls on the ground. Between Double-A Akron and Triple-A Columbus, Lee struck out 99 hitters in 71.1 innings while dealing out only 23 walks. He also kept his groundball rate in the mid-50s.
Our Instinct: With numbers like these, almost indentical at each level, Lee will get a look in Cleveland this year. Threat of injury due to his small frame and the repeatability of his low arm slot are challenges for him. But Lee has nothing more to prove in the minors.
9. Felix Sterling RHP 3/15/93 H: 6'3″ W: 200 – Signed as a 17-year-old out of the Dominican Republic in 2010, Sterling showed an advanced approach on the mound to match his 90-94 mph fastball and developing curveball and change-up in the Arizona Rookie League. He scored a 3.16 ERA with a 27% K rate while limiting the free passes to 9.7%. This past season, after another short stint in Arizona, he was promoted to Low-A Lake County. He walked more this time (14.7%) but still kept his strikeout percentage above 20%, still, an eye-opening performance for a player of his age against competition two or three years older.
Our Instinct: Look for the Indians to have him repeat Lake County rather than challenge the youngster in Kinston. Let him see more success at this level. He needs to refine his control and command to limit those walks. The secondary pitches could use polishing as well. Cleveland should be in no rush. 
10. Elvis Araujo LHP 7/15/1991 H: 6'6″ W: 215 – A victim of Tommy John surgery in 2009 and setbacks that claimed his development in the entire 2010 season, Araujo has ridden a breakout season in the AZL. The hulking lefty owns a 2.86 ERA in 63 innings, maintaining a 22.5% K rate and 7% walk rate. The 20-year-old Elvis throws a 90-93 mph heater, that can touch 96, and he's still working on his curveball and change-up.
Our Instinct: The exciting part here is that Araujo still has some physical projection left, so the fastball velocity could rise. Right now, all this youngster needs to do is pitch. Develop those secondaries. And stay healthy. So, next season, Elvis could "leave the building" and settle in short season Mahoning Valley with a move to Lake County with any success.
Baseball Instinct's Top 21 "Freview"
11. Scott Barnes LHP 9/5/1987 H: 6'4″ W: 185 – Drafted by San Francisco from the 8th round in 2008 then traded to Cleveland in 2009 for Ryan Garko, Barnes will try to force his way onto the big league rotation in 2012. This will, of course, also depend on how well he's recovered from 2011′s season-ending knee injury. In Double-A Akron and Triple-A Columbus in 2011, he kept a 3.45 ERA for 99 innings and gave up 12 homeruns and 36 walks, but struck out 107 batters. Most of the innings pitched in Columbus, his strikeout rate was an excellent 24.2% and the walks were at a 9.1% clip..
Our Instinct:  Not a high ceiling player as the likes of Felix Sterling and Elvis Araujo, but Barnes has the stuff to fill in the back end of a rotation dutifully. He needs to stay in shape to avoid injury and become the innings eater he was born to be. In the minors, Barnes has a tendency to leave his pitches higher in the zone, resulting in higher homerun totals. He needs to command his low-90s fastball and plus change-up lower in the zone to induce more groundballs.
C
heck back soon as we profile more Top 10 Lists for each MLB team and also get our baseball geek on and take a look at some of the later draft picks from the 2011 draft that we think could be big names on the prospect radars in the near future. While you're here, take a look at a recent article in this series: 
Texas Rangers Top 10 List
 and be a step ahead of the game. Also, check out a friend of ours for all of your fantasy sports needs. 
Fantasy Rundown
 is updated religiously and is truly an awesome resource. Thanks for checking Baseball Instinct. We're working hard to bring you the best of the minor leagues and make the site the best experience it can be. So don't hesitate to tell us what you would like to read about. Email us now at 
mailbag@baseballinstinct.com
.