As we draw closer to the conclusion of our top 10 prospects list series, we will take a look at the Minnesota Twins and New York Yankees.  But for today, we will turn our focus to the Pittsburgh Pirates of the off-season, The Pittsburgh Pirates are in the midst of Caravans and Fan Fests. The young team is getting some love and giving love to their fans that have weathered a long stretch from tasting post-season baseball. 
Andrew McCutchen, Neil Walker, Joel Hanrahan, Jose Tabata and Pedro Alvarez are some of the new stars that The Bucs hope remind their old school fans of The Lumber Company. Will 2012 be the year that The Jolly Roger rises along with the Central Division pennant? The parody in the division has never been as even as it is now. With the departure of King Albert from St. Louis, Prince Fielder probably moving on to greener pastures and the problems involving Ryan Braun's possible banned substance suspension. Plus the uncertainty and re-reorganization of Chicago's North Side team, now would be the time for the rest of the division to take a run at number one. It should be an interesting fight next season. While we can't predict the outcome we can make a few predictions of The Pittsburgh Pirates Top 10 Prospects. Since we're in the giving mood, we'll throw in one more talented young player as a Baseball Instinct's Top 21 "Freeview", a quick hit of more that will appear later this winter.
1. Jameson Taillon, RHP – 11/18/1991, H: 6'6″ W: 225 – Jameson Taillon was selected by Pittsburgh as the second pick of overall in 2010 after Washington picked Bryce Harper. Signed out of The Woodlands High School in Texas with a nice check for $6.5 Million. In his senior season he had an 8-1 record, 1.78 ERA with 114 K's in 62.2 Innings. Not impressed yet? How about if we throw in a 19 K no-hitter? It may have been high school but it's still was impressive showing. Taillon's first season as a pro was with the West Virginia Power in the Sally League. The fireballer had a 3.98 ERA along with 97 K's in 92 Innings.
Thomas Belmont of Baseball Instinct wrote this in his Prospect Instinct article of Jameson Taillon, "Pittsburgh is hoping that Taillon will be the one who breaks the curse and fulfills his potential on the mound in Pittsburgh. Taillon has over powering stuff and could very well be the arm that turns the organization around. Workhorse frame and Ace potential."
Catch up on the rest of the article here.
Our Instinct – Taillon and Cole were scored so close by us and we went back and forth on it, but in the end game we just think that right now, Taillon has more upside. His frame and pitch mix are that of a future ace and if he stays healthy we're looking at a very special pitcher. His command projects as a notch above Cole's while his stuff rivals. He's going to be a step behind Cole, but should start in the FSL and spend about a half of a season there before moving up to Double-A. The Pirates are not far off from being a serious contender if Taillon stays healthy with Cole.
2. Gerrit Cole, RHP – 9/08/1990, H: 6'4″ W: 220 – Cole turned down an opportunity of a lifetime after finishing high school to pitch for his team he New York Yankees in 2008 . Instead he continued his education at UCLA. A very tough decision but he had an impressive collegiate career. In 2011 the Pittsburgh Pirates picked Cole with their number one draft selection.
Thomas Belmont of Baseball Instinct wrote this in his Prospect Instinct article of Gerrit Cole, "He has upper 90s velocity with his 4 seam fastball. It's also the pitch that he commands the best at this time. Using it in all 4 quadrants when his mechanics are in sync. It's elite level velocity and makes his other pitches more effective. His 2 seam fastball site in the low 90s and has good sink. It's a notch below his 4 seamer, but still a solid average offering." Read more of the article here.
Our Instinct – Cole is 1a to Taillon's 1 and as I mentioned should remain just a step ahead on the road to Pittsburgh. Cole has electric stuff and its only a difficulty with repeating his delivery that keeps my reservations of him being a true ace alive. But a high-end #2 starter with high K rates and periods of dominance should be in the future and him becoming the staff ace and usurping Taillon can't be written off either. He should get a short stint in the FSL to start the season, but I wouldn't b surprised to see in the Altoona before June.
3. Josh Bell, OF – 8/14/1992, H: 6'4″ W: 195 – Bell was The Pittsburgh Pirates second-round draft pick in 2011. Many teams regarded Bell as one of the top hitters in the draft. He probably would've been a first-round pick, but he spoke before the draft of his intentions to play at The University of Texas no matter what happened with the draft. Pittsburgh took a shot and had the steal of the draft as the young Bell accepted. His $5 Million signing bonus came late which means that he'll have something to prove but has yet to see time in the minors.
Our Instinct – The switch hitter has above average power from both sides of the plate and while players his age still learning to hit from their weak side, he's a proven commodity from both sides. He's not going to be a premium defender but the bat projects out well with both power and contact ability. We'll see how he progresses in 2012 where he should start in Low-A straight into full season ball.
4. Starling Marte, OF – 10/09/1988, H: 6'2″ W: 170 – Marte was signed out of the Dominican Republic for $85,000 by the Pirates in 2007. Following two stints in the Dominican Summer League, he landed in the States for 2009 in the South Atlantic League. Marte had an outstanding .312 Batting average with 24 stolen bases in 54 games for Low-A West Virginia of the Sally.
Following his move to High-A in Bradenton in 2010, he suffered a broken hamate bone, but he did well prior to that hitting .315 with 22 stolen bases. The 22-year-old recovered this season and played in 129 games for Double-A Altoona in 2011, .322 AVE, 38 doubles, 12 HR, 24 stolen bases. Scouts worry that Starling may not have the strength to be a plus power hitter but he does have above average bat speed.
Our Instinct – Marte's bat speed and contact ability allow him to make up for a lack of plate discipline. If he learns to work deeper into counts he could be an elite level top of the order hitter with a speed/power combo that's becoming a staple in Pittsburgh. But to date he hasn't shown the ability to walk and strikes out a moderate clip. Overall he should be a solid average all around player at worst. Possibly relegated to LF if McCutch is signed long-term. He should start 2012 in Triple-A and be one of the first call ups if injury strikes the OF.
5. Luis Heredia, RHP- 8/10/1994, H: 6'6″ W: 205 – Heredia was signed in 2010 as the best pitching prospect out of his native Mexico. The $2.6 Million was the largest signing bonus Pittsburgh has ever spent on an international prospect. The 17-year old grew up in Mazatlan, Mexico. At 6 feet six inches he was a force on the mound and with a mid to upper 90 MPH fastball he dominated hitters.
Heredia was limited in his first season in the Gulf Coast League but he didn't disappoint when on the mound allowing just 28 hits in 30.1 innings but suffered some lack of command with 19 walks.
Our Instinct – The Pirates are taking in slow with their young prospect and at his age it makes sense to let him develop and get his stamina up before rushing him too far up the minor league chain. He has 3 above average offering with his fastball touching 95 and a curve and change up that are actually plus but only in small stints. His command is still an issue and he's still growing. There's a lot of development here and the Pirates will give him all the time he needs. He should start in extented Spring Training before seeing some additional time in the GCL and State College Short Season.
6. Robbie Grossman, OF – 9/16/1989, H: 6'1″ W: 190 – Grossman was drafted by the Pittsburgh Pirates in the 6th round of the 2008 MLB June Amateur Draft. He had a good start in his first two seasons, but an outstanding 2011 season that showed a lot of plate discipline hitting .294, 34 doubles, 13 HR, 56 RBI, plus 104 walks and touched home-plate 127 times. Chip in 24 SBs and he was performing across the board.
Grossman was the first player since Nick Swisher did it in 2004, to record 100 or more in both the walks and runs categories.
In the Arizona Fall League it was reported on Pirates Prospects, that he suffered a fracture of his hamate bone and ended his AFL season in early November. But not before tearing up the AFL to a .375 with 5 Doubles and 7 HR in just 104 ABs. It's expected that the surgery should not cause any missed time during his 2012 campaign.
Our FSL video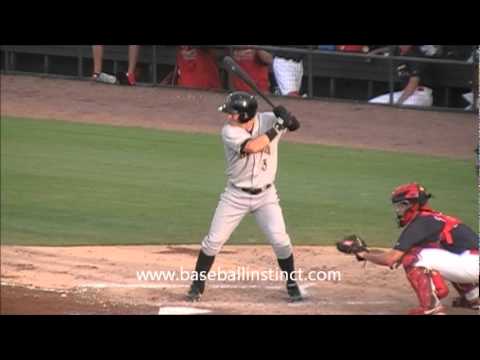 Our Instinct – Grossman was repeating the FSL and he answered the questions with a spectacular season. With that said he also was repeating a level he was age appropriate for. So what he was able to accomplish in the AFL spoke volumes as to the advances he's made in his game. While he doesn't have an elite tool, he's average or better across the board. He should start 2012 in Double-A and could move quickly after that. Future CF/LF.
7. Stetson Allie, RHP – 3/13/1991, H: 6'2″ W: 220 – Allie was the Pittsburgh Pirates 2nd round pick in the 2010 amateur draft. We have heard talk of making Stetson a future closer for the Bucs and talk of him as a starter. In both roles he's experienced control issues and was used primarily in the bullpen in the second half of 2011. A role he prefers and one he should be able to excel at in the future.
He only has one year at the pro level and he still needs experience and work on his pitch selection. The radar gun can light up triple digits at times but he shows better control when his fastball hits in the mid 90s.
Our Instinct – We had no qualms about making Allie a closer straight out of the draft in 2010 and even then we had him high on our draft boards because his fastball is electric and his attitude is bulldog. His mechanics can become a nightmare at times but eventually should be brought under control. Once that happens he has the stuff to be untouchable in short stints. Normally naming somoene a closer so early is because they are failing as a starter, but in Allie's case it's just who he is. He'll head back to Short Season unless he shows exceptional command in Spring Training.
8. Kyle McPherson, RHP – 11/11/1987, H: 6'4″ W: 215 – Kyle McPherson was drafted by the Pittsburgh Pirates in 2007 in 14th round. McPherson's fastball sits in the low 90s and he commands the pitch well. His changeup is average and works well with his arm speed and release point. His curveball is below average but gives him a third pitch.
Kyle fared well for The West Virginia Power in 2010, 9-9, 124 Ks in 117 innings pitched. He then received a promotion to The Florida State League, 4-1 2.89 ERA, in 12 Starts, 60 Ks in 71.1 Innings and walked just 6. McPherson was then bumped up to The Altoona Curve in the Double-A Eastern League, in 16 starts he was 8-5, 3.02 ERA, 82 Ks, 21 walks in 89.1 innings pitched. With his progress he could be starting in Triple-A in 2012.
Our Instinct – McPherson's command is obviously high level and he has the frame to throw solid innings. He's going  to have a tough time against higher level hitters and his K rate will drop. But he has enough to be a back-end starter for a few years. If he's going to be anything more he'll need the curveball to advance to at least an average offering. He'll probably start 2012 in the Triple-A rotation and has a good chance and filling spot in the Pirates rotation during the year.
9. Nick Kingham, RHP – 11/08/1991, H: 6'5″ W: 215 – Kingham was drafted by the Pittsburgh Pirates in the 4th round of the 2010 MLB June Amateur Draft. He shined in his first pro season at State College in the New York-Pennsylvania League. Scouts report a low 90s fastball with movement, an effective change-up, which is an out pitch against lefties and strong curveball.
His stats this season, 6-2, 2.15 ERA, 47 Ks, 15 walks in 15 starts, with a total of 71 innings pitched.
Our Instinct – Kingham obviously is still being treated with kid gloves but the gloves should come off in 2012. He should start the season in the FSL and continue to refine his changeup and curveball. This ranking is still projection and faith that his frame will equal a solid innings eater at the least. Video from the FSL… as soon as we have it, you'll have it. 
10. Jeff Locke, LHP –  11/20/1987, H: 6'1″ W: 215 – Locke came up with the Braves before coming to the Pirates in the McLouth trade. He has a low 90s fastball with good command and a solid curveball. His changeup when drafted projected as a plus pitch. It hasn't come along to that level yet but it has made strides since joining the Pirates.
He struck out around a batter an inning through two levels with 139 K's in 153 innings. He made his major league debut and despite some troubles in his debut, 6.48 ERA and a .323 AVG against.
Our Instinct – Locke will spend another season in Triple-A to work on his changeup. He projects as a back-end starter and should make his major league move in 2013. How long he can stick in the rotation is a question mark based on how far his changeup comes along. But his solid frame says he can eat innings and as a lefty has a three pitch mix to be a starter. But Pittsburgh is coming into a time where they will compete and there are some elite arms ahead of him.
Throughout our Top 10′s series we've been giving you a player or 2 that will appear later this winter in our Top 21′s. Here is a glimpse of one more Pirates prospect.
Baseball Instinct's Top 21 "Freeview"
11. Jarek Cunningham, 2B- 12/25/1989, H: 6'1″ W: 195 – Cunningham was drafted by the Pittsburgh Pirates in the 18th round of the 2008 MLB June Amateur Draft. His early look was pretty good for the Gulf Coast League Pirates. .318 AVE, 5 HR, 22 RBI in 174 plate appearances. Then a knee injury ended his 2009 season early. After rehab he had decent power numbers for West Virginia in the South Atlantic League but his strike outs to walk ratio worried coaches.
In 2011 we still saw the power but the same all or nothing problem in The Gulf Coast and Sally Leagues. Combined stats this season; .260 AVE, 15 HR, 51 RBI, 82 Ks and 17 walks in 355 plate appearances.
Another FSL video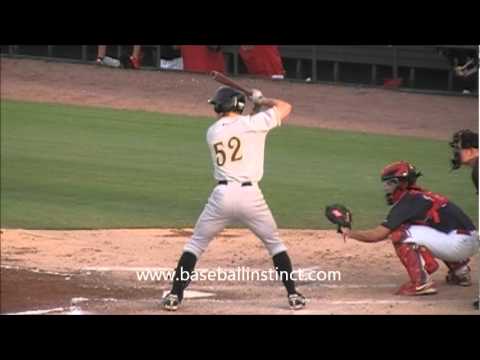 Our Instinct – Cunningham has some obvious flaws and he's not exactly young for the level, but he's had some injuries that have slowed his growth as a hitter. One thing he has is upper level power as a 2B. If he can make adjustments with another season in the FSL and stay healthy he could be a 30+ HR power in the majors. A full-time regular. Probably not, but we're going to be watching those k to bb rates in 2012. 
12. Colton Cain , LHP – 2/05/1991, H: 6'3″ W: 225 – Cain was the 8th round pick by the Pittsburgh Pirates of the 2009 MLB June Amateur Draft. The big southpaw from Texas has a an aggressive and power approach which served him well in his first full Single-A season for West Virginia. His stats looked like this; 6-8, 3.64, 81 Ks, 106.1 innings pitched in 19 starts. Cain still needs to refine his secondary pitches but the raw power is there and working so far.
Our Instinct – Cain throws a low 90s fastball from the left side. He has solid command but no real strikeout pitch. At least not yet. His curveball and changeup are both below average but should be at least average in time. How much velocity uptick will also be a big factor in whether he's a bullpen lefty or a solid mid rotation starter. He's young and still a few years from the majors. He should see the FSL this year. Again, when we get a first hand look, you'll get a Prospect Instinct and first hand video.  
Check back soon as we profile more Top 10 Lists for each MLB team and also get our baseball geek on and take a look at some of the later draft picks from the 2011 draft that we think could be big names on the prospect radars in the near future. While you're here, take a look at a recent article in this series: Tampa Bay Rays Top 10 List and be a step ahead of the game. Also, check out a friend of ours for all of your fantasy sports needs. Fantasy Rundown is updated religiously and is truly an awesome resource. Thanks for checking Baseball Instinct. We're working hard to bring you the best of the minor leagues and make the site the best experience it can be. So don't hesitate to tell us what you would like to read about. Email us now at mailbag@baseballinstinct.com.