In what was to be our final installment of Baseball Instinct's top 10 prospects lists we bring you the New York Yankees.  However, the site software was so anxious to bring you this one, it went ahead and published it ahead of schedule.  Tomorrow, we will bring you the Minnesota Twins as our last top 10 preview.  We've worked with sites that are friends of ours on some of the teams.  On others we've stayed in-house and brought you our staff's consensus top 10, with each writers perspective.  We continue this series with our own Mike Koepp and Tom Belmont teaming up to bring you a very solid Yankees system.
Mike Koepp – The 2011 New York Yankees won the division despite all of the press prior to the season that Boston was anointed champs following the deal that landed former Padres first-baseman Adrian Gonzalez. What the pundits didn't count on was all of the fried chicken and beer the Red Sox consumed in the club house rather than dedicating themselves to winning. They also didn't count on the debut that rookie Ivan Nova would have, posting a 16-4 record plus a 3.70 ERA. Who knew that Freddy Garcia and Bartolo Colon had a combined 20 wins still in them? Well nobody, that's who. That's why you play the entire season.
You also have to look at the contributions of Curtis Granderson 41 HR, 119 RBI, .916 OPS, Mark Teixeira 39 HR, 111 RBI, Robinson Cano ,302 AVE, 28 HR, 118 RBI. Plus the captain Derek Jeter was back to his old-self, leading by example; .297 AVE, 61 RBI, .743 OPS. Yes, things were looking good in the Bronx as they took the lead in the east and hung on with 97 wins.
We won't get into the talk of the playoffs. Let's just say The Tigers played hard and were the better team. No point in dwelling in the past. Instead let's look at New York's future stars as we break down The New York Yankees Top 10 Prospects. While we're at it we'll toss in some bonus players. The Yankees are deep in talent. Enough even to talk-up 21 Yankee prospects and we will, later this winter.  I will break down each player, while Tom,will give us his unique instinct on an organization that he grew up following closely.
1. Jesus Montero, C – 11/28/1989, H: 6'4″ W: 225 lbs – (Mike Koepp's take) Jesus Montero was signed to a $1.65 Million contract in 2006. The 16 year old started his first professional season the following year and has shown the Yankees he is worth every penny of his contract. Perhaps he was a steal for that price? .280 AVE, 3 HR, 19 RBI in rookie ball, combined .337 AVE with 347 at-bats split between High-A and Double-A. Plus he owned Triple-A with 21 HR. The Yankees knew the now 21-year-old was ready. His MLB debut in 2011 only consisted of 69 plate appearances, .328 AVE, 4 HR, 12 RBI but was impressive considering the caliber of the pitching he faced.
Our Instinct – (Tom Belmont's take) Montero came in at #1 on our 2011 Top 100 List based on his advanced bat at a young age and making it all the way to Triple-A as a catcher. As we said in his Prospect Instinct, as perfect storm of events have led to him being in line for a shot at the catchers position in the Bronx. His contact ability is elite regardless of where he plays. He'll have above average power as a 20-something and elite level power in his prime. How long he actually sticks at catcher is dependent of how well Joe Girardi and Tony Pena are able to cultivate him. But those two are the reason for my optimism of a future average regular on defense and glowing reviews on offense.
2. Manny Banuelos, LHP – 3/13/1991, H: 5'11″ W: 160 – (M.K.) Manny Banuelos was signed in 2008 by the Yankees out of his native Mexico. Thomas Belmont of Baseball Instinct wrote in his Prospect Instinct article of Banuelos, "He is an undersized lefty out of Mexico. His performance in the first half of 2009 opened a lot of eyes in the organization but he tailed off in the second half and tired down the stretch. He's still very young and has time to add weight to a possible 6′ frame. He's currently under 160 lbs. His fastball sits in the lows 90s when he's going strong and should be able to get it into the low 90s in the future which is currently his peak right now."Read more of the article here.
The 20-year-old has experienced loss of command at times but not enough to be a huge concern. He is one of the top left-handed prospects in the minor leagues, not named Matt Moore.
Our Instinct – (T.B.) Banuelos is a possible #3 starter with #2 upside. He's still working on his command of the curveball and should get a little more time in Triple-A to get ready for the Yankees. He'll slot into the back of the rotation and work his way into the middle eventually. His size is still a concern, but as we mentioned he gets velocity without max effort. Command will be his biggest ally if he hits his upside.
3. Dellin Betances, RHP – 3/23/1988, H: 6'8″ W: 220 – (M.K.) Dellin Betances is another in a deep pool of Yankee starting pitchers the native New Yorker was drafted in 2006 out of high school. Thomas Belmont of Baseball Instinct wrote this in his Prospect Instinct article of Betances:
"He has been a solid strikeout pitcher since day one and his one downside was always his command. As a tall pitcher, control is normally what comes to fruition last as they grow into their frame and learn how to utilize the natural downhill plane. The same stands true for Betances as witnessed by his K/BB numbers. In 2008 he fell victim to a torn UCL and underwent Tommy John surgery missing the remainder of the 2008 season and most of 2009."
Read more of the article here.
Our Instinct – (T.B.) In 2011, Dellin had a 3.42 ERA in 105 innings at Double-A Trenton with a 25% K rate. The K rate was down from 2010, but still excellent. He's still working out command issues which hinge more on his big frame and cleaning up the mechanics than anything else. So often you here "there's more moving parts" with big guys like this. And that's just not a physical possibility. Same moving parts. He just needs to learn to use his longer legs and arms to his benefit. Full stride, get closer to the plate, use the plus stuff. He'll see the Bronx in 2012 again probably around midseason.
4. Gary Sanchez, C- 12/2/1992, H: 6'2″ W: 220 – (M.K.) Sanchez has been in the Yankee organization for a while. New York has another young power hitting catcher. Nice problem to have. Scouts and stats weren't too high on his defense when he gave up 16 passed balls in his first season though.
Thomas Belmont of Baseball Instinct follows up on 2011 performance with this, "While Sanchez only had 8 errors on the season, he hasn't made the necessary adjustments defensively yet. His pitchers have high wild pitch totals based on his ineffectiveness at blocking balls in the dirt. He has an above average arm and is athletic enough to stick behind the plate long-term if he's given a few years to develop his skills." Read more of the article here.  He hit .256 on this season and whichever half of the year you look at, it wasn't pretty. 93 strikeouts in 301 AB was the root cause and a main focus that he will need to work on.
Our Instinct – (T.B.) Patience and immaturity are major factors at this point for Sanchez, not his ability. When his head is in the game full on, he takes more walks and strikes out less. That's when his elite raw power shows through. With as much chaos that has surrounded him we're talking about a longer learning curve. His concentration on learning the ways of a professional catcher no doubt hinder his performance at the plate right now. He may not make his debut for another 3+ years if he going to be a catcher.
5. Dante Bichette, Jr, 3B- 09/26/1992, H: 6'1″ W: 215 – (M.K.) Dante Bichette, Jr. was New York's first pick in the supplemental round of the June amateur draft. The son of the former MLB All Star of the Colorado Rockies with the same name, powered the Gulf Coast League Yankees to win the league Championship. In just 52 games, Dante hit .342, 3 HR, 17 Doubles, 3 Triples and 47 RBI. The outstanding first showing helped the 18-year-old win Gulf Coast League MVP. Currently playing the hot-corner he'll probably move to LF as his power develops. Mark Newman, Senior Vice President of Yankees Baseball Operations, said in an article by Tim Bontempts of the New York Post, "I haven't seen anybody make the adjustments he's made on his own. All I've done is ask him to keep on doing what he's doing.". If the same skills can be harnessed that existed with his father his hitting should win him a spot in the line-up at the major league level in time.  George Utter raves about Bichette in his 2011 3B Draft Review.
BaseballFactory.com pre-draft workout video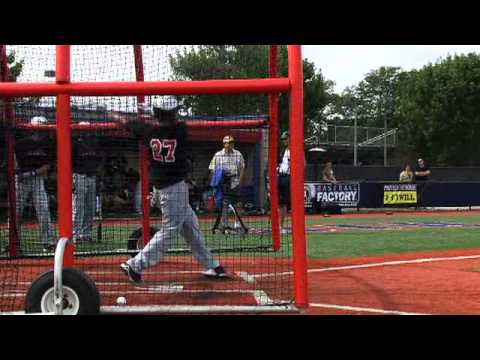 Our Instinct – (T.B.) Clearly an outstanding debut. 12.7% walk rate and just a 16.9% K rate along with elite power. It hasn't shown as HRs yet, but in time those doubles start leaving the yard. He's a long way off and the defensive spot is still in question. He'll start 2012 with the Staten Island Yankees but could see Low-A before the end of the 2012 season.
6. Mason Williams, CF – 10/21/1991, H: 6'0″ W: 150 – (M.K.) Mason Williams received $1.45 Million as a bonus as New York's 4th round pick of the 2010 draft. Out of West Orange High School in Florida, Willaims, signed too late in the season to show the Yankees he was worth the money, so 2011 was his real professional debut.
Williams started paying dividends early hitting .358 with 63 hits, 8 doubles, 3 triples, 16 stolen bases, and .398 OBP in 176 at bats playing in the NY-Penn league. Scouts and insiders like his maturity at the plate but it has been reported that his timing and bat wiggle could be smoothed out. He could develop average power in time by adding weight to his frame. As a center-fielder he has very good range with his speed and instincts on fly balls hit gap to gap. Dave Reiffer touches on Williams in his Touch'em All article.
Our Instinct – (T.B.) Williams has excellent speed, but is very swing happy. His natural ability to make contact is playing up at the lower levels right now, but as he moves up the ladder he'll start seeing less pitches to hit and will need to make adjustments. He should develop average power in time since he's currently noted as at 150 lbs with a 6′ frame. There is room to grow. Expect him to make a jump to Low-A in 2012 and spend the entire season there working on his approach at the plate. If all breaks right he could be a top of the order hitter and stick in CF.
7. J.R. Murphy, C – 5/13/1991, H: 6'0″ W: 190 – (M.K.) Murphy was drafted in 2009 by the Yankees and is another catcher in the system. While he doesn't have the power of Montero or Sanchez, he is already a more complete hitter than Sanchez. He doesn't strike out much with just 38 in 256 Sally League at bats. He still needs to learn how to take more walks and work the count into better situations for him to use his average power. But overall he hit .287 over two levels with 7 HR and 29 doubles.  Tom Belmont takes note of Murphy in his Touch'em All article.
Our Instinct – (T.B.) Murphy may eventually see a shift to 3B or the OF as we expected when he was drafted. But right now he just continues to prove that he can be a catcher and his bat is staying as solid as it was projected. If Sanchez can't reign in the aggressiveness it may be Murphy who eventually starts behind the plate in the Bronx. Expect him to start back in the FSL where we'll get a much closer look at him.
8. Adam Warren , RHP – 08/25/1987, H: 6'2″ W: 215 – (M.K.) Adam Warren was originally drafted by Cleveland in 2008 but decided to complete his senior year at The University of North Carlolina. The Yankees rewarded his choice drafting him in the 4th round in 2009. Warren started his college career working in the bullpen but won the job of starter in his junior year. He became a key for the team making the College World series in two seasons.
In his twelve starts at Staten Island in 2009 he was 4-2 with a 1.43 ERA plus 50 strikeouts in 56.2 innings. With his fifteen starts in Tampa he was 7-5 with a 2.22 ERA then with ten starts in Trenton, 4-2, 3.15 ERA. Warren set the Thunder's strike-out record whiffing fifteen on August 17,2010. So how was his 2011 performance? Not quite as awesome as his first showings but he competed against better hitters at Scranton/Wilkes-Barre. In twenty-seven starts 6-8 record, 3.60 ERA, 111 K, 53 Walks in 152.1 Innings pitched.
Our Instinct – (T.B.) Warren probably won't be more than a back-end of the rotation starter and his style doesn't mesh well with Yankee Stadium. So the odds of him being a mainstay in the Yankees rotation is a long shot. He may end up a long reliever or be included in a trade sometime in 2012. If he finds a new home he should be able to remain in the rotation somewhere at least in the short-term. He should get an opportunity some time in 2012 to prove where he fits in. Just don't expect a Ivan Nova type of surprise.
9. Ravel Santana , OF – 05/01/1992, H: 6'2″ W: 175 – (M.K.) Ravel Santana's latest season ended early with an ankle broken trying to steal a base. The 19-year-old is from San Pedro de Macoris, Dominican Republic was a non-drafted free agent in 2008. Santana played in The Dominican Summer league in 2009 hitting .244, 5 HR, 8 doubles and 28 RBI in 50 games. In 2010 he caught fire in the DSL with a .322 AVE, 10 HR, 10 Doubles, 46 Runs Scored and 38 RBI in 63 games. Prior to the ankle injury this August he played the season in The Gulf Coast League and hit .296, 9 HR, 11 Doubles and 29 RBI in 41 games. The severity of the injury was similar to Diamondbacks star Stephen Drew. One would expect with his youth, that he would recover and when healthy start Low-A ball in 2012.
GCL video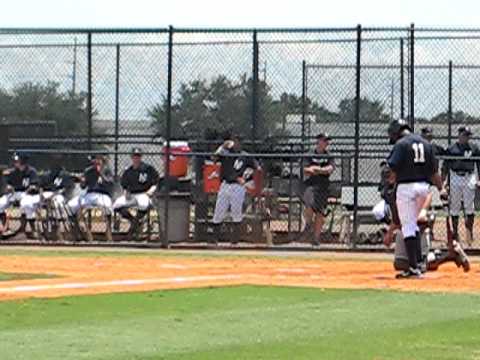 Our Instinct – (T.B.) Santana's IsoP continues to trend up year over year and he still has some major room to grow into his 6'2″ frame. His strikeout rate for such a young player is fine and he knows how to take a walk and steal a base. He's a high-end talent with superstar potential… and a very long way to go to reach that potential.
10. Zachary "Slade" Heathcott, CF – 09/28/1990, H: 6'1″ W: 190 – (M.K.) Slade Heathcott was drafted by the Yankees in the first round of the 2009 Major League Baseball Draft. Signed out of Texas High in Texarkana, Texas he received a hefty $2.2 Million bonus. With his nickname it's no surprise that he is the perfect Yankee prospect. Called cocky at times it might make fans in the Bronx blush with pride to know that he initiated a brawl in Low-A against the Red Sox affiliate. This after the second pitch of the game nailed him, Slade then turned around and clocked the catcher in the face. Reports prior to his first look in the pros were that he may have character issues and family problems.
But those really haven't surfaced as an issue or stopped his development thus far. While his stats aren't overwhelming, scouts tout him as a four tool player. In 2010 at Charleston he finished the season with 76 Games played batting .258, 2 HR, 30 RBI, 15 SB, .359 OBP. In 2011 he spent time in two Single-A Leagues with 9 HR, 33 RBI, 14 SB in Charleston before his call up to High Single-A Tampa where his season was ended early. We hope Slade makes it in MLB. Writers love nicknames and colorful characters so Heathcott would be a media darling.
Our Instinct – (T.B.) Heathcott was selected before Mason Williams in 2009 and he does have the elite level tools to support that. But overall Williams is the better baseball player right now. Heathcott will need to over come his aggressiveness at the plate. His K rates to date have been north of 20% each season at every level. He does know how to work the count and will develop more power as he matures. With the injury behind him, he should start 2012 in the FSL and despite it being a pitchers haven it fits his current skill set well. If there is power to be had I wouldn't expect it start showing in 2012. But 2013 is a different story.
Baseball Instinct's Top 21 "Free-view"
Here's a couple more players that fell right outside of our top 10, but were close.  You'll see them again later this winter in our top 21.
11. Tyler Austin , 3B – 09/06/1991, H: 6'2″ W: 200 – (M.K.) Tyler Austin was selected by the New York Yankees in the 13th round of the 2010 June Amateur Draft. He grew up about thirty minutes out of Atlanta, GA and was ranked 24th best in Georgia by Baseball America prior to the draft.  Austin's 2010 debut ended early after he was hit by a pitch that broke his wrist in his second Rookie League game with The Gulf Coast Yankees. He required extended spring training following his rehab and started his 2011 season in late-June hitting .390, 3 HR, 11 SB in 20 games with GCL Yankees. Tyler Austin was then promoted to Short Season Staten Island and hit .323, 3 HR, 14 RBI in 27 games.
Our Instinct – (T.B.) Austin is a big 3B, but is flashing the bat in a major way so far. His K rates are solid and he knows how to take a walk. It's his current power output that makes him a high-end prospects. With his size you can estimate that the power is legit. But as he moves up the ladder he'll need to continue to refine his approach and keep the K rates in check. Whether he sticks at 3B is still not a clear picture. He'll start 2012 at Low-A Staten Island and should see Charleston at some point as well.
12. Austin Romine , C – 11/22/1988, H: 6'2″ W: 210 – (M.K.) Austin Romine hit .286, 6 HR and 47 RBI at Trenton this season before his promotion to Triple-A. In his first two Double-A seasons, he batted .276, 16 HR, 116 RBI in over 200 games played. The Lake Forest, CA native was picked up in the 2007 amateur draft. Romine was named Florida State League Player of the year and has played in two MLB All-Star Futures games in both 2010 and 2011. With his success he earned a cup-of-coffee late this season in the Bronx with a couple of banged up regulars he split time with Jesus Montero down the stretch. Used primarily as a back-up he saw 19 AB in the bigs with 3 hits, 2 runs and a walk.
Our Instinct – (T.B.) Romine is often overshadowed by the other catchers in the system. He has an average skill set across the board and should make it to the majors as a backup catcher. He's similar Cervelli in many ways but may not be as good of a defender. Expect him to battle for a spot in spring training but ultimately there may not be room for him in the Bronx right now – or possibly ever. He's a possible trade chip.
Check back soon as we profile more Top 10 Lists for each MLB team and also get our baseball geek on and take a look at some of the later draft picks from the 2011 draft that we think could be big names on the prospect radars in the near future. While you're here, take a look at a recent article in this series: Los Angeles Angels Top 10 List and be a step ahead of the game. Also, check out a friend of ours for all of your fantasy sports needs. Fantasy Rundown is updated religiously and is truly an awesome resource. Thanks for checking Baseball Instinct. We're working hard to bring you the best of the minor leagues and make the site the best experience it can be. So don't hesitate to tell us what you would like to read about. Email us now at mailbag@baseballinstinct.com.