Season's greetings and Merry Christmas!  We hope that your Christmas Eve is safe and wonderful.  We here at Baseball Instinct have had a blast bringing to you our top 10 prospects list for each team and look forward to bringing you the top 21 for each club later this winter.  But before we do that, we are going to hit you with our overall top prospect list starting New Year's day.  We are calling this series Baseball Instinct 360°, and you don't want to miss it.  We think it's some of our finest work.  Before I get ahead of myself, let us bring to you our final installment of our top prospects list; Minnesota Twins 2012 Top 10 Prospects List.
The Minnesota Twins had a forgettable 2011 season.  After finishing in 1st place in 2010 in the American League Central, they got off to a horrible start in 2011 and never recovered.  As a result, they find themselves sandwiched between the Houston Astros and the Seattle Mariners with the 2nd pick in the 2012 Amateur draft.
In 2011, OF Michael Cuddyer was the man for the Twins.  He led them in just about every offensive category.  He hit .284 with 20 HRs, 70 Runs, 70 RBI, and 11 SB.  Yeah, it was that bad in Minnesota and the Twins will miss Cuddyer as he signed with Colorado this off-season.  They also lost OF Jason Kubel to the Arizona Diamondbacks. Where was Joe Mauer?  He played in just 82 injury riddled games in 2011.  After banging out 28 HRs in 2009, he hit just 12 in the 2 seasons since.  Is Target field playing with his game?  I think 2012 will answer those questions, as his career path is starting to mirror that of New York Mets 3B David Wright.  The once promising, super star in the making, 1B Justin Morneau has been virtually a non-factor the past 2 years as injuries have taken away 174 games from him in that time.  However, all is not lost for the Twins.  A promising farm system gives Twins' fans hope for the future.
Let's take a look at these future Twins.
1. Miguel Sano, 3B 05/11/1993 Height: 6′ 3″ Weight: 195 – Sano was signed by the Minnesota Twins as an International Free agent on Oct 9th, 2009.  After a successful debut in 2010 in the Dominican Summer League, he made his way state side to finish off an impressive season as a 17-year-old in the Gulf Coast League.  In 2011, as an 18-year-old, Sano found himself in the Appalachian league against recently drafted college talent.  The result was nothing short of spectacular.  Sano had a triple slash of .292/.352/.637.  That gave him an outrageous .345 ISoP for the season.  His 77/23 K/BB rate needs some improvement, but it's not bad for what you would expect from a kid from the Dominican learning to adjust to playing in the states.  He committed 26 errors in 54 games between shortstop and third base.  Check out Tom Belmont's Prospect Instinct| Miguel Sano article.
Our Instinct:  Sano is a big kid with a big bat.  He hit 20 HRs in 267 at bats off of college pitchers.  He's out grown shortstop and I think he's going to out grow 3B.  He looks to me like a power hitting 1B.  Where's the problem with that?  The comparisons to Miguel Cabrera are accurate, however I don't think he sticks at 3B as long as Miggy did.  If  the likes of Harper and Trout are off the prospect charts going into 2013, there's no reason to think Sano won't challenge the likes of Texas Rangers SS Jurickson Profar as the top prospect in baseball.
2. Eddie M. Rosario, 2B/OF 09/28/1991 Height: 6′ 0″ Weight: 170 – The potential of a Sano/Rosario right side of the infield is exciting.  Drafted in the 4th round of the 2010 draft out of Puerto Rico, Rosario had an impressive debut in 2010 as an 18-year-old in the Gulf Coast League.  He hit .294 with 5 HRs and 22 SB in 194 at bats in 2010.  He followed up that impressive season by displaying an awesome power/speed combination in the Appalachian League by posting a triple slash of .337/.397/.670.  What's truly impressive is that his ISoP was almost as high as his batting average at .333.  Both Rosario and Sano are likely to start out in the Midwest League, but could progress rapidly to the Florida State League.  We like either scenario as Dave Reiffer can get video for us of them in the MWL and Tom Belmont can catch them in the FSL.
Our Instinct:  I got to admit that Rosario is one of my most favorite prospects in baseball.  While I want to be careful not to over-hype Rosario based on his skills, as I said in my Touch'em All article,  I think he's a stud.  The potential of a power/speed guy manning 2b is truly awesome.  I'm waiting to see how he fares against pitchers in the FSL, who have been known to show off some nasty breaking stuff.  If he handles that well, there will be no living with me and my "I told you so" statements.  Watch this player closely.
3. Oswaldo Arcia, OF 05/09/1991 Height: 6′ 0″ Weight: 210 – Arcia was signed back on the 4th of July in 2007 out of Anaco, Venezuela.  He now has 4 seasons under his belt at age 20 and has made steady progress since his debut in 2008.  He posted a .291/.335/.531 line between the MWL and the FSL.  However, his FSL debut wasn't as good as you would hope as he battle injuries and looked lost at the plate at times, falling into bad habits that so many young Latin American prospects fall into; swinging at balls in the dirt.  As you can imagine, his K rate went up and his BB rate went down, effecting his numbers across the board.
Our Video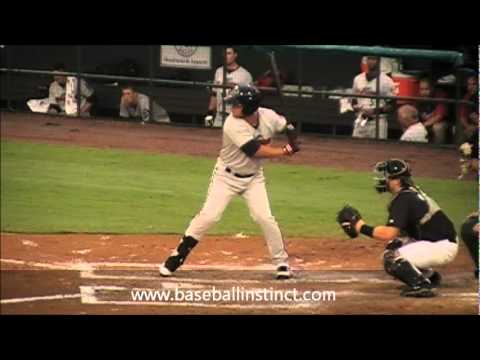 Our Instinct:  A healthy Arcia bears watching.  If he can get a handle on the strike zone in 2012, He could find himself in Minnesota sometime in 2013.  He should start 2012 in the FSL.  This is a critical year for him as his plate decisions are going to define him as either and everyday outfielder or a 4th off the bench.
4. Liam Hendriks, RHP 02/10/1989 Height: 6′ 1″ Weight: 200 –  Hendriks is another 2007 international signing that seems to be paying off.  The right-handed Australian posted a 12-6 records with a 3.36 ERA and a 111/21 K/BB rate over 139.1 innings between AA and AAA in 2011.  His season was capped off by tossing 23.1 innings in the majors, and though he coughed up 3 long balls in that stretch, he still posted a solid 16/6 K/BB rate.  Tom Belmont discussed him in detail in his September Prospect Instinct|Liam Hendriks article.
Our Instinct:  Hendriks mixes up 4 pitches – A 90-91 mph fastball, a curve, a slider, and a change-up and he does it with excellent control.  Hendriks is probably ready for a starting job now at the back-end of the Twins rotation and should get a shot in spring training to secure a spot.  It's not out of the question that he could head back to AAA to start the season.  And while I doubt that he will end up in the bullpen initially, he very well could in the future.  If he can turn a few of those fly balls into ground outs, he could turn into an inning eating #4 starter and at very least a solid arm out of the pen.
5. Hudson Boyd, RHP 10/18/1992 Height: 6′ 2″ Weight: 235 –   The Minnesota Twins select RHP Hudson Boyd with the 55th pick in the 2011 MLB Draft.  The 19-year-old has a mid 90's fastball, a pretty good curve, and is developing a change-up.  He's a hard thrower with good control and repeats his pitches well.  He didn't get signed until late and as of yet, no professional experience.  He turned down a commitment to Florida to sign with the Twins.  He should be well received by the fans of the Fort Myers Miracle; Boyd's hometown.
Our Instinct: The hard-throwing Boyd should start his pro career at home in Fort Myers in the Gulf Coast League.  There's upside here with the velocity and control.  He could be a solid #3, approaching #2 territory.  There's a good chance, especially with his size that he could end up as a 8th inning guy or a lock down closer.  We will monitor his off-season conditioning and strive to get some video of him while in GCL.
6. Joe Benson, OF 03/05/1988 Height: 6′ 1″ Weight: 205 – Drafted by the Minnesota Twins in the 2nd round of the 2006 draft, Benson was a football player 1st and the Twins were able to get him to sign.  He hit .284/.387/.491 with 16 HRs and 14 SB in the Double-A Eastern League in 2011, before playing in 21 games for the Twins.  He hit .239/.270/.352 in brief time with the big club.
Our Instinct:  Benson offers a modest power/speed combo.  If he can fix the hole in his swing, 15-20 HR/SB a season in the majors isn't out of the question.  I think he can stick in center field.  He's got a great arm and is very athletic.  He's going to get a shot to compete for a roster spot right out of spring training, but a trip to AAA – a place he hasn't been yet, wouldn't be a bad idea either.  
7. Levi Michael, 2B/SS 02/09/1991 Height: 5′ 10″ Weight: 180 – No professional stats for Levi Michael yet, as he was another late signer.  While he played a number of positions in college including second base, third base, and shortstop, it's likely with his range that he will get a chance to stick as a speedy 2B that can get on base.
Our Instinct:  If Michael can hit like he did in college, he has a chance to move up the organization ladder quickly.  There isn't much to stand in his way for the starting shortstop job.  If he can't stick at SS, he's going to have to hit the cover off the ball to keep out Rosario.  We will have a better idea soon as he should start the season in the Midwest League and we will get some video of him.
8. Kyle Gibson, RHP 10/23/1987 Height: 6′ 6″ Weight: 210  – Kyle Gibson has been plagued with injuries thus far in his pro career and 2011 was no exception.  Gibson got off to a 3-8 start with 4.81 ERA and a 91/27 K/BB rate over 95.1 innings in 2011 before needing  Tommy John surgery in late July, ending his season.  The former 2009 1st round pick isn't likely to be back until late 2012. Tom Belmont broke him down in his Prospect Instinct|Kyle Gibson article back in October.
Our Instinct: Gibson possesses all the talent in the world.  Just as it was when he slipped to the 22nd pick in 2009, Gibson has been defined by injuries.  He's still got the upside of a solid #3, possibly a decent #2 with a good moving fastball, a plus slider and a plus change-up.  He was never going to smoke people with his heat, so having TJ surgery likely will prove to be a good thing for Gibson.  Though when he does make it back, the clock will be ticking. 
9. Aaron M. Hicks, OF 10/02/1989 Height: 6′ 2″ Weight: 185 – Aaron Hicks was the 14th overall pick in the 2008 draft out of Long Beach, California, where his stock took off quickly with a great showing in the Gulf Coast League that year. However, since then, he just has not lived up to the high expectations.  He posted a triple slash of .242/.354/.368 in 443 at bats in the Florida State League in 2011.  He's a solid defender and if he can realize his offensive potential and make it to the show, he could be a gold glove winner.
Our Instinct:  In Hicks, there's a frustration that is totally opposite to the complaint I have with many players that swing at too many pitches in the dirt.  Hicks is too patient of a hitter sometimes, letting too many good pitches go by without taking the bat off of his shoulders.  At 22-years-old, it's a tough call to predict what the Twins have planned for him for 2012.  I could see him back at High-A and there's a good chance he starts out at AA so the Twins can see what they really have.  I think we will find out if his power potential is going to emerge this season, or if he's strictly going to be a guy who gets on and steals 20-30 bases a season.
Another FSL Video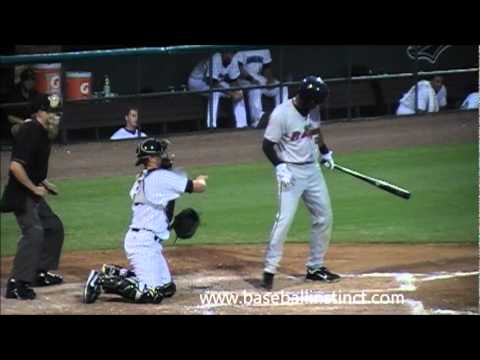 10. Travis Harrison, 3B 10/17/1992 Height: 6′ 1″ Weight: 215 –  Yet another Twins prospect with good talent, yet no professional stats yet.  Harrison was drafted by the Twins in the supplemental first round with pick #50.  The southern California native signed at the deadline, turning down a strong commitment to USC.  He hit .486 with 12 HRs and 9 SB.
Our Instinct:  The Twins drafted him for his immense power potential.  He can flat-out crush the ball.  He's really raw though and there's some issues with the stiffness of his swing that will need to be addressed.  He will be an average defender at best and I'm curious to see with his swing mechanics if he can hit for any kind of average.  This is really one of those wait and see situations, but it bears watching in 2012.
Baseball Instincts Top 21 "Free-view"
As we have done throughout this top 10 series, we will bring to you a player who was outside of the top 10, but will appear later this winter in our top 21 series.
Maximilian "Max" Kepler, OF 02/10/1993 Height: 6′ 4″ Weight: 180 – The Twins like the international signings.  Especially those from Europe.  Kepler was signed July 11th, 2009 from Berlin, Germany.   He spent his 1st season in 2010 a 17-year-old in the Gulf Coast League.  There he hit .286/.346/.343.  In 2011 as an 18-year-old he hit .262/.347/.366 in the college pitcher friendly Appalachian League.
Our Instinct:  Kepler is unrefined and raw, yet very athletic.  So much so that it makes him a very interesting prospect to track.  It's going to take some time to mold him into a big league caliber player, but he should be able to hit for a decent average.  It remains to be seen if the power will be there.  Expect him to open up in the Midwest League and we will be there to get him on video.
Check back soon as we get ready to launch into our top prospect list for all of baseball and also get our baseball geek on and take a look at the  top 21 players for each MLB team, which we will do later this winter.  While you're here, take a look at a recent article in this series: New York Yankees Top 10 List and be a step ahead of the game. Also, check out a friend of ours for all of your fantasy sports needs. Fantasy Rundown is updated religiously and is truly an awesome resource. Thanks for checking Baseball Instinct. We're working hard to bring you the best of the minor leagues and make the site the best experience it can be. So don't hesitate to tell us what you would like to read about. Email us now at mailbag@baseballinstinct.com.