Charlie Blackmon OF Colorado Rockies
7/1/86
Height: 6'3″ Weight: 200
Elbow tendinitis robbed Charlie of his luckwarm status as left-handed pitching depth at Georgia Tech. The junior college transfer student got noticed later in the Texas Collegiate League where he passed himself off as a pitcher/hitter and curried the favor of former Texas Ranger outfielder and team manager Rusty Greer. A friendly call later from Greer to Blackmon's Georgia Tech head coach and he was back on the team and opening eyes with the bat. Next, Charlie Blackmon become the 2nd round pick of the Colorado Rockies in 2008.
Here's what we said about him back in April in our 2011 Top 100 List:
72. Charlie Blackmon OF COL – A compact frame and compact hitting mechanics come together for Blackmon into a solid corner OF. He has enough bat against both lefties and righties to keep from being a platoon OF and the speed to give him some nice upside. His average power translates well into games and his speed and instincts make him a threat on that base paths. With a little more Triple A seasoning and an opening in Colorado he could turn into a 20/20 player with additional upside.
More recently, Blackmon made an appearance in our Colorado Rockies 2012 Top 10 List.
 The Glove
Blackmon's athleticism and foot speed lend to his exceptional range defensively, and along with the strong throwing arm, from his former life as a pitcher, he has the ability to play all the outfield positions. Inevitably, his versatility on defense will cement his role on the major league team in 2012 as he matures with the bat and waits for a starting job.
The Bat
The first two seasons of his professional baseball career Blackmon showed skills on the base paths, hitting .338 and .307 in Tri-City and Modesto and also stealing 11 and 29 bases. The next two seasons in Double-A Tulsa and Triple-A Colorado Springs came with a power boost that flashed the potential for young Blackmon to become a 5-tool talent, hitting 11 Tulsa homeruns in 337 at bats then sending 10 Colorado Springs baseballs into the seats in 243 at bats in 2011. All the while, he kept hitting around .300,stealing bases, and taking walks at a decent clip.
He also racked up 98 major league at bats in 2011, hitting .255 with 25 hits, 1 homerun, and 5 stolen bases. So he didnt' show much of that power or ability to get onbase as he did in the minors, but he made his mark with his feet.
SkySoxVideo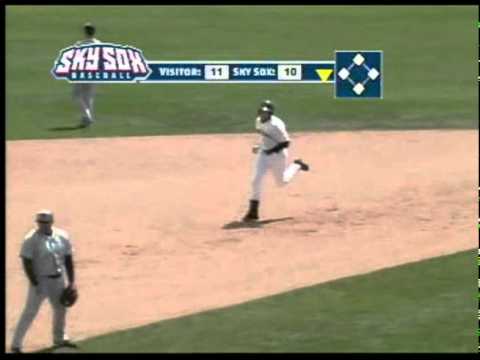 Our Instinct
The starting job in Colorado has been elusive in his brief experience at the top-level. Earlier in the post season there was talk of trading Seth Smith, opening up a spot for Blackmon to slide in with a good performance in the spring. But that never seemed to be the plan either. On December 20th, the Rockies signed OF Michael Cuddyer to a three-year, 33 million dollar contract to play left field at Coors. So without yet trading Seth Smith, Blackmon's spot on the depth chart has dropped down a rung, but a Smith deal could be finished soon since he is drawing interest from teams like the Mets, Athletics, Braves, Rays, and Mariners.
That said, 2012 will be another year where Charlie Blackmon will have to seize his opportunities off the bench or capitalize on an injury to another outfielder to score some playing time. He is still a guy that, in his prime, could probably hit near the top of the batting order and use his feet to make things happen. Not sold on his power production yet, but if it shows up at the major league level, and playing in Colorado will surely help, it's a considerable bonus.
Check back soon as we get ready to launch into our top prospect list for all of baseball and also get our baseball geek on and take a look at the  top 21 players for each MLB team, which we will do later this winter.  While you're here, take a look at a recent article in this series: New York Yankees Top 10 List and be a step ahead of the game. Also, check out a friend of ours for all of your fantasy sports needs. Fantasy Rundown is updated religiously and is truly an awesome resource. Thanks for checking Baseball Instinct. We're working hard to bring you the best of the minor leagues and make the site the best experience it can be. So don't hesitate to tell us what you would like to read about. Email us now at mailbag@baseballinstinct.com.