Brad Boxberger, RP San Diego Padres
05/27/88
Height:6'2" Weight:200
As we continue to break down the particulars of the big trade between the San Diego Padres and the Cincinnati Reds, it is important to keep tabs of a lesser name that was involved in the Matt Latos for Edinson Volquez and prospects trade. We have already written Prospect Instincts for the more well-known Yasmani Grandal and Yonder Alonso. So let's turn our attention to a third prospect involved in that same trade who may arrive to San Diego with less fanfare, but could be of great significance to the Padres before too long. By all of the reports one would assume that Brad Boxberger is simply an after-thought in the big trade, but there is reason to stop and take note of his game.
Brad Boxberger was originally chosen in the 20th round of the 2006 major league draft by the Kansas City Royals. However, he did not sign and chose to attend college at the University of Southern California. After finishing a successful college career, he was then drafted by the Cincinnati Reds as a supplemental pick in the 1st round and 43rd overall in the 2009 amateur draft. Boxberger made his professional debut by appearing as a starting pitcher in High-A ball for the Lynchburg Hillcats. After 13 starts Boxberger was promoted to Double-A ball, and moved to the bullpen where he struggled greatly. Taking statistics across the 2 levels we find that Boxberger carried a 4.91 era with a 5-10 win/loss record. While that had to be a disappointing performance, he showed nice peripherals with 110 k's and 42 bb's in 91.2 innings pitched. The 2011 season saw Boxberger permanently moved to the bullpen, and this cemented his future path to the big leagues. Apparently Boxberger liked having a defined role, because the statistics were dominant. In 2011 Boxberger made 55 appearances and simply outclassed his competition in both the Double-A and Triple-A levels. The final tallies include 2.03 era with 11 saves. The k/bb ratio of 93/28 in 62 innings-pitched is simply outstanding. Perhaps even more impressive was the fact that he gave up only 32 hits in those same 62 innings-pitched. Obviously, his stuff was hard to hit and the competition had very little success against him. Let's take a look at his stuff and see why.
The Stuff
Boxberger brings a four-pitch arsenal to the mound, something not often found with a relief pitcher. The fact that he had 4 pitches was likely the reason that Cincinnati had wanted him to become a starter. His stuff starts with his fastball which consistently sits in the low 90's and can get up to 94-95 when he chooses to bring in a little extra. His fastball is fairly straight, but the good velocity helps mitigate the lack of movement to the pitch. He can compliment his fastball with a slider that has a sharp break and grades above average. Additionally Boxberger has a curve ball that is said to have 2 different grips that typically clock in the low to mid 80's in velocity. The curveball isn't a big sweeping bender, but it has a late sinking break to it. Lastly, Boxberger has a change-up that typically stays in the mid 70's in velocity. Boxberger tends to struggle with consistency on his secondary pitches, and this is what precipitated his eventual move to the bullpen. Boxberger doesn't necessarily have one great pitch, but rather he has 4 offerings that all are (or can be) good. Perhaps the most important element for Boxberger is that he has a significant velocity difference between pitches, this prevents the hitters from staying comfortable in the batters box. They can't gear up for any one pitch when there such a difference in the speed at which the ball could be traveling.
The Mechanics
Starting with his 6'0" frame Boxberger doesn't have the advantage of a natural downward plane to his pitches. Additionally, Boxberger has a relatively low release point as he delivers the ball. In combination, these two factors cause the pitch to traverse through a level plane rather than a downward plane as it travels towards home plate. This can often lead to balls being hit in the air rather than on the ground. Fortunately, Petco Park is quite forgiving of pitches that are hit in the air.
Another RedsMinorLeagues.com Video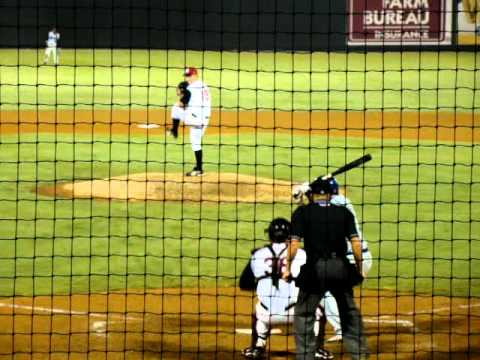 Boxberger doesn't take a particularly long stride and uses a lot of hip rotation as he initiates his momentum towards the plate. This accentuated hip rotation causes Boxberger to have an inconsistent landing point for his front foot. His pitching inconsistencies are related to this. However, the delivery is fairly clean and doesn't portend any particular injury risks. Because Boxberger is pitching in relief, his velocity and changing speeds help cover for the inconsistencies that are caused by his mechanics. At 23 years old Boxberger is done developing physically and likely he is very close to a finished product. He is solidly built at 200 pounds, and looks to have the frame to handle the physical demands of a MLB pitcher's workload.
Our Instinct
Brad Boxberger is quite likely going to make the Padres out of spring training in the 2012 season. He carries a good repertoire of pitches, especially for someone who will be coming out of the bullpen. He is capable of good high-end velocity with secondary pitches that give nice variations in speed. His stuff is well-suited for a relief role where the batters only get to see him one time in a game. Petco will be an excellent park for Boxberger to learn how to pitch at the major league level. We don't expect that it will take him long to adapt to the level of competition. Though Huston Street is slotted as the closer for the Padres, it would not be surprising to see Boxberger claim a role as a high leverage reliever as the season progresses. His stuff is very good and the 2011 numbers reflect that. Boxberger should be at minimum a productive middle innings reliever. However, he has the potential to be a very good closer in the major leagues. With his remarkable 13.5 k's/9, Boxberger could be shutting down opposing batters in the 8th and 9th inning fairly quickly. Consistency will be the key to Boxberger's success, and if he can develop that, he will be a top end closer for years to come. Padre fans may not think much of the 3rd prospect in the trade now, but he may be one that they appreciate later.
Check back soon as we get ready to launch into our top prospect list for all of baseball and also get our baseball geek on and take a look at the  top 21 players for each MLB team, which we will do later this winter.  While you're here, take a look at a recent article from our Prospect Instinct series: Prospect Instinct|Ronald Torreyes and be a step ahead of the game. Also, check out a friend of ours for all of your fantasy sports needs. Fantasy Rundown is updated religiously and is truly an awesome resource. Thanks for checking Baseball Instinct. We're working hard to bring you the best of the minor leagues and make the site the best experience it can be. So don't hesitate to tell us what you would like to read about. Email us now at mailbag@baseballinstinct.com.