Simon Castro, RHP, Chicago White Sox
DOB: 1/09/1988
Height: 6″5″ Weight: 210
After 5 years of professional baseball, Simon Castro will leave the San Diego Padres organization that originally signed him in 2007 out of San Jose de los Llanos, Dominican Republic and join the Chicago White Sox along with LHP Pedro Hernandez, both pitchers swapped for OF Carlos Quentin a couple weeks ago. Castro joins a club that may need his services in 2012.
The big right-hander is set to work with pitching coach Don Cooper on some command issues, but Castro, a 2010 Futures Game pitcher, is close to being a finished product, even though he developmentally lost his way in 2011, scoring a 4.33 ERA on 95 hits and 43 earned runs in 89.1 innings pitched in Double A San Antonio and fared worse in his second promotion to Triple A Portland. He was clearly the prize of this trade and, not to mention, he's also a nice bookend to the busy Chicago White Sox's other farm acquisition of Nestor Molina from Toronto this off season.
The first three years of his career he took the minors by storm, striking out over 22% of hitters and walking 12% in this first season but cutting that rate down to 6.4% in Low A Fort Wayne while keeping a eye-popping 27.4% K/PA in 2009 as a 21-year-old. The 2010 season saw the organization skip him past High A level and land him in Double A San Antonio where he duplicated his walk percentage but let the K rate slip to a still nice 20.2%. That performance earned him a brief trip to Triple A Portland where he was hit hard.
Here's what we said about him in our Texas League Touch'em All in October:
Simon Castro, RHP Padres 4/9/1988 – Before getting promoted to the PCL where the wheels fell of the cart, Castro had a quiet but successful 16 starts. He went 5-6 with a 4.33 ERA which was a touch above his 3.80 FIP. He struck out 19.5% of batters with an elite 4.3% walk rate. I still think he's better suited for the bullpen and if the Padres decide the same we'll see him in San Diego in 2012.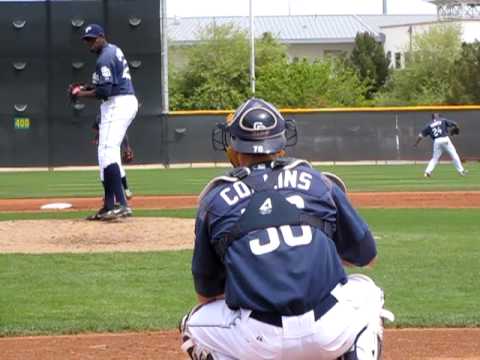 The Stuff
Four-Seam Fastball – Castro fires a low-to-mid-90s four-seamer from a low 3/4 arm slot. The offering features good movement away from left-handed hitters and is a plus pitch.
Slider – The slider is above average at times with sharp late downward movement. Castro lives on the heater/slider combo.
Change-up – The change needs work and, according to reports, needs refining due to a hesitation in his delivery that may tip-off more advanced hitting.
Two-Seam Fastball – Scouts report that this pitch has some movement too but not as much as the four-seamer and with less downward movement. Tops out in the low-90s.
The Mechanics
As stated before, Castro brings it with a low 3/4 arm slot. So he doesn't use his height to produce a downward plane, but his loose and long arm action produces enough natural downward bite on his pitches to move the hitter's eye level to a different plane in the strike zone, when he is right. The big right-hander will be at his best when he doesn't get too much plate. With that motion, he inevitably throws across his body and falls toward first base after releasing the ball, which adds to the deception and helps him get the excellent movement on his pitches. That, combined with the nice velocity on his fastball, makes it difficult for hitters to square him up. That said, maintaining his arm slot is key.
Our Instinct
Pitching coach Don Cooper has straightened out pitchers before. Most notably Jose Contreras, during his stint with the Sox. If the command issues straighten out, Castro could be ready by mid-season for a rotation spot in the event of an injury in Chi-town. Otherwise, Castro can make his living setting up for Addison Reed in the late innings of games. Castro will, first, need to be successful in Triple A as he hasn't pitched much above Double-A yet at all. With the natural movement the gets on his pitches, the lack of development of the change-up shouldn't hinder him that much. He'll need to show a change-of-pace pitch from time to time, but the plus fastball/slider combo thrown for strikes can confound hitters alone. Obviously, from the bullpen, the lack of change won't be a problem.
Check back soon for more Prospect coverage. While you're here check out our Baseball Instinct 360° – It's our top 360 prospects for 2012. Check out a friend of ours for all of your fantasy sports needs. Fantasy Rundown is updated religiously and is truly an awesome resource. Thanks for checking Baseball Instinct. We're working hard to bring you the best of the minor leagues and make the site the best experience it can be. So don't hesitate to tell us what you would like to read about. Email us now at mailbag@baseballinstinct.com.