Zack Von Rosenberg, RHP Pirates
9/24/1990
Height: 6'5″ Weight: 205lbs
Zach Von Rosenberg ("ZVR") was drafted by the Pittsburgh Pirates in the 6th round of the 2009 amateur draft. Despite having a fastball that sits in the high 80s, ZVR was considered a top 2 round talent because of his advanced feel for pitching, and because he owned a projectable frame. His commitment to Louisiana State University caused him to slide to the Pirates who shelled out $1.2m to sign him. He signed too late in 2009 to make more than a token debut, pitching 1 inning.
In 2010 he was assigned to short season ball in the New York Penn League, where he recorded a respectable 3.20era in 59 innings pitched with 39k and 13bb. His strikeout rate was low, 5.95k/9ip, but as evident but his low walk rate 1.98bb/9ip he had no problem with throwing strikes. It was by all accounts a fine, but non-overwhelming debut.
2011 provided mixed results for ZVR. Pitching in the South Atlantic League against more advanced hitting, ZVR sported an ugly 5.73era, while giving up 19 long balls in 125.2innings pitched. On the plus side his FIP was more digestible at 4.14, and he improved his strikeout ratio considerably, bumping it up to 8.16/9ip at a higher level. At the same time he lowered his already strong bb/9ip to 1.65. We mentioned ZVR in our Touch'em all-Sally League article back in July of 2011.  He recently came in number 288° on our Baseball Instinct 360° list.
Stuff
The key word when talking about ZVR is that with his frame he's very projectable. If you don't believe that, then you won't like him very much. His fastball sits in the high 80s, and can touch the low 90s. This can work for some pitchers, but for ZVR because his fastball is fairly straight, you have to hope he will throw faster as his body matures. On the plus side, because his fastball doesn't have much movement, it's easier to control and throw strikes. This is evident by his low walk rates. On the negative side the lack of velocity and movement makes it easier for batters to square up on his fastball and hit them out of the park. ZVR's 1.36hr/9ip was the league worst.
His secondary stuff is considered more advanced. He throws a mid-70mph curveball that has a late 11-5 break at times, but like many young pitchers he needs to throw it more consistently. He also throws a low-80mph changeup that shows a nice spin and deception. Both pitches show the potential to become at least average.
As previously mentioned, ZVR already sports pretty good control. He can locate his fastball to both sides of the plate, but seemed to have trouble keeping the ball down this year. On the bright side, ZVR's last 10 starts showed improved numbers, with a 3.33era with 47k and 9bb in 51.1innings pitched. However, the improved numbers aren't because he suddenly gained velocity, or because he finally managed to keep his fastball down. Instead it was because he started mixing in more curveballs.
Mechanics
ZVR has pretty clean mechanics with a loose throwing motion and repeats his delivery well. It's not hard to imagine that he could add some velocity with some added weight to his frame. He hides the ball well which helps his k rates.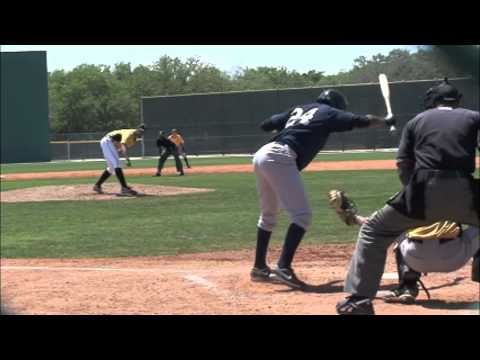 Out Instinct
It all boils down to his fastball. If ZVR finally discovers the additional velocity the Pirates were gambling on when they drafted him, then he could have at least 3 average pitches in his arsenal. Compliment that with his low walk rates, would give him a ceiling of a no.3 starter. He's still pretty young at 21, so he'll have believers for at least another year or two. If his fastball doesn't pick up additional velocity then he might have a chance to carve a career in the pen.
The 2012 season is going to be a very telling one. With ZVR's advanced 2nd half in 2011 and him finally starting to fill out his frame, this could be the season he starts to put it together. He should head to the FSL in 2012 and the pitcher's league will only help his development.
Check back soon for more Prospect coverage. While you're here, check out our Baseball Instinct 360° – it's our top 360 prospects for 2012. Also check out a friend of ours for all of your fantasy sports needs. Fantasy Rundown is updated religiously and is truly an awesome resource. Thanks for checking Baseball Instinct. We're working hard to bring you the best of the minor leagues and make the site the best experience it can be, so don't hesitate to tell us what you would like to read about. Email us now at mailbag@baseballinstinct.com.