Inside of the loud silence surrounding the New York Yankees this off-season grew the end result of a trade 2 years in the making. One with the Seattle Mariners that is now making big noise. On Friday the 13th of January 2012, the Yankees traded Top Prospect C Jesus Montero and RHP Hector Noesi to the Seattle Mariners in return for 2011 Rookie sensation Michael Pineda and their #2 overall RHP prospect, Jose Campos.
Montero was the key piece in the 2010 deadline deal with the Mariners for Cliff Lee two seasons ago. The deal that never happened. Well, Montero is finally heading to Seattle.
Pineda is far and away the key piece to this deal as he heads to New York to fill a glaring hole in the rotation. Here is what we had to say about Pineda heading into the 2011 season on our Top 100 Prospect List where he came in at #5 overall:
5. Michael Pineda, SP SEA – Man child at 6-7 and has a plus fastball with hard sink. He gets his K's and GO's so his tight slider and average changeup will allow him to mature while in the majors. Expect some growing pains, but he has the attitude to think he belongs. Could settle into a #2 or take over as the Ace if King Felix leaves town in 2011.
Well, we were right about his success as he was right there in the running for Rookie of the Year honors, but, we thought it would be Felix leaving Seattle. Pineda finished the 2011 season with a 9-10 record along with a 3.74 ERA and more than a K per inning. He's 6-7 and 260lb workhorse who will slot into the middle of rotation and eat valuable innings while getting serious run support.
Jesus Montero, C NYY came in at #5° this season in our Baseball Instinct 360° and is broken down here in our Prospect Instinct series Scouting Report: Prospect Instinct | Jesus Montero.
Montero is one of the premier power prospects in all of baseball. Check out the report.
The Mariners also recieved RHP Hector Noesi, a big righty who went a lackluster 2- 2 with a 4.47 ERA for the Yankees in 2011, but was in the running for a rotation spot and should battle for one in Seattle as well. He slates better into the back-end of a rotation or bullpen, and might get that shot in Seattle.
With all of the fireworks in this deal and the two big names getting the spotlight, a young right-hander named Jose Campos could be the player that could make this a deal that Yankees fans love for years, and Mariners fans come to hate. Jose Campos came in at #45° overall in the Baseball Instinct 360°: 
45°. Jose Campos, RHP, Mariners, 7/27/1992 – I would expect him to wind up starting the season in High A ball in 2012. If he can maintain consistency of his FB and slider while developing his curveball, Campos will become a well-known prospect. However, I wouldn't be surprised to see the Mariners exhibit patience with him and take their time with a potential number 1 or 2 starter. I look for big things from the young pitcher and advise you not to be late to the jump on the Campos bandwagon. ETA 2015.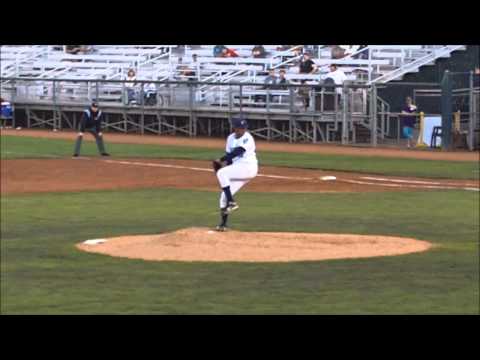 After you watch the scouting video by our Northwest League expert, Bart Klett, make sure to check out his fully detailed Prospect Instinct | Jose Campos here.
Stick with Baseball Instinct and we'll keep you a step ahead of the game. Check back soon for more Prospect coverage. While you're here, check out our Baseball Instinct 360° – it's our top 360 prospects for 2012. Also check out a friend of ours for all of your fantasy sports needs. Fantasy Rundown is updated religiously and is truly an awesome resource. Thanks for checking Baseball Instinct. We're working hard to bring you the best of the minor leagues and make the site the best experience it can be, so don't hesitate to tell us what you would like to read about. Email us now at mailbag@baseballinstinct.com.