James Paxton, LHP Seattle Mariners

11/6/1988

H: 6'4" W:220
It's funny how fragile draft stock of a player can be. James Paxton, Seattle Mariners pitching prospect is a great example of this point. He was drafted in the 1st round and 37th overall in 2009 draft by the Toronto Blue Jays. However, he was "advised" by mega sports agent Scott Boras. Based on input from Boras, Paxton chose not to accept Toronto's offer because the signing bonus was insufficient. Because he didn't abide by NCAA rules governing the relationship between an NCAA player and professional agent, Paxton was not able to return to play college baseball. He elected to play independent league with Grand Prairie. Due to some nagging injuries and a late start to the season, his 2010 performance was less than expected. As a result of this combined with the perception that there may be character issues with Paxton, he slipped to the 4th round and 132nd overall pick of the 2011 draft. It makes one wonder what could have happened if it weren't for the developmental interruption in 2010.
Fortunately, James Paxton was able to overcome the poor beginning to his professional career. After signing with the Mariners and shaking off the rust from having pitched less than 18 innings between the end of the 2009 season and the beginning of the 2011 season, Paxton began to remind the prospect world why he had been considered a 1st round talent. He spent time in both single-A and double-A ball and his numbers seemed to get better as the level of competition increased. He breezed through the 1st half of the season compiling a 3-3 win-loss record with 2.73 era. His SO/9 ratio 12.9 is quite remarkable, but is somewhat diminished by the BB/9 ratio of 4.8. However, the good start was then taken to another level (literally and figuratively) when he went 3-0 with 1.85 era in 7 starts at double-A Jackson. The strikeout/9 remained high at 11.8, but the walk rate dropped nearly 2 points from his single-A performance coming in at 3.0 walks per nine innings-pitched. He finished the season extremely well. In his last 3 starts he pitched 20 innings allowed a stingy 2 earned runs while issuing only 2 free passes and fanning 28 hitters.
We recently covered the trade of Michael Pineda from the Mariners to the Yankees. This trade has some implications to James Paxton because there is now an extra opening on the Mariners starting rotation. There are a few candidates for the starting rotation; including recent draft pick Danny Hultzen. However, Paxton does have a chance to make an impression on the Mariners and earn big league time in 2012. Coming in at #22 on our Baseball Instinct 360° list, he is a prospect that needs to be evaluated further. Let's break down his game and what he has to offer to the Mariners as he fights for a big league opportunity coming into spring training.
The Stuff
The fastball certainly defines Paxton as a power pitcher. The fastball will typically sit in the 92-94mph range, but has been clocked up to 97 mph in the past. The fastball has a nice sinking action to it. While the velocity is good in and of itself, the movement is what makes this pitch plus. When it is on, this pitch will cause a lot of "swing and misses".
The slider is a pitch that is above average when on. This pitch has strong breaking action that moves away from the hitter. It sits in the mid 80's for velocity and the speed differential from the fastball can make it quite effective. He generally has good command of this pitch.
The curveball can be a knockout. This pitch generally clocks in the 76-78 mph range. When it's working this pitch has a strong breaking action that "slurves" away from the hitter. At its' best this pitch flashes plus, but consistency is definitely an issue.
The changeup is not very good at this point. While it doesn't grade out well yet, there is reason to believe that he can develop it over time.
The Mechanics
In looking at his stuff there is a phrase that can be repeated with nearly every offering. Each pitch has the disclaimer "when on" attached to it, and that is the key to Paxton's success. In watching Paxton work, we find that he takes a high leg kick and drives forward landing in a well-balanced position. His lower body moves in a clean and repeatable fashion.
As he gathers himself to deliver the pitch, he takes a long arm action. He likes to draw the arm way back behind his body. As he gains momentum towards home plate it causes his arm to move in a slinging action as releases the ball. This maximizes his velocity. Unfortunately, he doesn't always repeat the delivery. And that is what leads to the "when on" statement used repeatedly above. With his long arm action it leaves more time for his movements to get out of sync. It should be noted that the further away he gets from his long lay off of 2010, the better his mechanics get. And that is not a coincidence. 95 innings pitched under good coaching within the Mariners organization has allowed him to improve nicely in the consistency of his delivery.
Video from Bullpenbanter.com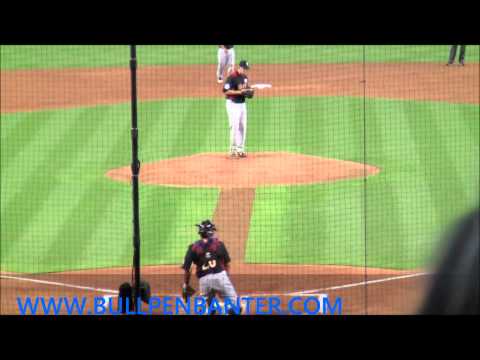 He stands at 6'4" and he gets a nice downward plane as the ball moves toward home plate and this is enhanced by the tailing action of his stuff. After allowing only 3 homeruns in 95 innings, it would appear that he isn't susceptible to giving up the long ball.
Having recently turned 23 years old he is probably reached physical maturity, and he has a fantastic build for a major league pitcher. Weighing 220 lbs his physique has the look of durability and suggests that he can handle a major league workload. No red flags in his mechanics to hint at unusually high injury risk.
While it has already been mentioned that he is a candidate for the starting rotation of the Mariners in 2012, it seems best to allow Paxton an additional year in the minors. The reason for this is really quite simple. Since he pitched college ball in 2009, Paxton has only pitched 112.2 innings of professional ball. Despite his strong 2011 showing, it should be noted that he only pitched 95 innings across the 2 levels he played. 95 innings is nowhere near the number of innings that a major league pitcher is expected to work. Paxtons' stuff is likely ready for the show, but I don't believe the arm strength is there to allow him to maintain it for 150+ innings.
Our Instinct
James Paxton is a valuable commodity in the minor league ranks. He is a legit front-half of the rotation starting pitcher prospect. As a left-handed power pitcher with 3 average or better offerings, he is quite rare. His success does not hinge on having "good enough stuff", rather it is a question of him being able to put it together every time he takes the mound. Consistency is really the only thing that seems likely to hold Paxton back. Judging by the trajectory of his development, he is getting it figured out. He has the ability to change speeds along with excellent velocity on his fastball. His command is probably not going to ever be great. The data seems to indicate a pitcher that will be able achieve a high k-rate, while issuing a higher number of walks than one would like. But his stuff is not easy to hit, finishing double-A ball with 6.5 hits per nine innings. Success looks to be in the offing for this young prospect.
The other promising aspect of the Paxton's future in the big leagues is that he couldn't have asked for a better park to pitch in. Safeco field is very kind to left-handed pitchers because it is very difficult to hit anything beyond the left field fence. The Seattle Mariners have done a fantastic job of identifying and signing a young crop of pitchers that not only should reach the major leagues, but should find great success there as well. And Paxton fits exceptionally well in this strong pitching ethos that the Mariner's organization has adopted.
As stated above, Paxton will get a chance to compete for a starting spot in the Mariners 2012 starting rotation, but he would be best served by building arm strength and developing consistency on his secondary pitches at triple-A ball. The ceiling is high for Paxton and there is an argument for front of the rotation potential. However, he likely fits as a highly effective number 2 starter at the major league level. It is possible that he can find time in Seattle before the 2012 season is over, but likely he waits until 2013. Once he makes it to the show, there will be 29 teams that had wished they had picked him in 2010 when they had the chance.
Stick with Baseball Instinct and we'll keep you a step ahead of the game. Check back soon for more Prospect coverage. While you're here, check out our Baseball Instinct 360° – it's our top 360 prospects for 2012. Also check out a friend of ours for all of your fantasy sports needs. Fantasy Rundown is updated religiously and is truly an awesome resource. Thanks for checking Baseball Instinct. We're working hard to bring you the best of the minor leagues and make the site the best experience it can be, so don't hesitate to tell us what you would like to read about. Email us now at mailbag@baseballinstinct.com.