Hector Sanchez, C San Francisco Giants

11/17/1989

Height: 5′ 11″ Weight: 235
Hector Sanchez has moved up San Francisco's organizational ladder and has surpassed the much more talked about Tommy Joseph due to hard work and impressive minor league numbers. Signed by the Giants as an amateur free agent in 2006. Sanchez started his 2011 season with the Single-A San Jose Giants but showed his hitting skills had advanced beyond the California League when he hit .302 with 11 HR and 68 RBIs in 52 games. When Buster Posey's season ended with the horrific leg and ankle injury, the big club promoted him to Triple-A Fresno. In 46 games, he hit .261 with 1 HR and 26 RBIs in 46 games. With his offensive numbers and the development of his defensive skills Hector Sanchez ranked #349 in our Baseball Instinct 360°. Here is a look at the reasons why and where we think he'll be this season.
The Bat
Sanchez is a switch hitter who hits well from both sides of the plate. He has pop in his bat and could eventually be an occasional splash down threat. Hector has been fooled against pitchers with exceptional breaking ball pitch control. He has the raw tools tool but needs to increase his strike zone management in relation to his 2011 High-A numbers. Let me explain further. Over the first four years of his career, Sanchez, held excellent K rates of sub-15% with double digit walk rates. In his move to High-A San Jose they K numbers jumped, the walk numbers dipped and power numbers went to a .231 IsoP. An number he never before approached.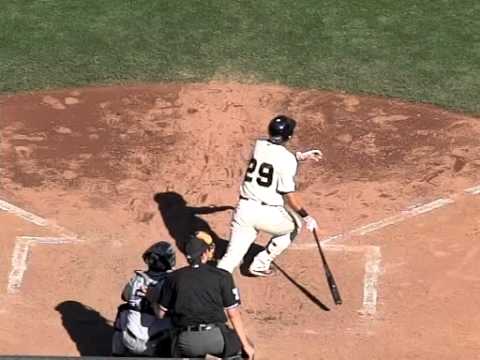 When Posey went down, a very aggressive move to Triple-A brought the norms back. Lower K rate, good walk rate. Good bye power numbers. So while the power is there and he has the frame for it, I wouldn't expect a big HR threat in the majors.
The Glove
Sanchez has always shown a good arm. In his minor league career, he's thrown out over 35% of those trying to steal a base against him. However, his physique needs to be monitored. Standing under 6 feet tall, he should not be adding any more weight to his existing 235-pound frame. There is concern that he will not be able to manage his weight as he continues to mature and that would inhibit his advancement.
Our Instinct
Hector Sanchez will compete in spring training to back up Buster Posey. Depending on how the former National League Rookie of the Year's rehab and spring training goes will be the deciding factor in a lot of player moves. If all goes well we think he'll start the 2012 season at Triple-A. Sanchez could slide in as backup this season if he continues to improve.
Ultimately, Sanchez profiles best as a backup. He does a little bit of everything well, but nothing exceptionally. Not much here for Fantasy Baseballers, but a major league back up catcher is a value to his organization and Sanchez could be just that by the end of 2012.
Stick with Baseball Instinct and we'll keep you a step ahead of the game. Check back soon for more Prospect coverage. While you're here, check out our Baseball Instinct 360° – it's our top 360 prospects for 2012. Also check out a friend of ours for all of your fantasy sports needs. Fantasy Rundown is updated religiously and is truly an awesome resource. Thanks for checking Baseball Instinct. We're working hard to bring you the best of the minor leagues and make the site the best experience it can be, so don't hesitate to tell us what you would like to read about. Email us now at mailbag@baseballinstinct.com.