Travis D'Arnaud, C Toronto
02/10/1989
Height: 6′ 2″ Weight: 195
Known to the baseball world as one of the three prospects sent to the Toronto Blue Jays in the Roy Halladay trade with the Philadelphia Phillies in 2009, D'Arnaud has since acquitted himself rather well. Emerging in 2012 as our pick for the Blue Jays' number 2 prospect and number 47th overall on our Baseball Instinct 360°.
Though D'Arnaud has only been a Blue Jay since 2009, his history with the Blue Jay almost began two years earlier, when the Blue Jays were set to take D'Arnaud with the 38th overall pick in the 2007 Amateur Draft before the Phillies nabbed him a pick earlier. He was deemed to be a more athletic version of his brother Chase D'Arnaud, with premium catch-and-throw skills behind the plate and an advanced bat. As impressive as he was, he was only deemed the 3rd best catching prospect in that draft, behind Devin Mesoraco and Yasmani Grandal.
After 4 years in the minors, D'Arnaud finally broke out in 2011, setting personal highs in almost all statistical categories, hitting .314/.373/.545 with 21 homeruns, 33 doubles, while drawing 33 walks and striking out 100 times in 466 plate appearances. Now lets take a look at his skills.
The Bat
D'Arnaud's bat is pretty good.  Even though he doesn't have current Blue Jays' catcher J.P. Arencibia's power, he has a better hit tool which gives him a good chance to be the more polished hitter. D'Arnaud has great bat speed, which complimented with his above average power makes him a perennial 20-hr threat. The homerun potential alone makes him a noteworthy catching prospect. Luckily for the Blue Jays, D'Arnaud's bat isn't limited to just hitting for power. His quick hands, compact swing and all-fields approach should also allow him to hit for average. Though D'Arnaud's performance in 2011 was quite amazing, he did it in a hitting friendly environment and it was bolstered by a babip of .370, so don't expect him to replicate that performance in a major league context anytime soon.
In addition to having a high babip, another factor that makes me believe D'Arnaud is due for a regression is hit plate discipline. Though scouts attribute D'Arnaud's breakout to his improved approach at the plate by not trying to hit everything out of the park, from a statistical view you can't see this improvement. It's true that his walk rate did improve, but only slightly from 6.8% to 7.1%. Meanwhile his strikeout rate remained pretty much the same going from 21.6% to 21.5%. One would think that you would expect to see some real improvements in this area. Going forward this year I would really like to see him draw more walks and cut down on the strikeouts.
MlbProspectPortal.com Video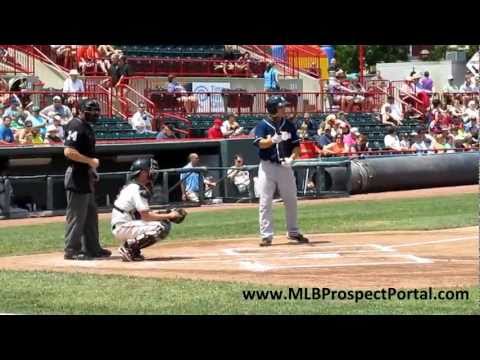 The Glove
There was never much doubt that D'Arnaud had the glove to stay at catcher, but still it was nice to see him make strides in this area in 2011, being named the top defensive catcher in the Eastern League. There are still areas for him to improve on. He needs to improve his footwork, and is still ironing out some flaws in his mechanics that inhibit his throwing accuracy, one would expect him to throw out more than 27% of base stealers with his potential plus arm. He has demonstrated good game calling abilities, and has improved behind the plate.
Our Instinct
D'Arnaud will start the season in Las Vegas, and will need to build on his impressive 2011 season. It's harder to accurately gauge the timetable of catching prospects, but barring a major injury to Arencibia, it seems unlikely for D'Arnaud to get significant playing time in the Show until sometime in 2013, regardless how well he hits in AAA this year. He has the skills to be at least an average catcher, with his ceiling being a potential all-star.
Stick with Baseball Instinct and we'll keep you a step ahead of the game. Check back soon for more Prospect coverage. While you're here, check out our Baseball Instinct 360° – it's our top 360 prospects for 2012. Also check out a friend of ours for all of your fantasy sports needs. Fantasy Rundown is updated religiously and is truly an awesome resource. Thanks for checking Baseball Instinct. We're working hard to bring you the best of the minor leagues and make the site the best experience it can be, so don't hesitate to tell us what you would like to read about. Email us now at mailbag@baseballinstinct.com.