Shelby Miller, RHP St. Louis Cardinals
10/10/1990
Height: 6'3″ Weight: 200
Shelby Miller was drafted by the St. Louis Cardinals in the 1st round of the 2009 draft at the 19th overall spot. Outside of #1 overall selection, Stephen Strasburg, there are no other players who stand above Miller on the prospect charts. That's 17 selections that could have potentially been organizational changing.
Midseason last year, we put out our first Prospect Instinct for Miller but he's been in the Crosshairs of the Scope since High School coming in at #44 on our Instinct 100 in 2010 and jumping to #7 in the 2011 List where we said:
7. Shelby Miller SP STL – Miller will need to build up his innings, but we're looking at a frontline starter in the making with Texas heat ++FB. He has a solid frame and is learning to harness what should be an above average CB and CU. Should power through the FSL and onto AA by midseason with a shot at St. Louis in 2012. We had the opportunities to see Miller on a number of occasions and the chance to talk with him during his time in the FSL in 2011 before he did exactly what we thought he would do – rip through the FSL and make the jump to Double-A. He ranked as the #1 pitching prospectin both leagues and despite an organization enforced 1 week suspension for an "Alcohol Related Incident" his character remains unmarked. So let's get into his pitching arsenal and mechanics.
The Stuff
Miller struck out 170 in 139.2 innings of work in 2011 with 53 walks to produce an 11-6 record with a 2.77 ERA. In High-A he struck out hitters to a 37% rate with a 9.1% walk rate. One concerning note to the very dominant performance was a ground-ball rate of just 36%. A ground-ball rate that will hold up for a high K rate pitcher but could cause problems at the upper levels when the K rate levels a bit. So while he was dominant, there were adjustments that needed to be made.
Upon his promotion to Springfield in Double-A, Miller, began to work more towards contact, with his K rate dropping to 25.1% and his walk rate remaining steady at 9.3%. But pitching to contact and advancing his command allowed him to drive up the GB% to 45% and despite having less punch outs he was actually even more successful. He picked up 9 of his 11 wins there and his 2.70 ERA over 86.2 innings was stellar.
Miller works with a mid 90s fastball which sits 93-95 with consistency. The movement out of his hand, which you'll see in the video is excellent. It has late explosion and seems to pick up velocity getting in on hitter. The pitch also has good sink and can produce ground-balls when he pitches to contact or fade out of the swing path and produce swings and misses. A less used 4 seam fastball gets into the upper 90s maxing out around 97-98mph. Its best used up in the zone because it doesn't have the same movement as the 2 seam fastball.
His curveball and change up both made strides in 2011 as the organization, which they do with top-level pitchers, forced him into a off-speed pitch quota. Being forced to throw a certain number of curveballs and changeups made Miller pitch backwards, often opening at-bats with off speed stuff. The additional use allowed him to refine both offerings and even when he fell behind his fastball was good enough to get him out of trouble late in counts. Both the curve and change were average pitches to start the season and border on above average at this point with the chance for him to have both of his secondaries join his fastball in the plus pitch echelon.
The Mechanics
Let's take a look at an advanced cut of our video for Shelby Miller to get a good visual of the mechanics:
Baseball Instinct Video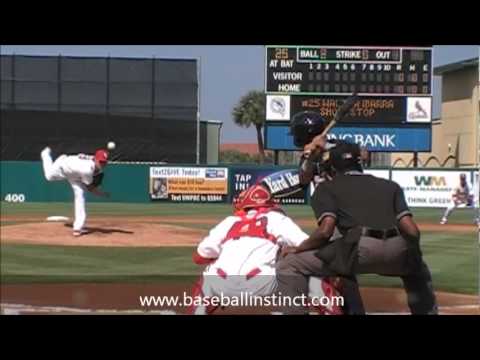 Not much has changed with Miller's mechanics over the 2011 season. As Aaron Bentley broke it down in June, Miller's tempo is that of a pitcher who knows what the game plan is and the attack is there. His leg extension is excellent and is the driving force of his velocity as he brings his power from the top of the delivery and allows his legs to bring his arm through. The leg drive is the power generating factor in his delivery and the fact that his arm action is so clean bodes well for long-term health.
Does that mean he won't have elbow issues in the future. No. Throwing a baseball is one of the most unnatural movements possible. So the possibility is always there for elbow issues. But in Miller's case, his arm action is clean enough to rule out imminent shoulder issues which are the worst case scenario for a pitcher with poor mechanics.
As Aaron mentioned, Miller has what's referred to as "Easy Gas". His delivery is not violent in any manner despite the plus velocity.
Our Instinct 
Miller just came in at #4 overall on our 2012 Baseball Instinct  360°:
4°. Shelby Miller, RHP, Cardinals, 10/10/1990 – The top overall RHP prospect in the game and right there with Moore as the best overall pitcher. Expect Miller to spend another spring with the big league club before some additional minor league seasoning. This future Cardinals ace could see the #4 slot in the Cardinals rotation before the end of the 2012 season. Check out the Prospect Instinct | Shelby Miller for even more detail and video. ETA 2012.The list came out just weeks ago and there is nothing since then that will change that outlook. Miller is the #1 overall RHP prospect in baseball and there could be arguments made that he should be listed ahead of Matt Moore as well. I could take Miller, move him to the top of the list and drop everyone else down a slot and still feel very comfortable with the outcome.
One word of ever so slight caution, with the departure of pitching coach Dave Duncan, there is obviously a void to be filled in St. Louis. Does that mean that Miller doesn't fulfill his potential? Of course not. But with his third invite to Spring Training, Miller will not have a 6 week tutelage session under Duncan's hand. He should begin his season with Triple-A and around midseason the questions will start to pop up about when his time in St. Louis will arrive. The Cardinals, coming of a World Series Championship, could be poised to compete in the NL Central once again, despite the loss of their Skipper, Head Pitching Coach and one Albert Pujols. If they are in the race at midseason and need a 5th starter don't be surprised if Miller gets that nod.
Stick with Baseball Instinct and we'll keep you a step ahead of the game. Check back soon for more Prospect coverage. While you're here, check out our Baseball Instinct 360° – it's our top 360 prospects for 2012. Also check out a friend of ours for all of your fantasy sports needs. Fantasy Rundown is updated religiously and is truly an awesome resource. Thanks for checking Baseball Instinct. We're working hard to bring you the best of the minor leagues and make the site the best experience it can be, so don't hesitate to tell us what you would like to read about. Email us now at mailbag@baseballinstinct.com.