Taijuan Walker, RHP Seattle Mariners

8/13/1992

Height:6'4" Weight:195
If there is one thing you need to know about the Seattle Mariners, it's that they know how to spot a good pitcher. The list of home-grown major league pitchers and prospects includes Felix Hernandez, Michael Pineda, Danny Hultzen, James Paxton. Another name that is going to fit well in that impressive list is Taijuan Walker.
Taijuan Walker was the 43rd overall pick in the 2010 draft; having been chosen by the Seattle Mariners in the supplemental portion of the 1st round. Many believed that he was chosen by the M's partly due to sign-ability reasons. In a draft that was deep in prep pitching talent, Walker was reputed to be on those prep pitchers that would to not require "over slot" money to get signed. He signed with the Mariners fairly quickly, agreeing to an $800,000 signing bonus. He was able to make 4 appearances at rookie level ball, but the data sample size was simply too small to provide any significant insight into his talent and ability. However, the 2011 season was very telling indeed.
The Mariners had Walker play in full-season A ball where he made 18 starts. His win/loss record of 6-5 belies the true success of his season. In 96.2 innings pitched, Walker carried a 2.89 era. Issuing 39 free passes in 96.2 innings is just fine; fanning 113 batters in those same 96.2 innings is excellent. This is even more impressive when taken in the context that he was an 18-year-old in a league with the average age of the player is over 21. He dominated players that were often 2 – 3 years older. Suddenly the Mariners #1 pick in 2010 has started to make General Manager Jack Zduriencik and Mariners scouting department very good.
After watching Walker post such shiny numbers, we realized that he was one of the best arms in all of the minor leagues. As such, we listed him as #27 on our 360 list. In order to see why we arrived at that conclusion let's take a look at his pitching arsenal.
The Stuff
The Fastball – Taijuan Walker's fastball is the real deal. It averages 93-94mph, but Walker can dial-up 98mph when he wants a little extra. The pitch can come in straight especially when he pitches up in the zone with it. However, it can show some late downward action especially when he stays low in the strike zone. This is one of the interesting things about Walker. He was known to have good but raw stuff coming out of high school. But what became apparent rather quickly is that he has a lot of polish for being such a young age. The fact that he can pitch up or down and side-to-side within the strike zone is an excellent example of that polish.
The Curveball – This pitch has come a long ways since high school and flashes plus-plus. He slows this pitch way down compared to his fastball. Generally the curve sits in the high 70s for velocity. It has a big-time 12-6 breaking action. It has the potential to be an elite pitch and simply requires consistency.
The Changeup – Walker is continuing to work on his changeup. He has been known to slow his arm down a lot when delivering this pitch, so he tips off the hitters that it is coming. He has been so dominant with his fastball in the levels that he has played, that he has never really had to have a good changeup. There is plenty of reason to believe that he can and will improve upon this pitch.
The Mechanics
The first thing you notice in watching Taijuan Walker pitch is that he is supremely athletic. In fact many thought he would end up being a big time college basketball player. Standing at 6'4" and weighing in at 195lbs he has a frame that likely still has projection to it. As he fills out, it is possible that there could be some added velocity to his stuff.
During his windup Walker likes to bring his leg back far enough that it points behind 3rd base. He then kicks towards third base before wheeling his front foot towards home plate. The movement towards third base tends to have him throw slightly across his body, though the movement doesn't seem to generate any undue strain on his upper body. The change in motion from third base to home plate generates a kind of whipping action that seems highly effective. He lands in front of the mound in a nicely balanced position and is ready to field the ball. The arm action is consistently repeated and looks to be very clean. No signs of high risk for injury.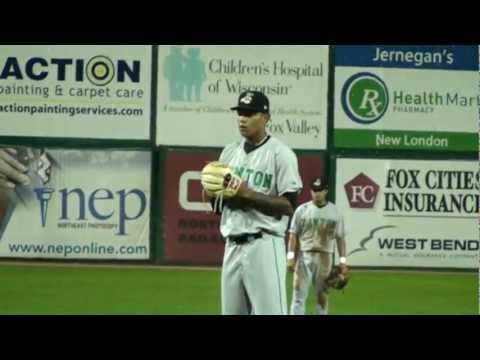 Perhaps most notable about Walkers delivery is that it looks so easy. There is nothing about this delivery that makes it look like he can rush the ball up to the plate at 98 mph. His natural athleticism and seemingly effortless delivery bode well for Walker's future.
Our Instinct
Taijuan Walker's developmental path is comprised of a lot of different factors that are coming together well. He has a ton of athleticism, which has helped to make a clean and easy mechanical delivery. His stuff is already quite good and may still have some projectibility. He is already showing an understanding of pitching and is starting to demonstrate that he can "change location" within the strike zone. He is a part of an organization that has had recent success in developing pitchers and they appear to be moving Walker along in a patient and deliberate fashion. They did not push his pitch count too high for his first full season of professional ball, and did not move him out single-A ball despite the fact that his performance would have justified such a move. On top of everything else Walker, will be pitching in Safeco park once he arrives in the major leagues. As stated above, there are many things to like about his situation.
Of course there are areas in which Walker needs to improve. Priority number one is that he needs to improve his changeup. This will become very important as he faces higher levels of competition and particularly opposite-handed hitters. Walker also needs to continue to develop consistency of his command within the strike zone. Lastly he needs to increase arm strength. He pitched less than 97 innings last season and obviously has a ways to go before he can assume the rigors of 180+ innings at the major league level.
I have great interest in seeing where the Mariners decide to pitch Walker in 2012. The next logical stop would be high-A ball in the California league. However, that league is notoriously friendly to hitters and can be detrimental to pitching development. The Mariners organization has been known to have pitchers skip directly from single-A to double-A and completely bypass the California league. This was done with another Mariners hot pitching prospect James Paxton last season.
At 19 years old it seems the sky is the limit for Taijuan Walker. He has all of the fundamental components to become a successful starting pitcher in the major leagues. Barring injury Walker is a productive front-half of the rotation type, however, Walker has the ceiling of an ace. It doesn't take long when watching Walker to see that his talent could make him special in the near future. Yes indeed, he will fit in just fine with the list of home-grown Mariner SP studs.
Stick with Baseball Instinct and we'll keep you a step ahead of the game. Check back soon for more Prospect coverage. While you're here, check out our Baseball Instinct 360° – it's our top 360 prospects for 2012. Also check out a friend of ours for all of your fantasy sports needs. Fantasy Rundown is updated religiously and is truly an awesome resource. Thanks for checking Baseball Instinct. We're working hard to bring you the best of the minor leagues and make the site the best experience it can be, so don't hesitate to tell us what you would like to read about. Email us now at mailbag@baseballinstinct.com.