Addison Reed, RHP, Chicago White Sox
DOB:  12/27/1988
Height:  6'4″ Weight:  215
Addison had no trouble staying under the radar as a 3rd round selection out of San Diego State University from 2010.  Being a teammate of Stephen Strasburg will do that to you.  In 2011, however, his sleeper status evaporated as he rolled through four minor league levels, starting in Single A Kannapolis through Triple A Charlotte   in 2011, eventually landing in the majors.  Reed struck out 111 batters in 78.1 innings pitched while walking only 14 over those four levels.  During 2011's whirlwind tour through the minor leagues, Reed's ERA never scored higher than 1.59.  Though with a pitifully low amount of data, his 7 major league innings saw his ERA jump to 3.38 while striking out 12 and walking just one with a painfully low ground ball rate at 20% and a sky-high .474 BABIP.  So Reed does have to prove that he's ready for primetime yet.
After that banner season for the 23-year-old, it's no surprise that he also found his way into our 2012 Baseball Instinct 360°.  Here's what we said:
123°. Addison Reed, RHP, White Sox, 12/27/1988 – Chris Sale part deux? It sure seems that way. Clearly, with the White Sox dealing Santos and pushing Sale to the rotation they feel that they have the real deal in Reed. You fantasy baseball types out there may want to remember this come auction/draft day or make a push for trading for him in those keeper leagues with farm systems. ETA 2012.
The Stuff
His fastball rates plus with mid-to-late 90s velocity and tailing action into right-handed hitters.  He spot his heat at both sides of the plate and shows above average command of all his pitches.
The slider has been labeled a plus-plus pitch by some scouts.  Terrific downward biting action.  He throws it with great confidence.  A true swing' n' miss offering.
His change-up has been called average. which in fine since his likely destination is the bullpen and the fastball/slider combo is plenty good enough there.  It's a pitch he could show from time to time to give left-handed hitters something to think about.
The Mechanics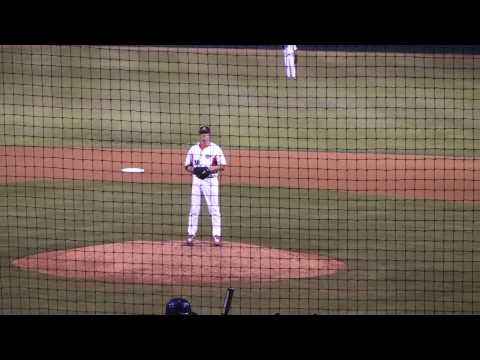 Here we have another tall pitcher who doesn't employ his height to create a downward plane to his pitches and move the hitters eyes.  Reed, instead, uses his long arms and  the length of his body to confound hitters.  The deception in his delivery is highlighted by a somewhat herky jerky motion.  It all starts when he plants his left foot, not in line with home plate, but more toward the third base side of the mound and then slings the ball with his arm traveling across his body.  Addison is athletic enough to repeat this three-quarter arm slot which generates the tailing action on his fastball.  With the combination of the Reed's mid-90s heat and deceptive motion, the ball looks even quicker to the plate.
Our Instinct:
At some point in 2012, Addison Reed will be the White Sox closer.  With Chris Sale slated for the rotation and Sergio Santos shipped over the border, spring training should start with Reed facing competition for the job from Matt Thornton or Jesse Crain.  Without any managerial track record to rely on, it's a good bet that newbie Sox manager, and former Nolan Ryan punching bag, Robin Ventura may just choose someone with closing experience, like Thornton, because he knows that he can keep Reed in the wings as a set-up guy in the bigs or closing in Triple-A Charlotte.  Ventura really doesn't need to rush the kid into the role, but look for Addison to push the issue with his performance.  Plus, if Thornton were to malfunction again in the role, be ready to hear the South Siders plead Reed's case.  But before any job is handed to him, we'll need to see how he fares when called upon to pitch on consecutive days.  It may have been just to thin out his 2012 workload, but while in the bigs, they spaced out Reed's appearances with two rest days in between.  That said, fantasy leaguers need to grab this guy while they still can.  He's not a sleeper anymore.
Stick with Baseball Instinct and we'll keep you a step ahead of the game. Check back soon for more Prospect coverage. While you're here, check out our Baseball Instinct 360° – it's our top 360 prospects for 2012. Also check out a friend of ours for all of your fantasy sports needs. Fantasy Rundown is updated religiously and is truly an awesome resource. Thanks for checking Baseball Instinct. We're working hard to bring you the best of the minor leagues and make the site the best experience it can be, so don't hesitate to tell us what you would like to read about. Email us now at mailbag@baseballinstinct.com.