Dylan Bundy, RHP Baltimore Orioles
11/15/1992
Height: 6'1″ Weight: 200
Dylan Bundy was taken in the 1st round of the 2011 draft by the Baltimore Orioles. Bundy came out of Owasso High School in a very deep pitching class including Archie Bradley, Mike Fulmer and Mason Hope. Bundy is currently the best of the bunch. Out of the gate, let's take a look at the 2011 Draft Review where Bundy was selected 4th overall despite being our #1 selection:
#1 Dylan Bundy RHP Owasso HS (OK) – This is a draft deep in pitching at the top end and there are pitchers more advanced than Bundy, but none have the ultimate upside that this kid can have. He's a baseball rat who's work ethic is already off the charts and he has a plus plus fastball, plus curveball and the frame to be a work horse for a long time. It'll take a hefty bonus but he's going to sign because the team that gets can't afford not to sign him.
Our Instinct: The top talent in this draft and the Orioles are building a really solid big league rotation with more upcoming talent now. Great pick. Time to open the pocket-book.
And open up the pocket-book the O's did. To the tune of a record signing bonus including a $6.225mm contract and $4mm signing bonus. Outside of dominating in High School at both Sperry and Owasso, his 2011 High School Player of Year honors saw him with an 11-0 record including a 0.20 ERA, no, not a mistake, and he hit .467.
Let's take a look at what made Bundy our #1 Orioles prospect #9 overall in 2012 for us here at Baseball Instinct. We'll take a look at the pitch arsenal and delve into his mechanics.
The Stuff
High School seniors normally need plenty of time to hone their command and refine their secondaries including developing a changeup if they even have one in the arsenal. Well, Bundy isn't that type of High School pitcher with 3 plus fastballs in a 2-seam, 4-seam and cutter and a plus curveball to go along with an already MLB average changeup. Simply not fair for the high school hitters who had to face him.
Bundy throws a 92-94 mph 2-seam fastball that has movement and a 4-seamer that he can gear up to 100 at times high in the zone. The cutter comes in low 90s with solid movement and combined with the 2-seamer he's able to get groundballs when needed. Not that it was needed much in High School.
His curveball already shows as a plus pitch with hard break from the same arm slot as his fastballs. It ranges in the mid 70s which is a large differential from his fastball mix.
He's still refining his changeup since it wasn't a pitch that was needed much in High School. But even the changeup, which is his least refined offering, is still an average pitch.
The Mechanics
Gatorade Baseball Player of the year video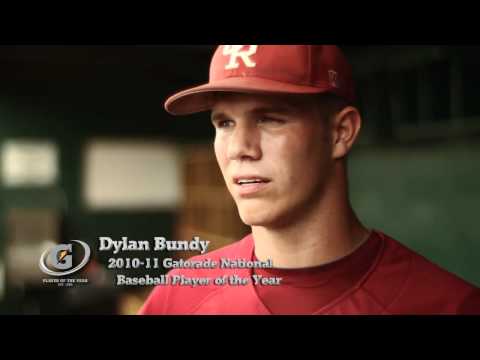 Bundy doesn't have the frame of a classic Ace type pitcher. But I've already gone over his pitching arsenal. So there's no surprises here. His frame is a solid 200 lbs with a rock solid lower half.
His mechanics are simple with a lot of leg drive and power that generate that plus velocity. His leg use will save the wear and tear on his shoulder as his innings build. The simple delivery is also a reason that his command is advanced for such a young pitcher and should serve him well in the future.
Our Instinct
Dylan Bundy isn't going to be a pitcher who needs 4 years to develop as most young high school pitchers do. His pitch mix is well advanced and his frame is already quite mature. The only thing that will slow his ascension will be his maturity level.
One thing we haven't touched on yet is his work ethic. Reports have it off the charts. His workout regime is one that people tag as "legendary". So assuming he handles the big bank roll and keeps pressing the training, the only thing holding him back is work load and getting that IP count up to around 140 before he makes his debut.
He has the pitch mix to be an Ace. The frame to hold up under 200 inning workloads. And the organization that needs a true ace. Look for Bundy to spend the 2012 season in A ball building his innings and he could reach Double-A as soon as 2013 before making his debut late in 2013 or mid-season 2014.
A little sidenote: Dylan's older brother Robert Bundy also pitches in the Orioles organization and there is a good chance that they pitch together at the big league level some time in the next few years.
Stick with Baseball Instinct and we'll keep you a step ahead of the game. Check back soon for more Prospect coverage. While you're here, check out our Baseball Instinct 360° – it's our top 360 prospects for 2012. Also check out a friend of ours for all of your fantasy sports needs. Fantasy Rundown is updated religiously and is truly an awesome resource. Thanks for checking Baseball Instinct. We're working hard to bring you the best of the minor leagues and make the site the best experience it can be, so don't hesitate to tell us what you would like to read about. Email us now at mailbag@baseballinstinct.com.